A couple of weeks ago, I had the pleasure of enjoying a hosted staycation at the fabulous Radisson Admiral Hotel, Toronto Harbourfront location. Between the fantastic pool views to the richly flavored foods & light filled rooms, take a peek into our stay at this 4+ star Toronto hotel.
Radisson Admiral Hotel in Toronto at Harbourfront – A Staycation Story
The Radisson Admiral in Toronto is blessed with stunning views inside & out. Situated right by the lake, beside Harbourfront, this Toronto hotel's location is a huge part of its allure. One can ooh+aah at both city and lake views.
I gained a whole new appreciation of what the city of Toronto has to offer during my weekend at home, away from home at the Radisson Admiral! Thank you to my jelly slides for taking me there 🙂
Although the hotel is luxurious & intimate (perfect for a romantic getaway or solo staycation!), it's also family-friendly if you prefer coming down to enjoy the scenery & pool with your family.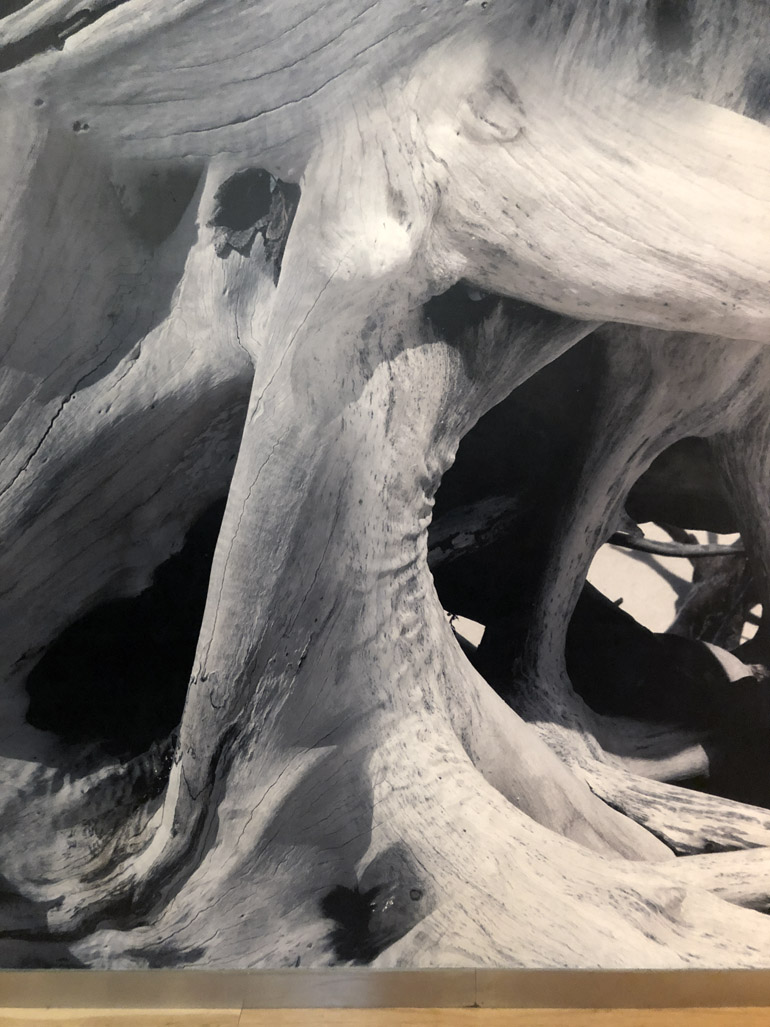 Right upon entering into the hotel lobby, through to the rooms, the decor is current, tasteful & doused with an element of surprise at every corner.
Mural-style wallpaper is abound and I'm LIVING for it. I mean, check out this amazing wall in the lower stairs wall, pictured above. I truly need this fabulous art to don my walls at home, stat!
Radisson Admiral Hotel Room & Amenities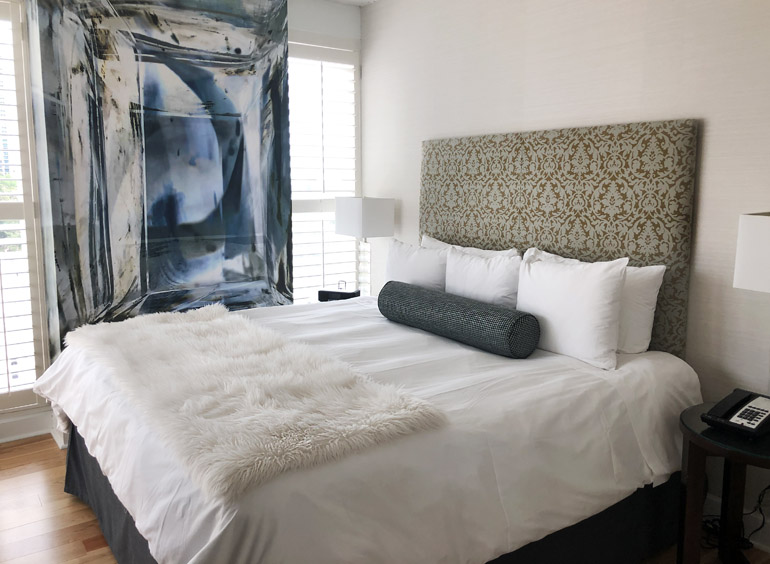 The rooms at the Radisson Admiral hotel Toronto are minimal & chic. I stayed in an amazingly bright & cheerful corner room with floor to ceiling windows. The abstract wallpaper & headboards are surely a visual win!
The space is perfectly designed with separate lounge, rest & desk areas. And the bathroom we had was enormous with a large sink & glass door shower. An abundance of towels greeted us, in addition to stylish toiletries. So did the amazing street & lake views from the all glass wall!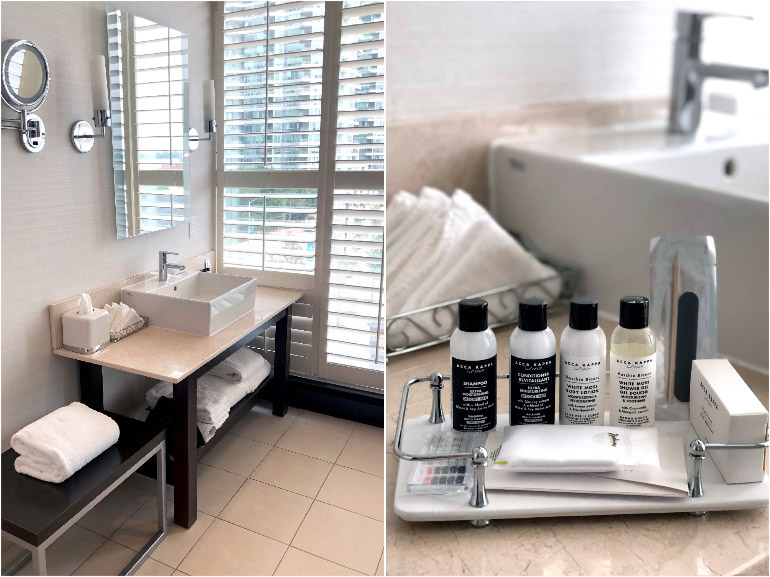 Equipped with the most comfortable bed EVER, I slept like a baby (and as an insomniac, I don't say those words lightly!). Other features in the rooms at the Radisson Admiral Hotel in Toronto also include:
Simmons Beautyrest pillowtop beds
Choice of one king or two queen beds (with cribs & rollaway beds available)
43-inch flat-screen HDTV with premium channels
Work desk
Free Wi-Fi
Complimentary local calls
Laundry service
Plush robes & slippers
Complimentary bottled water
Room service
Coffee maker, kettle & teas
Refrigerator
Hair dryer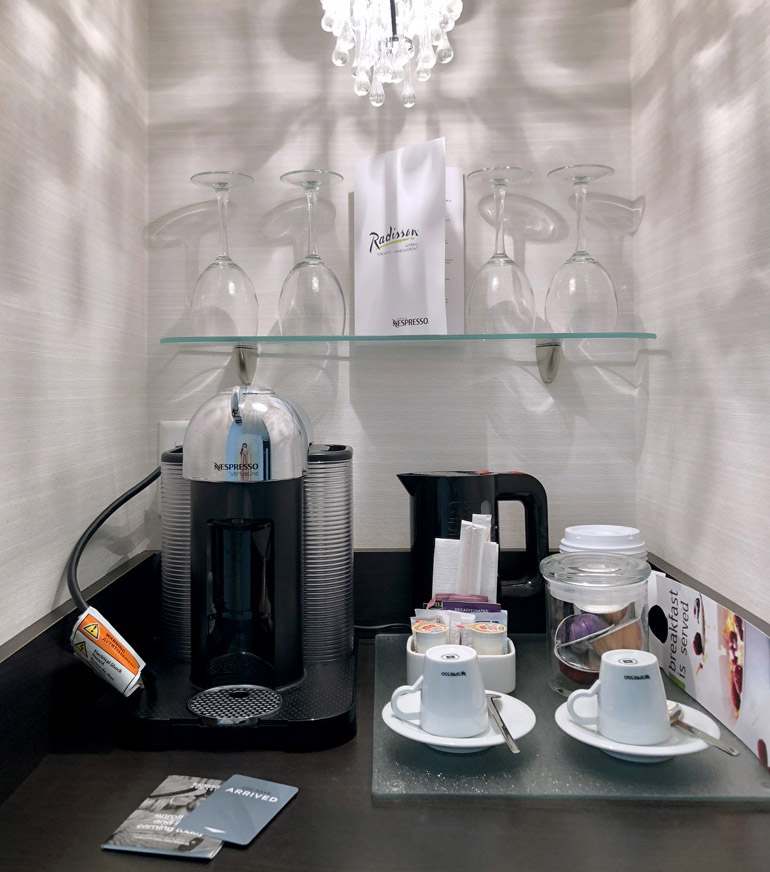 I love how — in addition to the 3 coffee flavoured pods that the Radisson Admiral Hotel offers — they also have a kettle & tea selection in the rooms. As an evening herbal sipper & morning green tea drinker, having my tea needs catered to is always appreciated!
The Radisson Admiral Lakeview Pool Lounge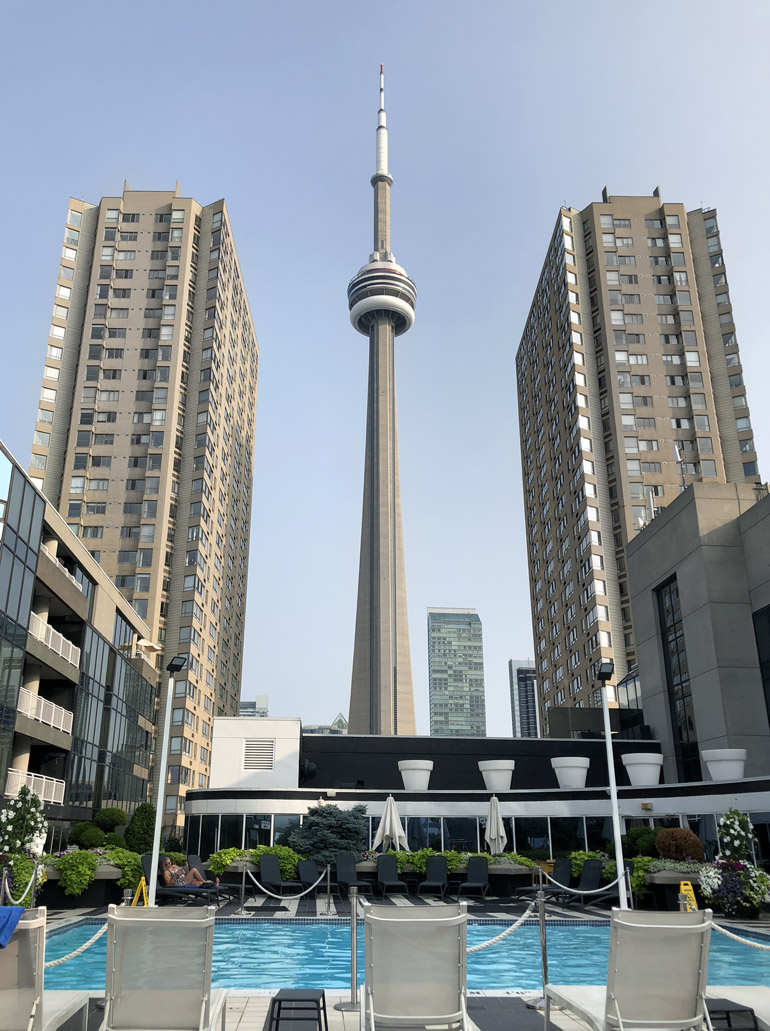 Before getting comfortable in my room for the weekend, I'm not gonna lie: I headed right to the Radisson Admiral's hotel pool. Which is nothing short of amazing.
The Lakeview pool lounge is large, comfortable & has the most stunning views of the lake & CN Tower. The heated pool itself is rather large for such a central, downtown Toronto location.
You can easily swim laps or frolic at the shallow end with drinks & nibbles. Which they serve to you either at your lounge chair, seating area, or right at the edge of the pool!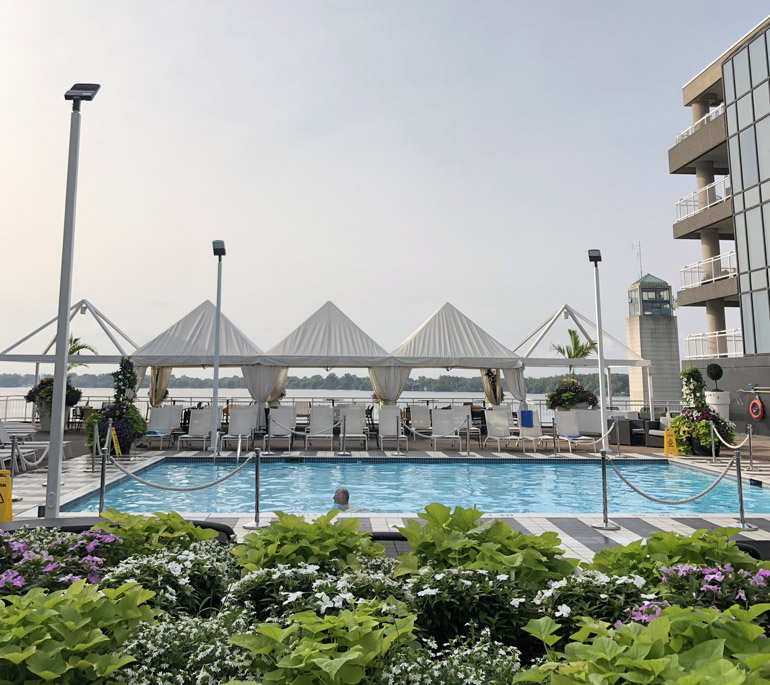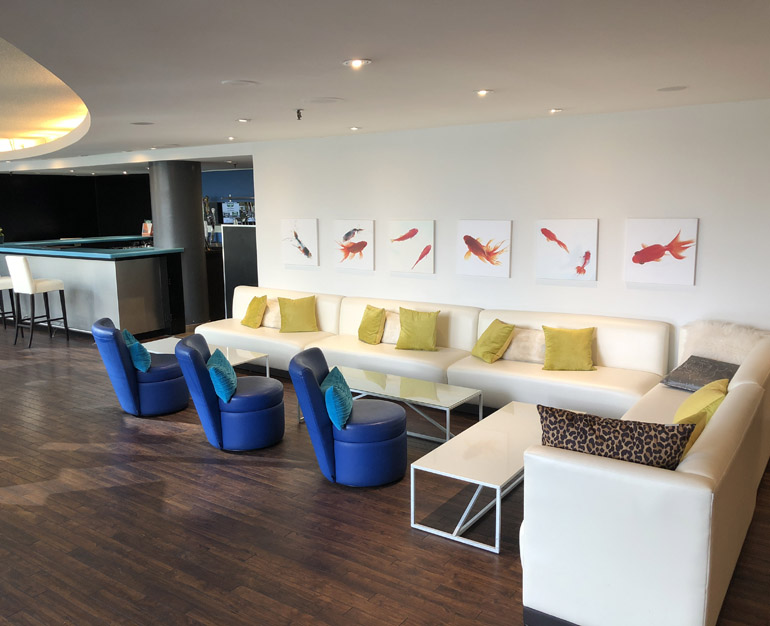 If you prefer the sit inside during the day or later on in the evening, the bar is always flowing with drinks and cheerfully playing music. And how fun is the indoor lounge area with it's brightly colored chairs & pillows?
OMG The Food at the Radisson Admiral in Toronto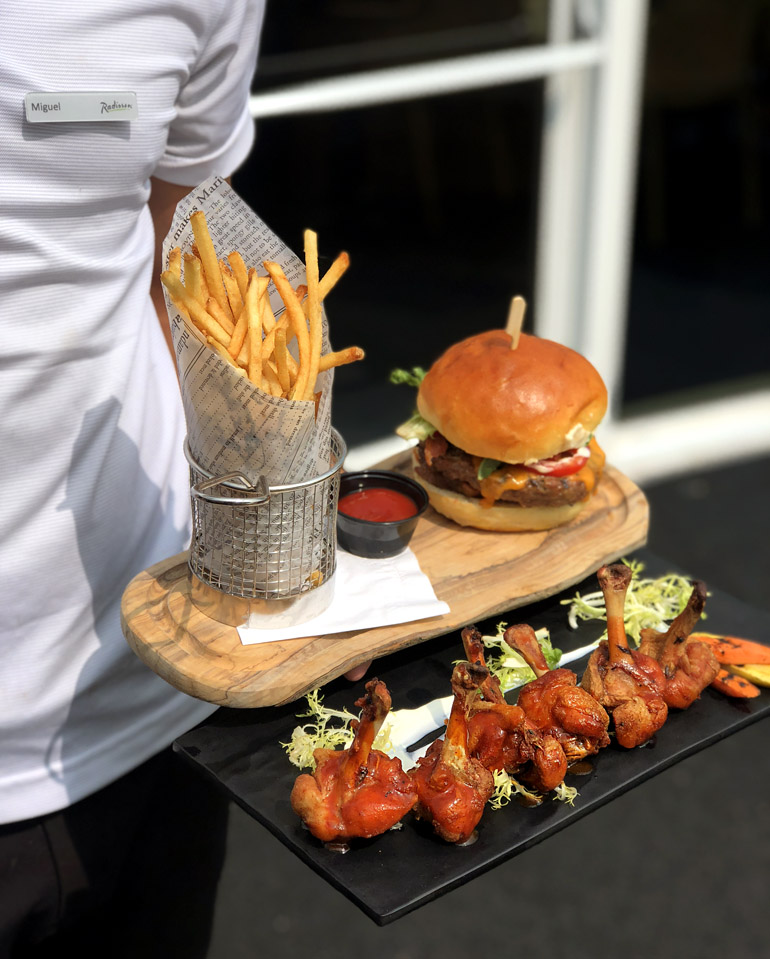 Basking in the sun & splashing about in the pool made me hungry. So let's just say I ate…a little. The amazing pool lounge menu is filled with items to share (or enjoy solo!) and includes some amazing hand crafted cocktails.
I've sampled nearly everything on the menu, but I have a particular weakness for the juicy burger & tangy chicken wings. The fish tacos and chicken wraps are extremely tasty as well! I suggest to try a little of everything. Your tastebuds won't regret it, although your tummy might 😉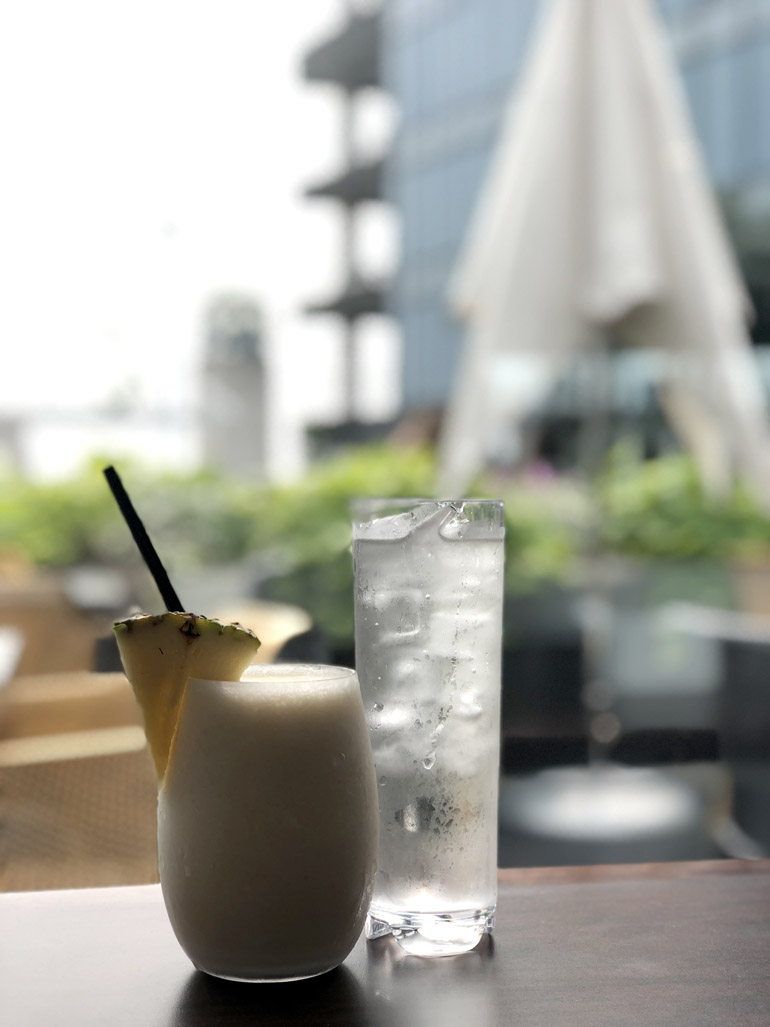 For drinks, I couldn't think or ordering anything other than the freshly blended piña colada & occasional iced water. The blended cocktail is so rich, creamy & it makes for a perfect desert/drink hybrid. The attentive poolside staff made savouring all the tasty food at the Radisson Admiral that much more enjoyable.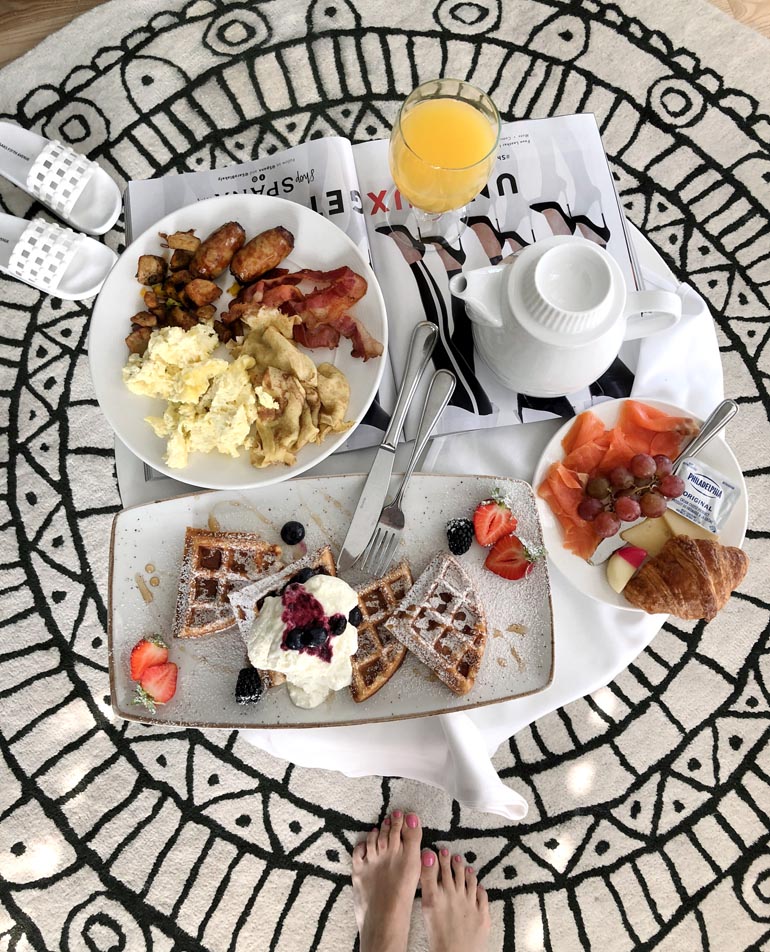 Room service didn't disappoint, either! With a wide range of sweet & salty offerings, having breakfast in bed while taking in a movie on the flatscreen TV was a real treat for me. This never happens at home. Unless, of course, you count eating chips in bed, which is the closest I will likely ever come!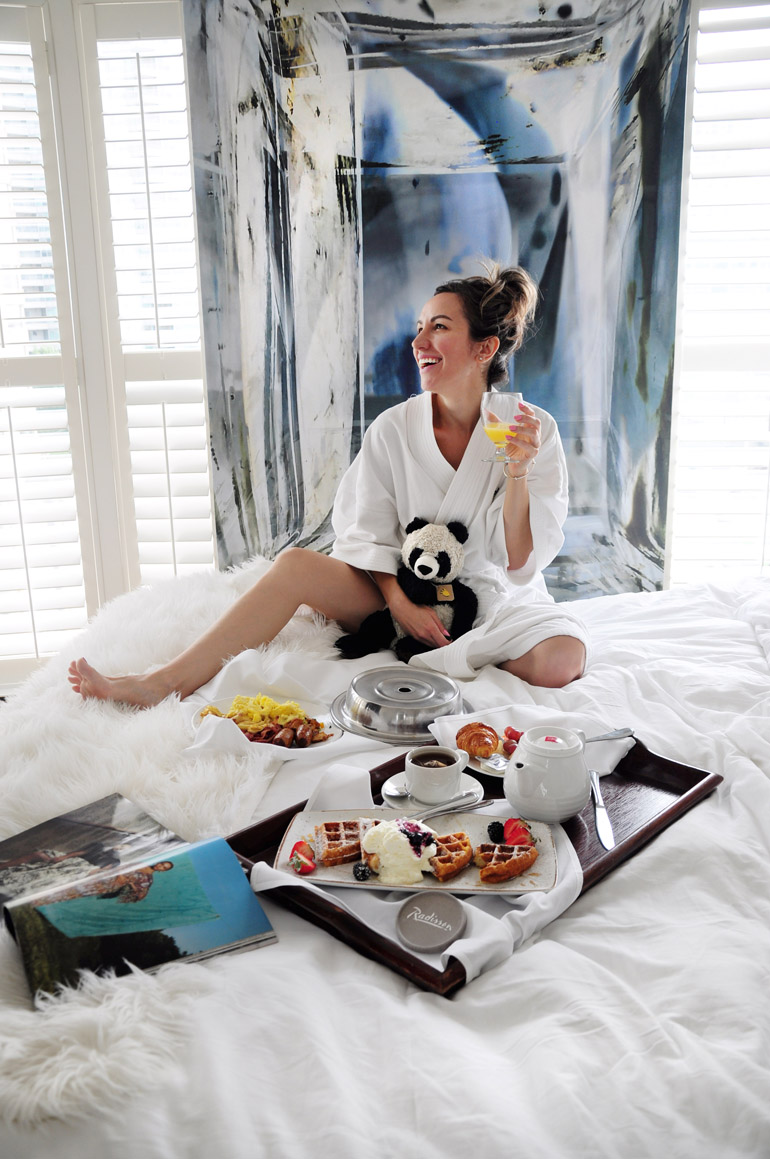 If you're looking for a Toronto escape, whether for work or pleasure (or a bit of both!) book your stay directly from the Radisson Admiral Hotel in Toronto at Harbourfront via Travelocity, Hotels.com or book directly through the hotel.
It's the perfect central hotel to spend the weekend or weekday. It's literally a hop, skin & jump away from the Rogers Centre, CN Tower & the downtown business core.
Looking for some inspiration on fun things to do on a staycation? Check out my recent solo staycation at the newly renovated Novotel Toronto!
xo Cristina