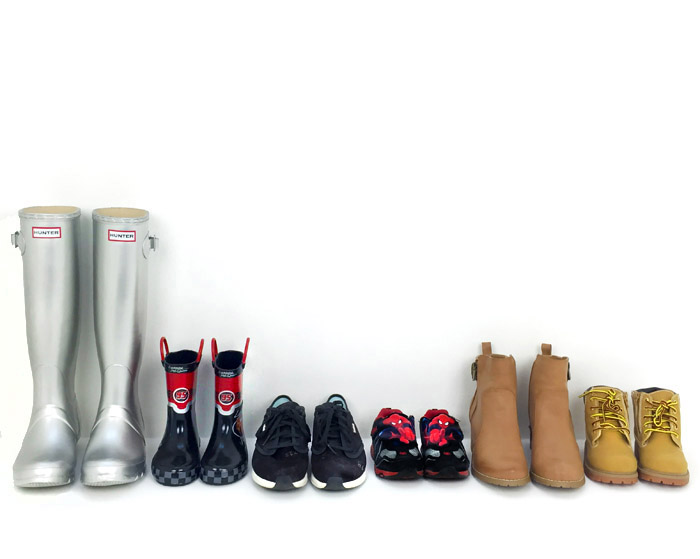 My kiddo has his own idea about fashion & style. And I'm by no means insinuating that it's any good! He's 3 & 1/2, so he has time to learn 😉 That being said, we recently took a Fall shoe shopping trip in the quest for stylish, yet affordable mommy and me shoes. And where else to go for budget-friendly shoes & fashion for the whole family other than Dixie Outlet Mall?! I was hoping to, you know, have some of my (usually) fashion savvy self rub off on him. But did it work? Well, let's just take a look and see…
Mommy and Me Shoes for Fall 2015
If you read my last Dixie Outlet Mall Fall shoe haul post, you'll know that you can get serious bang for your buck at this Mississauga outlet mall. Even with respect to shoes, which are some of the highest priced fashion items. So with $300 in tow, I ventured the very familiar walls of the family & discount-friendly mall in search of some practical, stylish footwear for my baby (ok, big baby!) and myself. And I'm so satisfied with the results! Of course, it's a little tougher to do the mommy and me shoe shopping thing with a boy (can't do matchy-matchy sparkly pink shoes as easily ha!), but we nonetheless ended up with some decently coordinated themed footwear that we'll surely get a good wear out of this Fall to Winter season!
---
Shop the Shoes

---
1. Rain Boots to the Rescue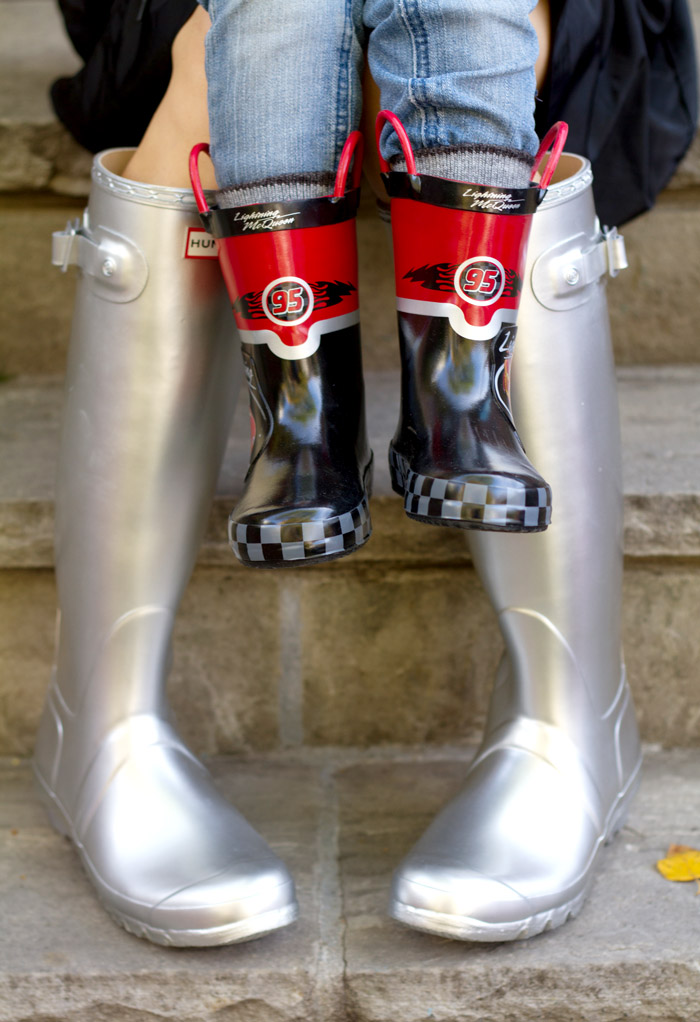 One of my favorite scores from this particular Dixie Outlet shoe shopping trip was the result of the rain boot quest. With the bizarrely unseasonably warm weather in Toronto & surrounding areas, classic wellies are in order! Well, "classic" shapes maybe, but far from ordinary in color & design!
For Mommy: Silver Hunter Boots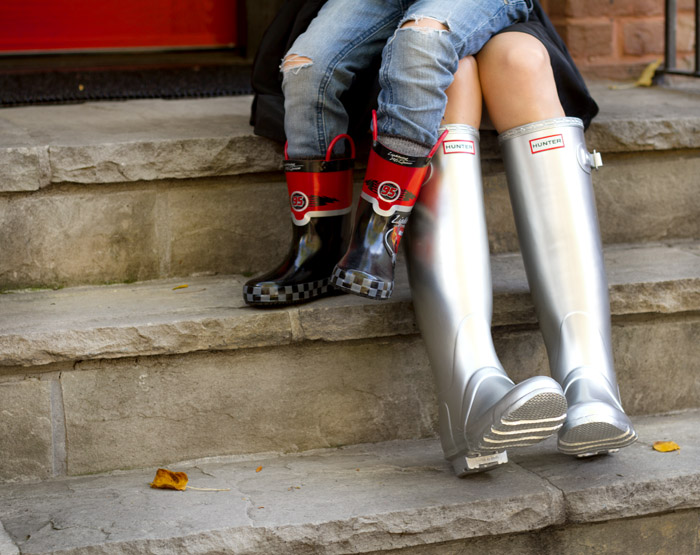 Hunter Boots: My first pair ever. Yes, a little embarrassing being a shoe blogger & all that I wouldn't already have a few of these in my wardrobe! But truth be told, they've become a little ubiquitous (read: I've seen too many fashion bloggers wearing them!) & not so appropriate for the GTA weather. You see, we don't get Fall or Spring weather frequently over in these parts of Canada. Your typical rain boots with no lining, meant specifically for rainy days, aren't your best bet in frozen temperatures & snow. If you haven't read about it yet in my post about what shoes not to wear in the snow, Hunters & rain boots alike (unless specifically engineered) can literally crack under extreme temperatures & do anything aside keeping your tootsies warm. These space-like silver Hunter Boots were roughly $50 from Shoe Ware House. Yep, you read right: a fraction of the original retail cost!
For Kiddo: Lighting McQueen Rain Boots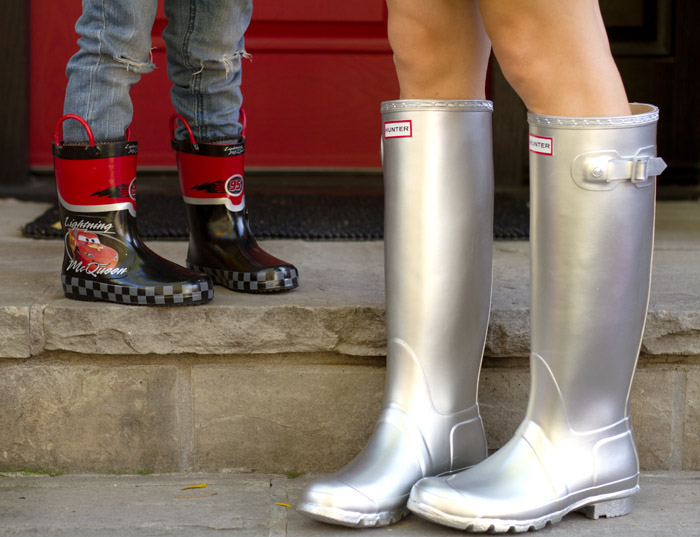 This is where I have doubts about my spawn's fashion choices. It's all about brand names already & not in a fashionable way! Just give him a Disney's Cars character or a superhero & he's smitten. He just HAD to have these Lighting McQueen rain boots (black is his favorite [non] color btw!) when he saw them at Payless Kids. To be honest, they're kind of neat, with their racing flag check & all on the outsoles. But an extreme fashion statement they do not make! These were full price at $35. I picked up a 2 pack of matchy thermal knee high socks from Winners for $9 to shield his little feet from cooler rainy days.
2. City Slickers in Tread Soles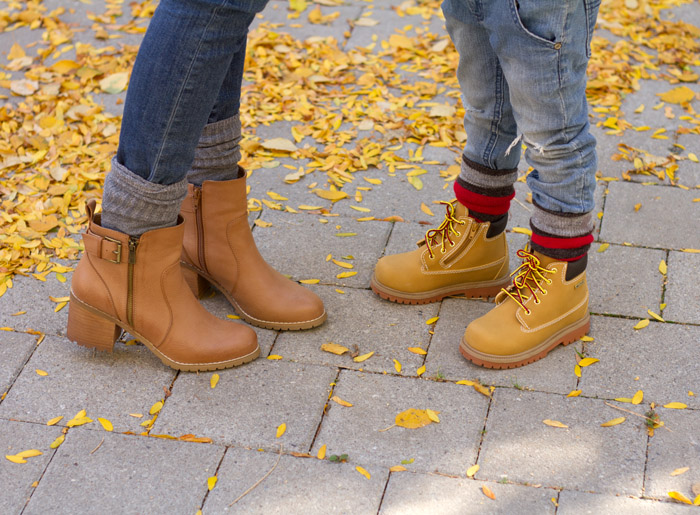 We needed some casual shoes with a little je ne sais quoi too. Tread soles are a must for those of us who often trekk in the mud (like in & around Toronto parks!). It was great to find shoes that could easily transition from the corner cafe to the playground. And these are perfect, so mission accomplished! Definitely our most matching pair of all the mommy and me shoes we found at Dixie!
For Mommy: Caramel Ankle Boots
I spotted these Restricted brand booties from the Winners in Dixie Outlet Mall. They're strong, comfortable & are a great alternative to sneakers when jetting around grassy areas or strutting on concrete. They're also a great addition to my shoe closet as I didn't have a chunky heeled boot in a lighter shade. Price: $45 vs. original $85 retail price.
For Kiddo: Timberland Style Waterproof Boots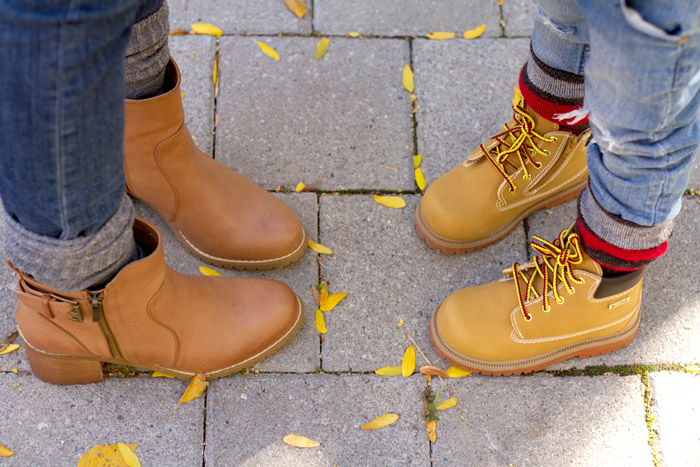 The selling point to these bad boys wasn't only the fact that they look adorable on, but that they're fully waterproof. Yep, not merely water resistant but water proof! Perfect for anything we encounter in the city. They have a side zipper closing which makes getting out of the house, then back into our slippers that much more efficient. $45 for these puppies. There were camel colored toddler Timberlands for more/less the same price from Shoe Wear House, but they weren't waterproof. So I opted for the copycat version by SmartFit from Payless instead.
3. Sneaker Heroes
For Mommy: Reebok Sneakers
I had zeroed in on a similar pair of these neoprene Reebok sneakers from the Foot Locker outlet at Dixie Mall a couple months back, but they didn't have my size. So happy I found an almost identical pair from the same retailer this time around! Great to have a pair of minimal sneakers that look just as classy as any Nike Air Max Thea, but for a fraction of the cost. Marked down at a crazy low $19, these are a fab, practical pair to style up or down (with the softest upper material ever!).
For Kiddo: Spiderman Light Up Sneakers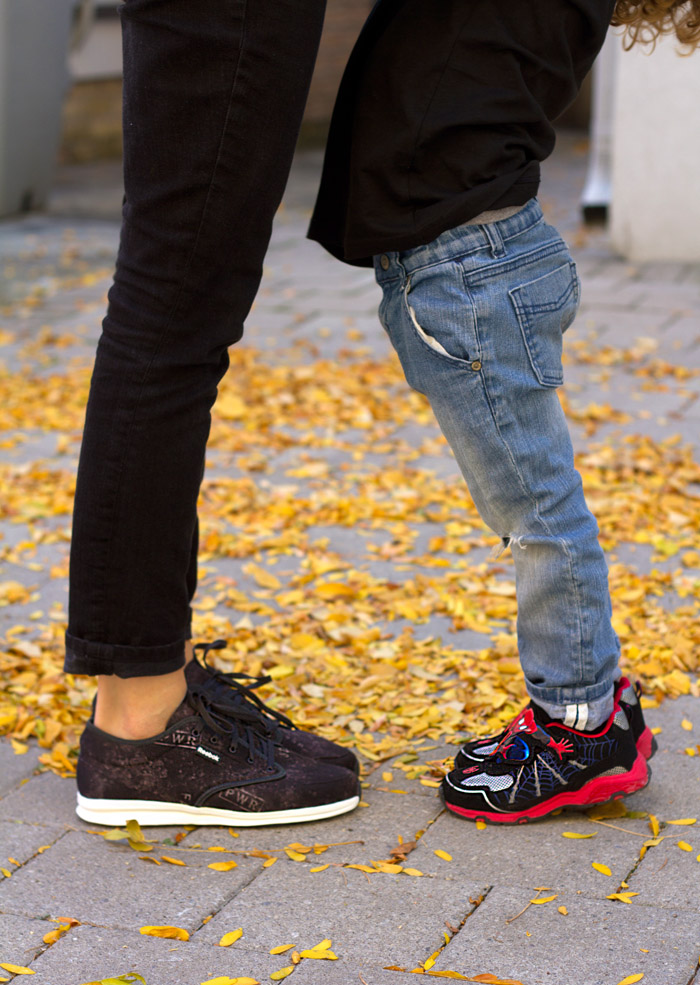 Guess who picked these light-up Spiderman sneakers from Payless? It certainly wasn't me! He looooves these sneakers. They're easy to get in & out of with secure fastening velcro & with lights so bright you can see him afar in the dark. A great buy. He wears them everyday & although they might not be the most stylish sneakers in the toddler universe, they're comfy, he loves them & that's all that counts! $29 which isn't too bad considering all the extras packed into them.
4. Comfy Cosy Slippers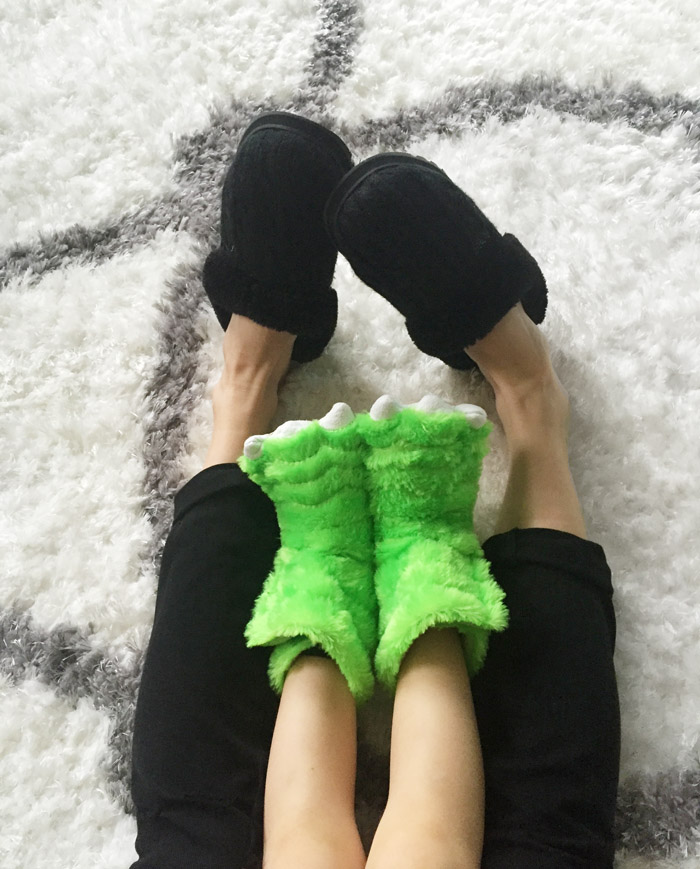 For some reason, the people who previously owned my home thought it was a good idea to install ceramic tile floors on the main level. Needless to say, it gets stupidly cold in the winter & slippers are essential in our house from early Fall onwards to late Spring (so, 85% of the time!).
For Mommy: BOBS by Skechers Slippers
Of all the shoes I scored at Dixie Outlet Mall, I'm probably most excited about these. Yes, excited about slippers…I know, right!? But truth be told, working from home, I spend a lot of time shoe-free in socks or even barefoot. The irony is not lost on me here, folks! Yet in the winter, there's no going sans footwear in my place. Or socks for that matter. Not only did I score these fuzzy slippers with actual shoe-like soles that isolate my feet from the cold for $16 from Shoe Wear House, but I actually spotted them in the Skechers the other week for $69. Major shoe savings at Dixie were had, people!
For Kiddo: Monster Claw Slippers
I don't know if all parents have this same problem, but my kid doesn't want to wear slippers. He's good with socks, but slippers just won't do. I've bought him classic styles (old man-ish really) with his beloved Disney characters pictured on them, but they were still a no-go. And they often slipped off. So happy that these slippers are not only silly & snug, but he doesn't mind wearing them. $16 from Carter's.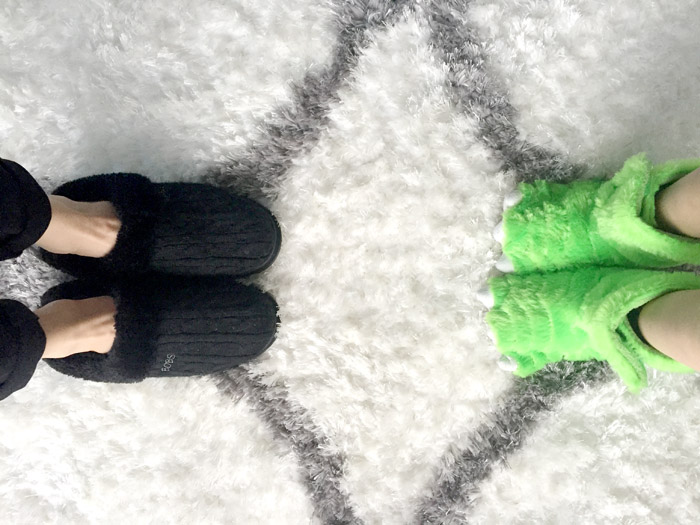 That's the full haul of our Mommy and me shoes from Dixie Outlet Mall. Such a great place to buy all sorts of fashion & footwear for the young & old(er!). Do you or would you ever match your shoes to your mini?
---
Shop exact & inspired styles:

---
xo Cristina
*****This post was written in partnership with Dixie Outlet Mall. All opinions expressed are my own.******