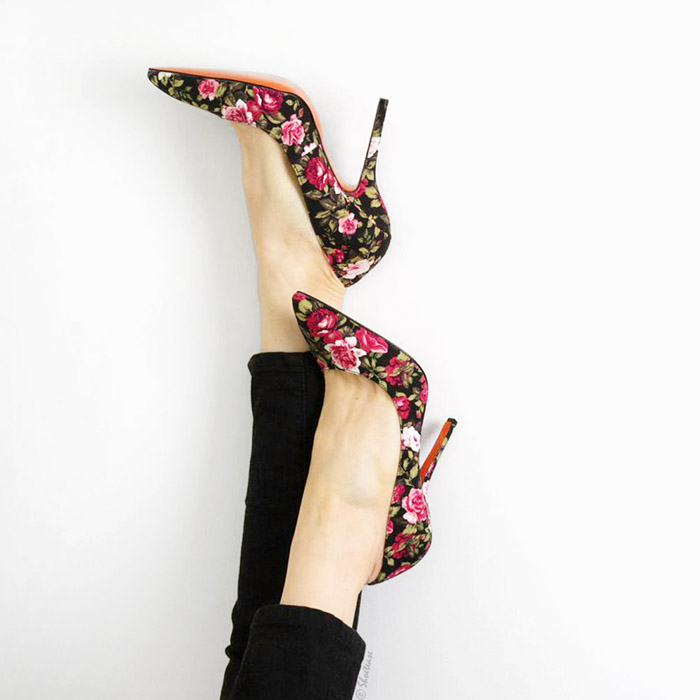 Joe Fresh does it again – with shoes! Always on-trend & beautifully in tune with what's going on in high fashion, Joe Fresh brings us a great pair of floral heels for less than 100 USD! Gotta love this brand's ability to bring affordable shoes & fashion for the rest of us!
And for $100 — $69 bucks to be exact — these puppies are quite a considerable amount less than the $1K Dolce&Gabbana floral print high heels (or possibly Kate Spade's floral licorice pumps from last season!) that they copied were inspired by. Above is the Joe Fresh version worn by yours truly & below is the Dolce design I'm talking about, worn by Atlantic Pacific's @blairadiebee in one of her IG posts.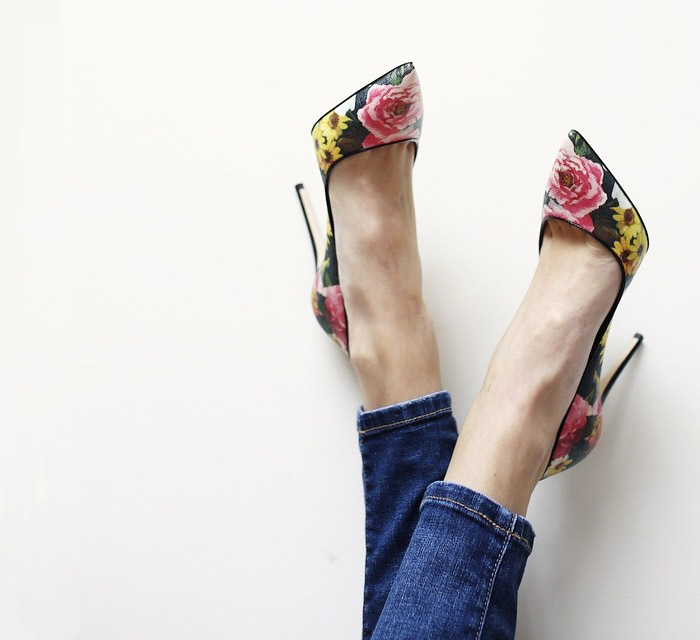 So yes, the flowers on the "original" are bigger & the upper is made of leather blah-blah, but the aesthetic feel of the shoe if very much the same. Heck, they both feature a pink peonies on a black background 😉 And if you're paying a fraction of the cost that a designer version would set you back, it's just so easy to turn a blind eye!
What I like about this designer look for less & to give credit where it's due, is that this shoe design is really more of an inspiration than a direct copy. Which, from professional experience, is actually not as easy as it looks. To make a high heel look this good, very much rivalling its high-end counterpart, there's a serious amount of research & all around hustling to do: perfect material, print, quality, last, heel…you name it. Shoe designing ain't easy, folks, especially when your selection is limited by the big 'ol price factor! So here's a little comparison between both floral pointed pumps for ya:
Joe Fresh Floral Heels for Less than $100 vs Dolce&Gabbana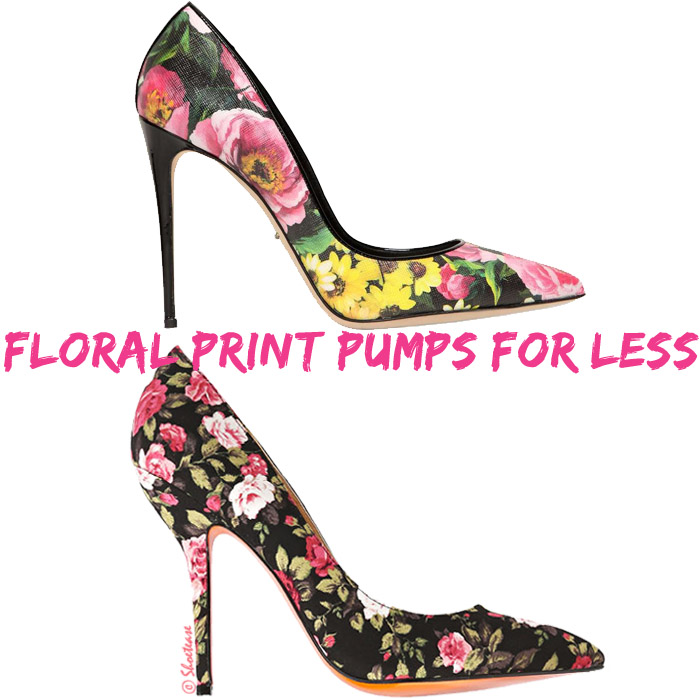 Dolce&Gabbana Floral Print Pumps
Upper/Outsole/Lining: leather with patent leather piping on upper
Heel height: 3.5 inches
Black leather covered heel
Slightly padded insole
Made in Italy
Available from Luisa Via Roma $695 US & Nordstrom for $924
Joe Fresh Floral Printed Canvas Heels
Upper: floral print canvas
Lining: Polyrethane
Outsole: Manmade materials (and they're glossy orange too!)
Canvas covered heel
Heel height: 3 inches
I'm gonna toss the dice here & say "Made in China". Feel free to correct me if I'm wrong!
Available for Spring 2015 from Joe Fresh for $69
Thoughts?


xo
Cristina M.
1st image photo credit: Conrad Collaco