This post was most recently updated on June 18th, 2017
Who can resist a good gift card as a giveaway item? Not me! Day 3 of the fabulous #11DaysofGiveaways has Cominar & I giving away one $150 gift card that you can use at Dixie Outlet Mall in Mississauga, Ontario AND 17 other malls across Québec. Oh yes, baby!
If you've read any of my posts on my shoe shopping hauls at Dixie Outlet Mall, you'll know that your dollar can stretch out to what seems like an infinite amount at this particular mall. Trust me, I've bought so many women's shoes (see after the jump) & these cute kid shoes over here! Deals upon deals, it's time for you to win some gift card money & show us how far you can stretch your gift card amount (as well as your legs, of course!).
Enter to win, below!
When I said you can get a LOT of items for a low price from this discount mall, I wasn't kidding. Just take a look at the tantamount of shoes I've been able to get there for a fraction of the price, below. With outlets like Aldo Shoes Outlet, Nine West Outlet Studio, Shoe Warehouse, Foot Locker Outlet & many more, it's a great place to shop not only for shoes, but for clothing & home items for the whole family. Now, I can't say how great it is to shop at Cominar's other malls in the province of QC, but if they're anything like Dixie, then it's well worth shopping there!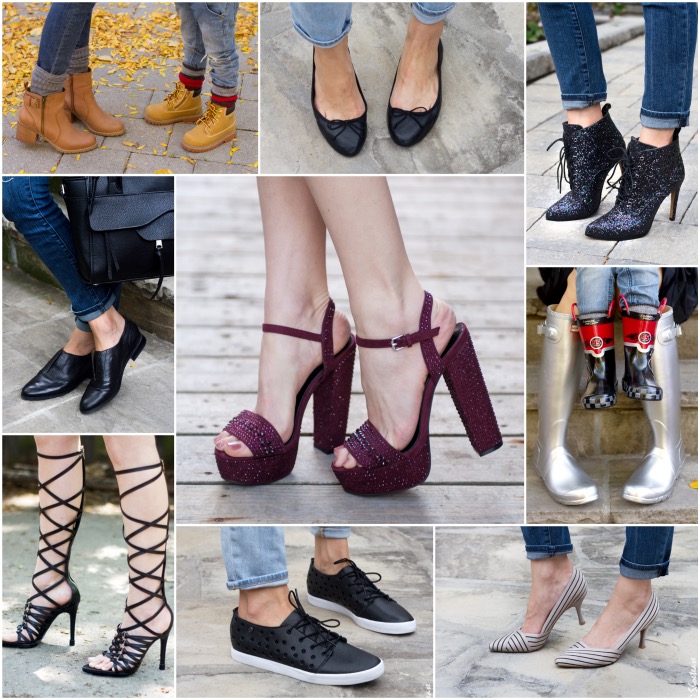 What you could Win:
1 $150 gift card from Cominar, to use at Dixie Outlet Mall & select Cominar Shopping Malls in Québec (listed below).
Who can Enter:
Anyone 12+ years in age, located in Canada.
How to Enter:
It's easy! Enter by using the Rafflecopter widget below. Each entry has it's own entry value, to gain you more entries!
GOOD LUCK!
Giveaway Fineprint
Contest starts November 25, 2015 12AM EST and ends December 5, 2015 11:59 PM EST. 1 winner can win 1 $150 gift card from Cominar to use at participating retailers (see list below). The winner will be announced at the end of the #11DaysofGiveaways series. The winner will be randomly selected by Rafflecopter. The prize is non-transferrable & cannot be redeemed for cash value.This gift card is subject to restrictions as outlined by Cominar. Applicants must be over 12 years of age and must reside in Canada. Prize will be shipped to the winner via post.
Cominar shopping centres that accept the gift card include: Alexis Nihon Carrefour Charlesbourg Carrefour Frontenac Carrefour St-Georges Carrefour Rimouski Centre Laval Centre Rivière-du-Loup Centropolis Dixie Outlet Mall Galeries de Hull Galeries Rive Nord La Plaza de la Mauricie Les Promenades Beauport Les Rivières Mail Champlain Mail Montenach Place de la Cité Place Longueuil Rockland – See more at: https://www.dixieoutletmall.com/en-CA/gift-cards#sthash.f3fzhrxl.dpuf
Next Giveaway —> UKIES Shoes Giveaway, where you have the chance to win 1 pair of amazing UKIES shoes of your choice (open to US + Canada)!
Previous Giveaway <— SIZERS Shoe Inserts Contest, where you could win 2 of 10 multi-pack cushioned shoe inserts
xo Cristina