Dixie Outlet Mall Fall 2015 Shoe Haul
During my most recent shoe shopping trip to Dixie Outlet Mall, I discovered some amazing Fall 2015 shoes for the season! Of course, my $200 #shewhohuntsfinds challenge budget couldn't buy me every shoe my little heart desired (and there were lots!), but you'll be surprised at just how many trendy & practical pairs I was able to purchase & the amazing savings that came with. There's a reason why Dixie is one of my favorite Toronto shoe & fashion outlets! See what I bought & how much I saved, after the jump…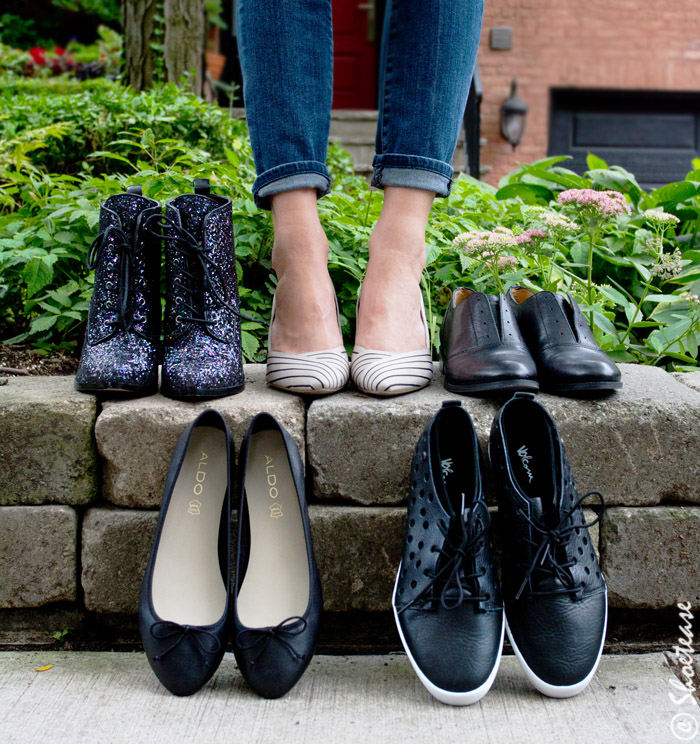 I went shoe shopping at the mall with every intention of finding basic black flats & practical shoes to add to my shoe closet. I also hoped, if my shoe budget permitted, to snatch up a fun pair or two too! As always, retailers including Aldo at Dixie Mall, Nine West Shoe Studio & Winners did not disappoint. But there was one particular comfort shoe brand that certainly surprised me! So many options (see all shoes I could have picked here) needed to be weaned down to a $200 purchase, so I had some decisions to make. I know, life's tough eh?!
Here are the shoes (& more) that I ended up snagging for my Fall 2015 wardrobe:
1. Slip-on Brogues, Nine West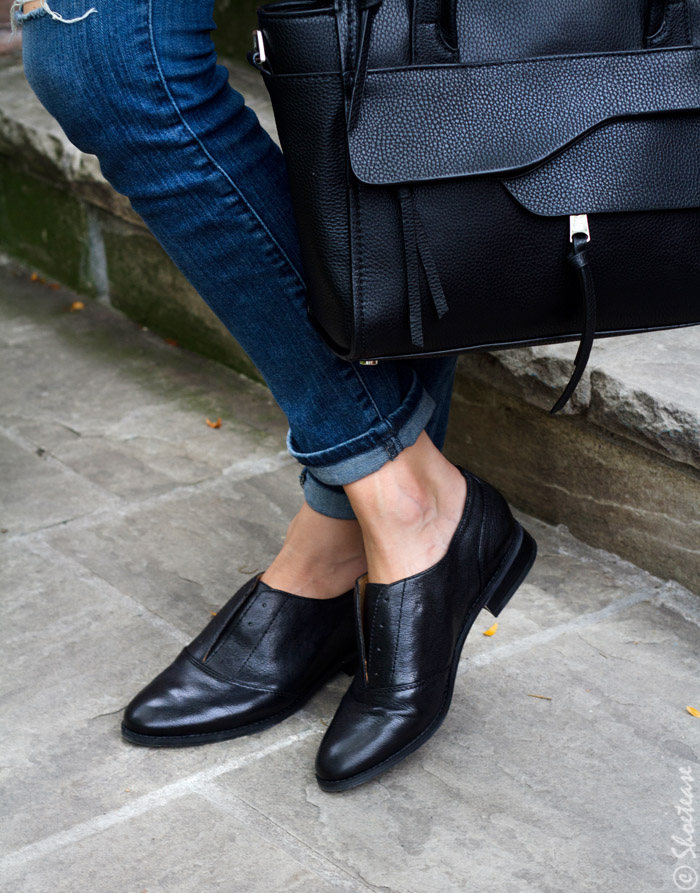 Slick, easy to wear & trendy as heck for Fall 2015, these genuine leather brogues from Nine West Shoe Studio were everything I was looking for! The bag I'm holding is a new purchase from Winners in Toronto, not part of the Dixie Outlet Mall challenge.
Original price: $115. Paid: $54.99. Saved: $60.01
2. Black ballerina flats with bow, Aldo Shoes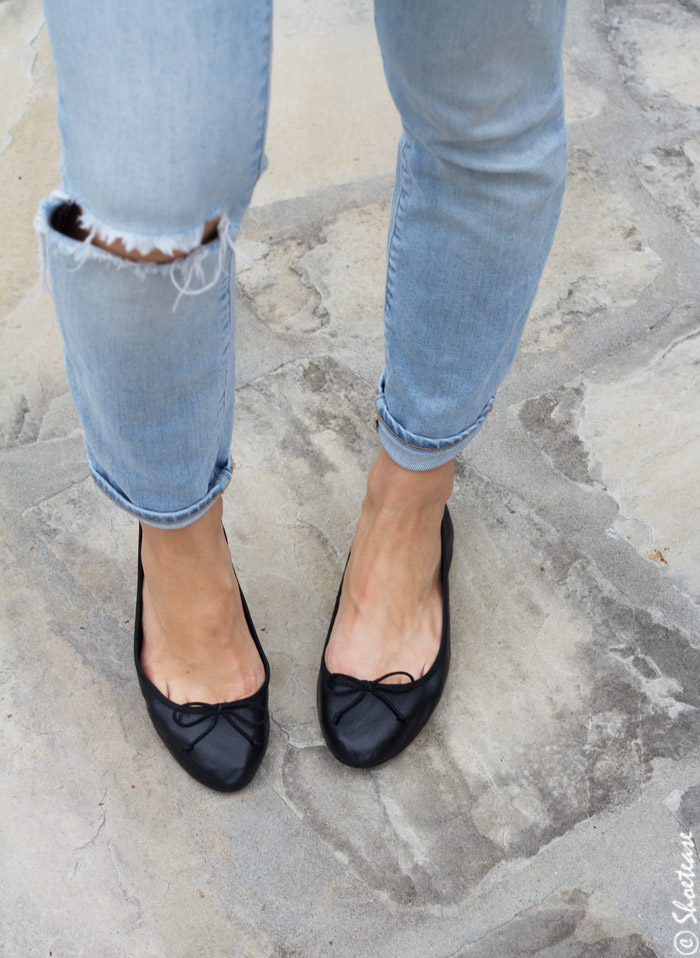 Another great little pair of shoes that have been missing in my shoe closet for some time now: simple ballerina flats. I have colorful ones, patent ones, but nothing classic like these that I picked up from the Aldo Shoes Outlet. I love the tapered toe & oversize lace bow. Oh, and yeah, they're made of real leather above & inside the shoe!
Original price: $60. Paid: $19.99. Saved: $40.01
3. Striped pumps, Naturalizer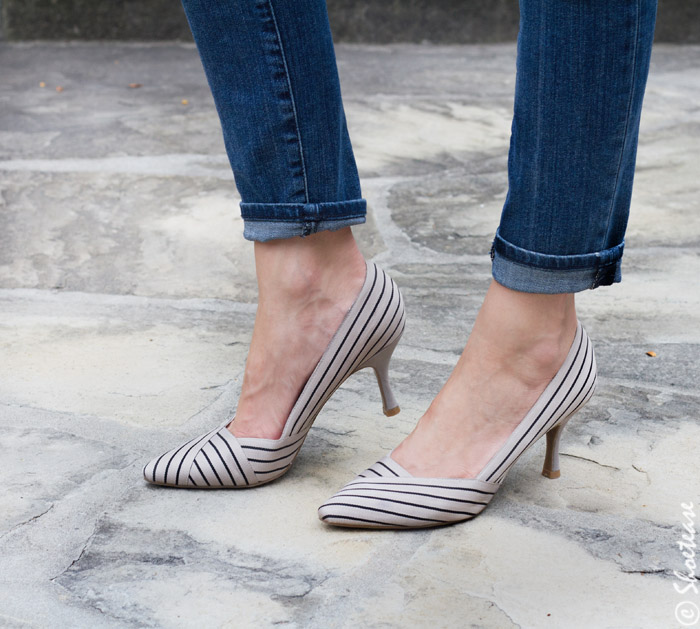 These striped thick gross-grain pointed pumps were a surprise from comfort (and often dowdy) brand Naturalizer! Being from a couple seasons ago, they were a little scuffed, so I scored an extra 10% off these stylish & very comfortable heels.
Original price: $80. Paid: $19.99. Saved: $60.01
4. Perforated Volcom sneakers, Winners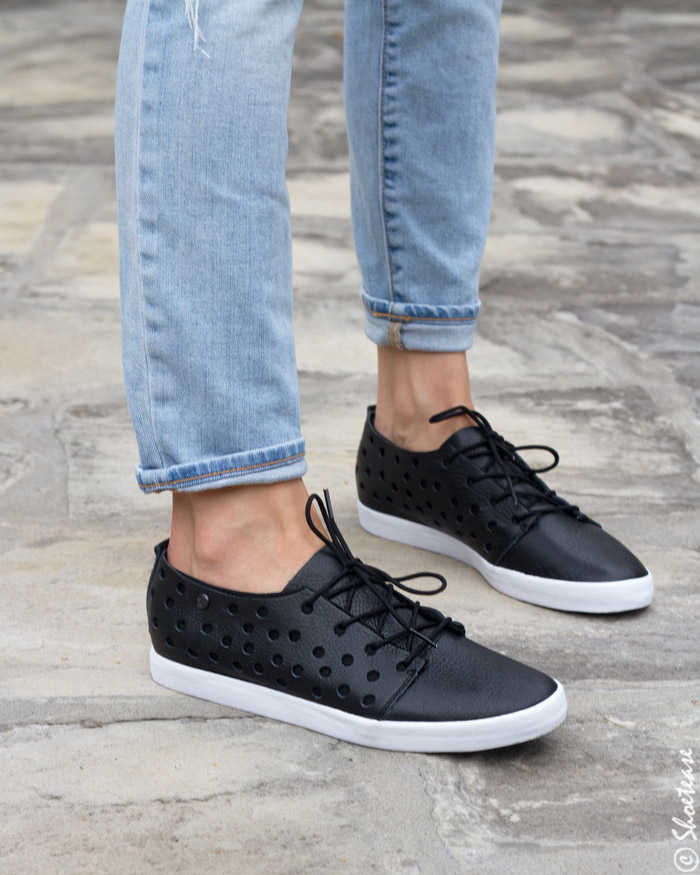 Because I don't have enough sneakers, right? Well, I don't have many low soled, casual ones actually. So I was happy to score these leather & canvas athletic shoes with stylish perforations!
Original price: $70. Paid: $19.99. Saved: $50.01
5. Aldo black glitter lace-up ankle booties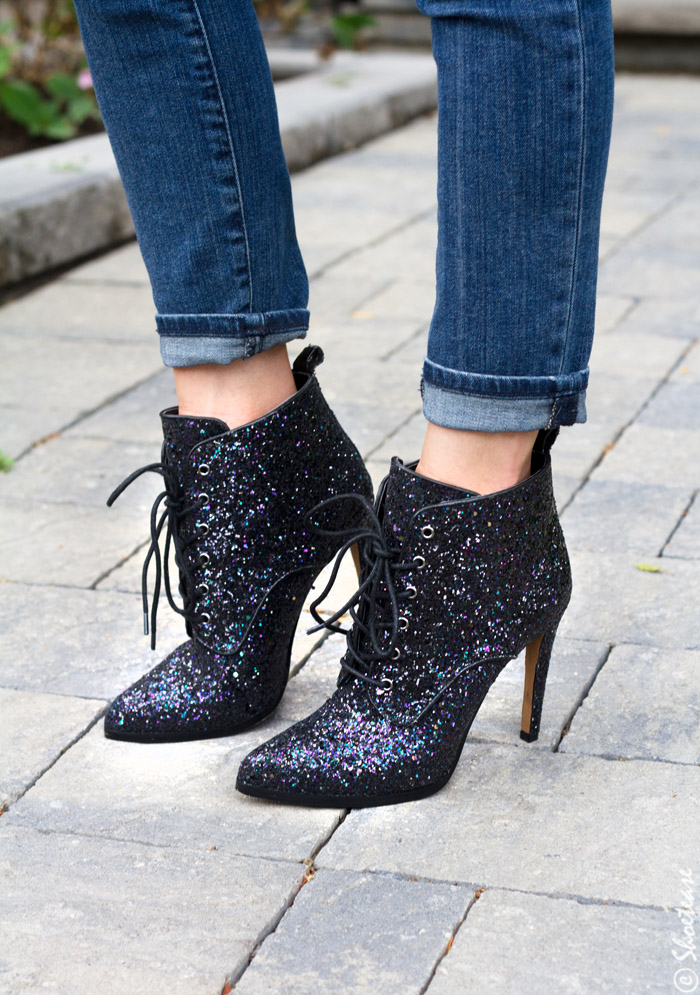 And the stars of my Dixie Outlet Fall 2015 shoe haul are these amazing high heeled, glitter drenched booties! I saw a similar pair last Spring during my previous Dixie shopping trip. These have laces though & are much more comfortable to walk in. Be it, I won't be running marathons in them, but no discomfort at all while circling the Aldo at Dixie Mall!
Original price: $120. Paid: $34.99. $85.01
6. Silver Gemstone Ring, Winners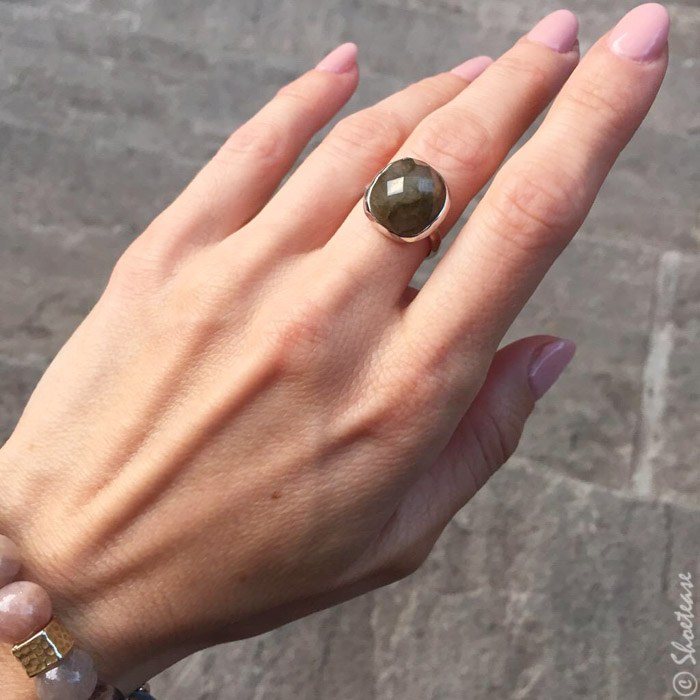 Ok, ok, so I did go a tad off mission and yes, clearly this is not a shoe! My hands got a little jealous of my feet, so I had to indulge them.
What can I say?! This beautiful ring with green/grey colored semi precious stone from Winners was too pretty to give up.
Original price: $40. Paid: $24.99. $15.01
So if you're good at math, you'll be quite shocked that I saved $310 dollars on my $205 shoe & accessories shopping spree (yes, I went over budget by $5, oops!). That's a huge amount of saving for ya, right there.
Now here's your chance to win a Fall 2015 shoe collection by entering to win your own $200 Dixie Outlet Mall gift card!
Fine Print
Contest starts September 10, 2015 12AM and ends September 18 12AM. One Dixie Outlet Mall gift card worth $200 CAN can be won by one winner only. Winner will be the week after the giveaway ends. The winner will be randomly selected by Rafflecopter. The winner must be able to pick up the gift card at Dixie Outlet Mall. Prize is non-transferrable. Applicants must be over 12 years of age and be residents of Canada.
Congrats to the WINNER Danielle F.!! Dixie Outlet Mall will be contacting you soon!
xo Cristina

**This post is brought to you in collaboration with Dixie Outlet Mall. All opinions expressed are my own**