If you're looking to book yourself into a quaint boutique hotel on your next trip to Venice in Italy, I found a rare gem with ample amount of charm!

Corte di Gabriela – A Venice Boutique Hotel Review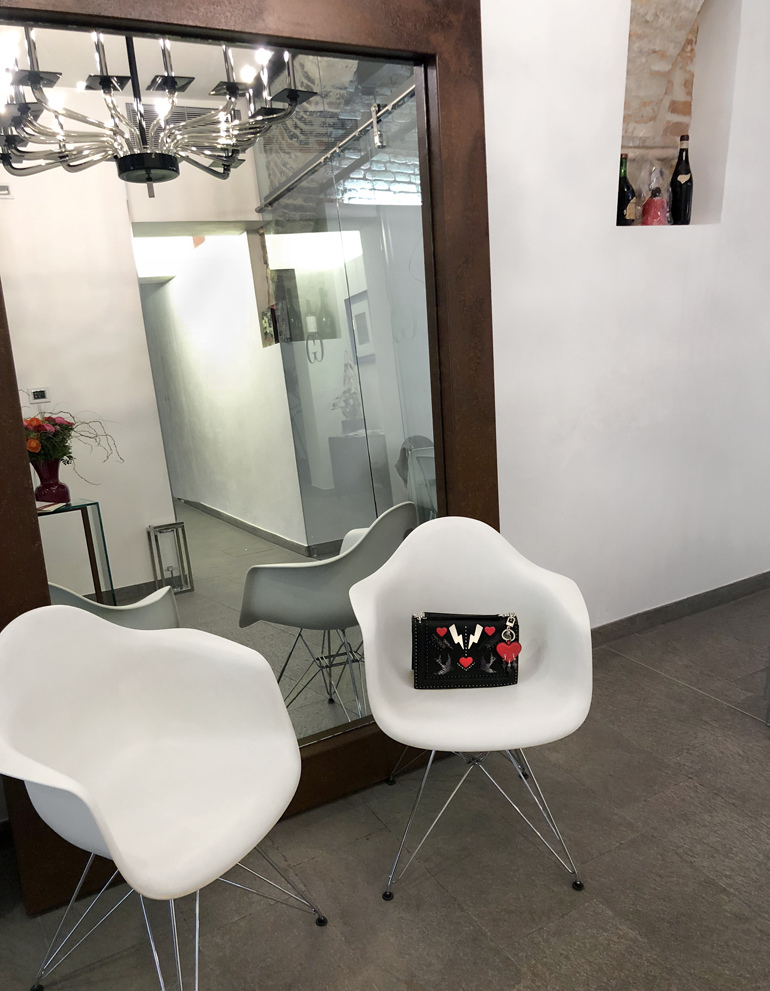 Set in the heart of Venice, but nestled within a surprisingly quiet corner, hotel Corte Di Gabriela is a charming bed & breakfast style hotel set in a stunning 19th century palace. Just a brief walk from the Rialto bridge & Palazzo Grassi, overlooking the various canals surrounding San Marco, it perfectly blends antiquity with modern allure.
With only 11 suites, this luxurious hotel offers original decor & modern amenities in each of it's rooms. No two are alike, which makes them captivating!
Dependance Suite at the Corte di Gabriela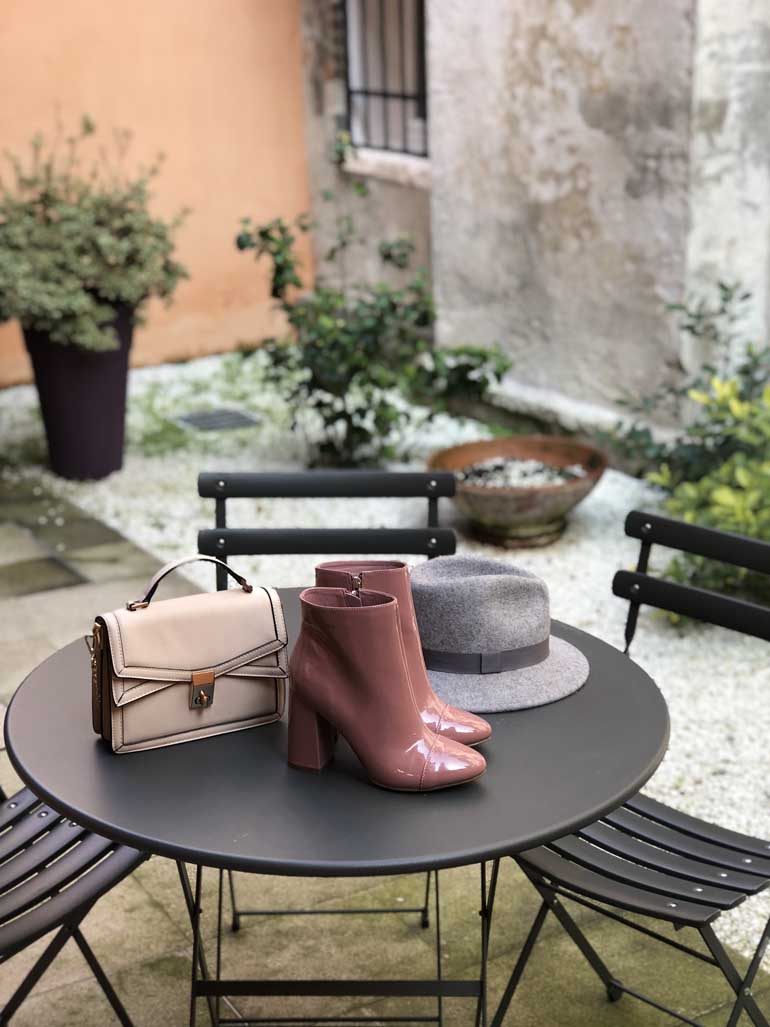 Because we stayed for almost a week and had a child in tow, we were booked in one of their 3 dependance suites, just a minute or so walk from the main hotel.
This particular bedroom apartment is fully equipped with a stylish eat-in kitchen, modern bathroom, laundry closet & living room with pull-out couch. It really was like having our own home in Venice, fitting the 3 of us comfortably. And the best part was a large courtyard, all to ourselves!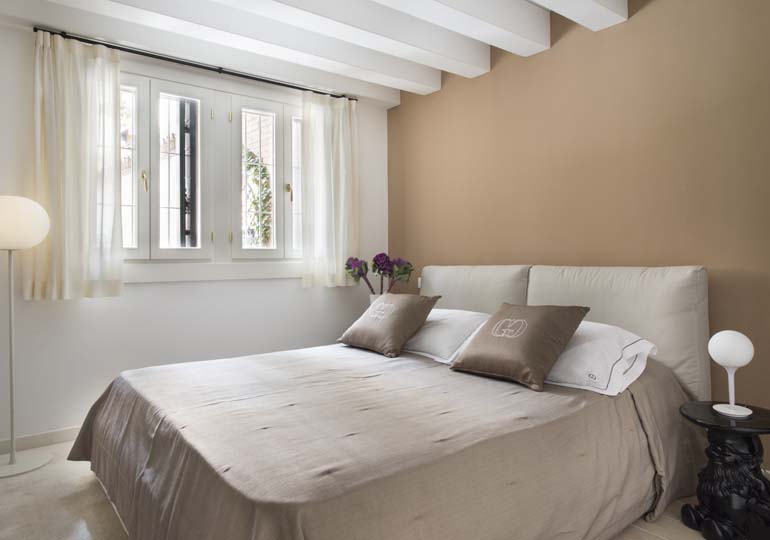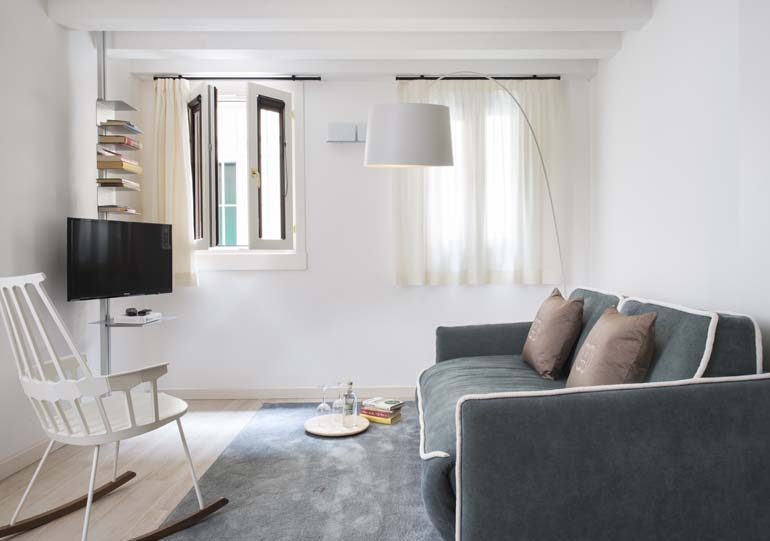 Our accommodation was comfortable, inviting & had more than we could have hoped for. We had a full bathroom with shower & bidet (God love me, I'm Italian and I can't imagine living without one!). With supplies from shampoos, q-tips & ample amounts of plush towels, we definitely felt taken care of. The master bedroom bed was comfortable, as was the pull out couch.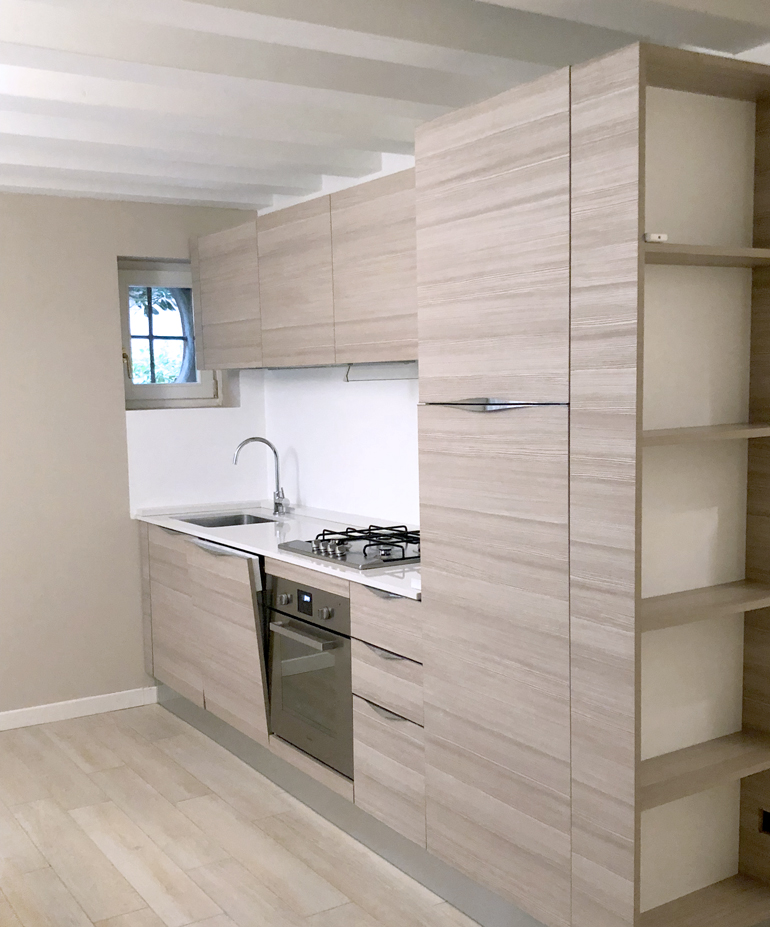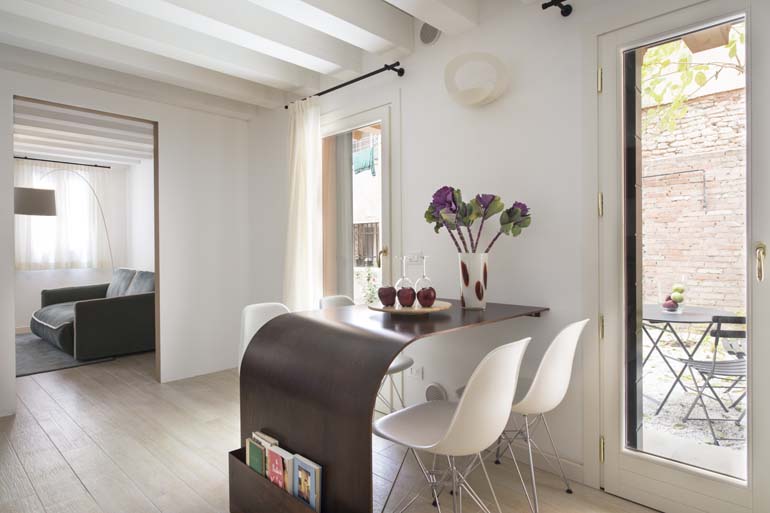 And I'll never forget the stylish Italian kitchen with large sink, stove, oven, full size fridge/freezer, dishwasher & everything needed to cook any meal.
The only issues I found were the lack of clothing storage/coat hooks and the very dim lighting, both necessary for the dark, rainy trench coat days that followed us there.
Yes, the bedroom is on the small side, compared to North American standards, but it wasn't nearly as small a room as I have resided in within Europe! In stark contrast, the kitchen was amazing, sitting 4 people more than comfortably & the living room area was a lovely size.
Depandance suite Amenities:
Fully furnished apartment with bedroom, kitchen and living room/lounge area
Courtyard with table & chairs
Fresh bedlinen & towels daily
Free Wi-Fi connection in all rooms and main hotel area (works really well!)
Air conditioning & in-floor heating
2 Flatscreen satellite TV with international channels
Safety deposit box and direct telephone line
Bathroom with shower, sink & bidet
Hair dryer
Fig-scented courtesy set: shampoo, conditioner, body cream, body wash
Plush bathrobe & slippers
Washing machine with laundry detergent
Clothing iron
Midday check-out
Breakfast Buffet at Corte Di Gabriela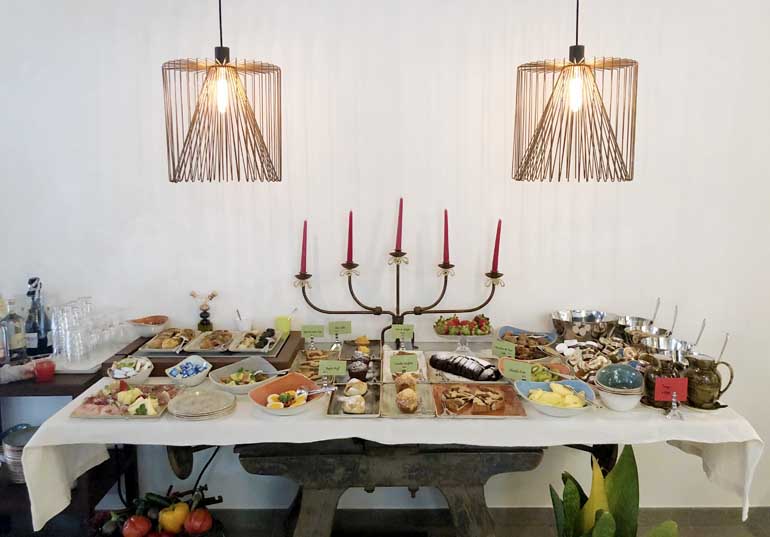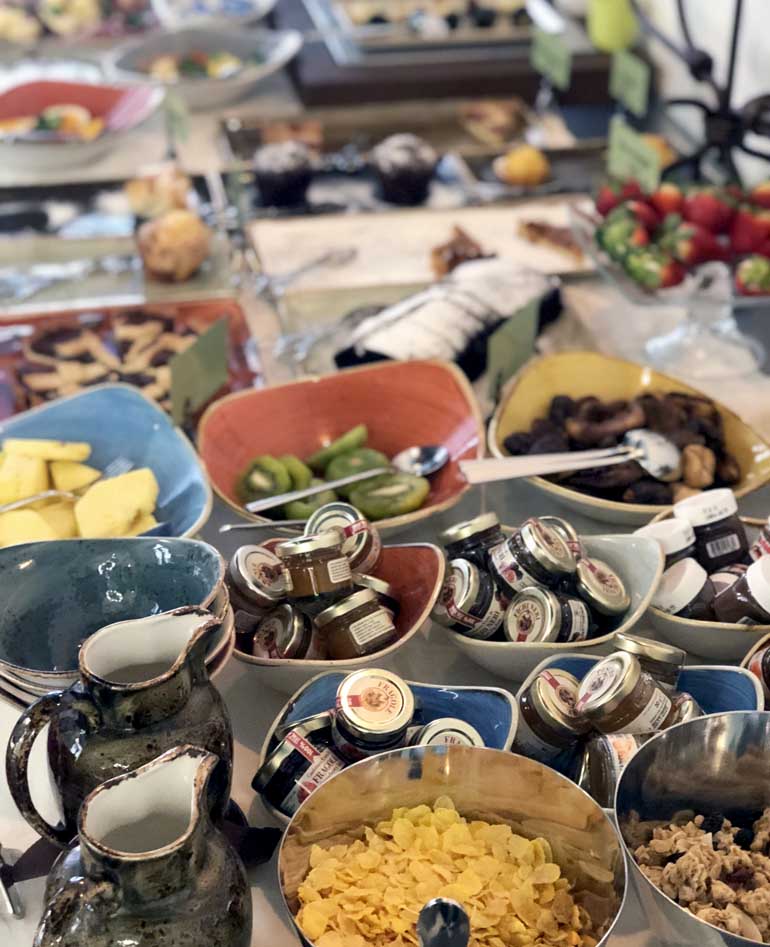 Set in an intimate dining room, (or enjoyed in the stunningly decorated courtyard) the buffet breakfast was the highlight of our stay! With a vast assortment of fresh fruit, cereal, cakes & pastries by owner Gianluca himself, there was nothing left for our little hearts to desire. In addition to the self serve delights, made to order, eggs, omelettes & crepes were plentiful. Yes, a multi course breakfast, this was!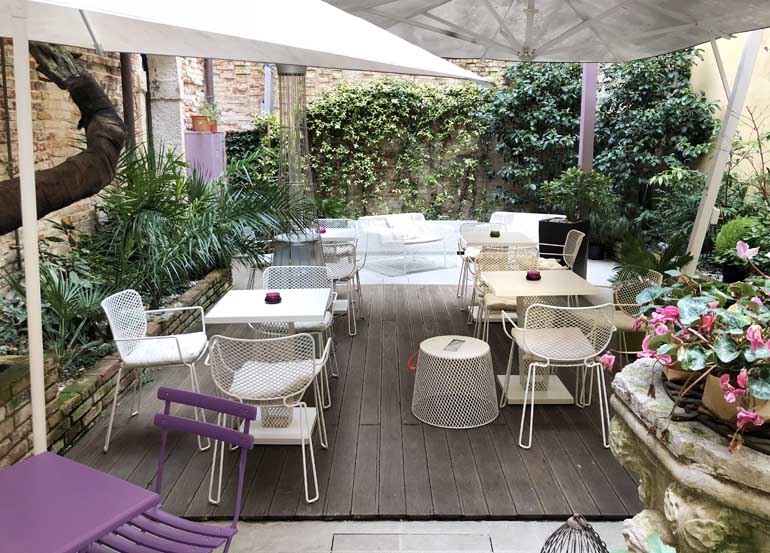 Freshly brewed espresso & a rich hot chocolate are just two of the delicious hot beverages to perk you up first thing in the morning. Or even enjoyed after a much-need sleep in, as breakfast is open until 11:30am. Oh, and did I mention a mimosa bar with freshly squeezed juices?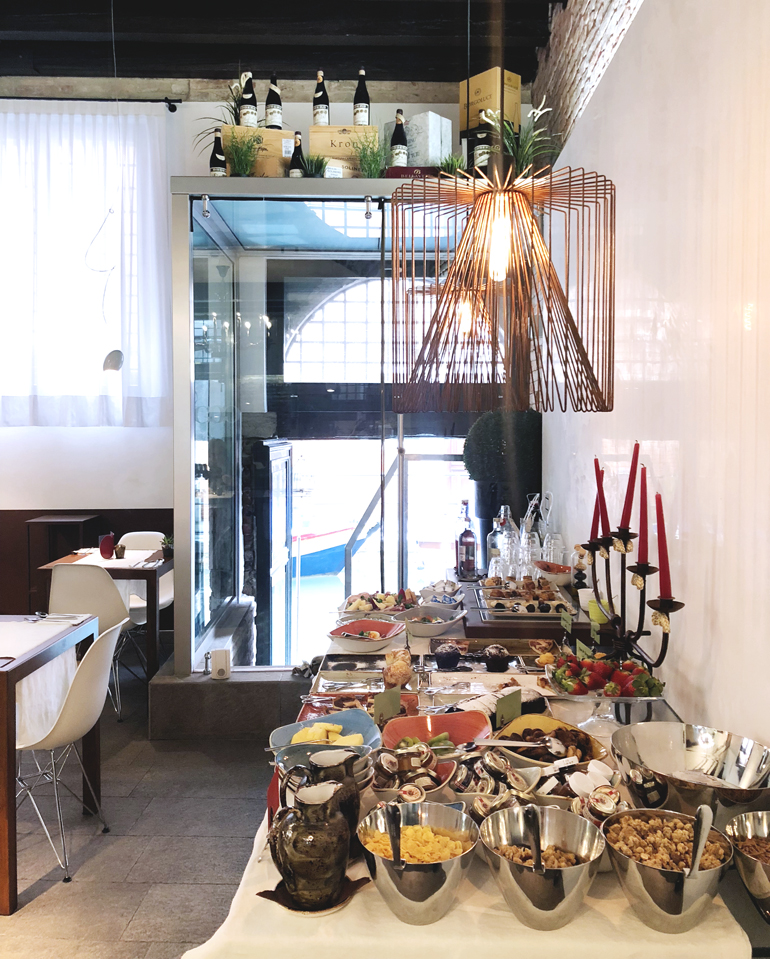 ---
Last, but definitely not least, let's talk about the service: it was over & beyond. On our first night, we were offered a cocktail with a very Italian snacks in their ambiance rich lounge, pictured below.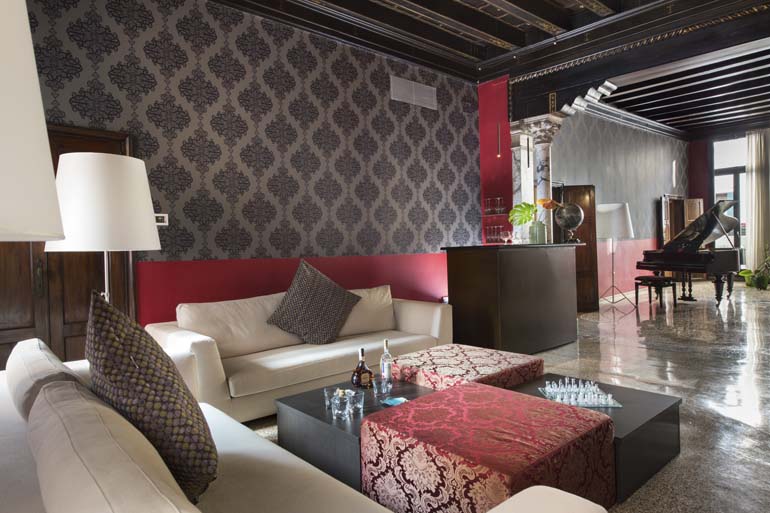 Requests were executed almost instantly and the helpful staff was always at our disposal for any inquiries (many of which involved directions!) and always suggested outstanding restaurants for lunch & dinner in the vicinity. Daily newspapers were available each day.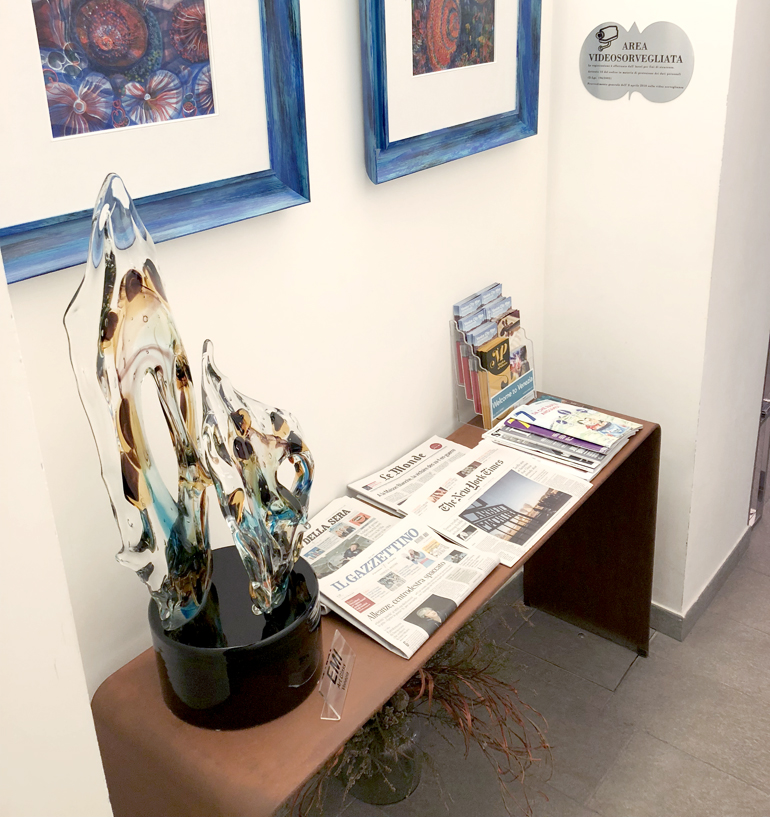 And I'm not alone: the luxurious 4 star hotel has been featured on TripAdvisor's Top 25 hotels for service in Italy, along with the Top 25 small hotels in Italy & top 25 romantic Italian hotels.
Whether going on a romantic Venetian getaway, wanting an easy holiday with the family, or to enjoy a lovely brunch, I highly recommend the Corte Di Gabriela. I still dream about sipping tea in our private courtyard & the decadent, melt-in-your-mouth chocolate pear torte I devoured over breakfast. Yes, most of my memories do involve food. And drinks. Can't forget about those 😉
You can reserve your stay at this lovely hotel directly from their website, here.
Hotel Address + Contact Info:
Rosso Srl | Calle degli Avvocati | Tel. +39 041 5235077 | info@cortedigabriela.com
xo Cristina
Credit for photos #4, 5, 7, 13 c/o Corte di Gabriela