This post was most recently updated on August 2nd, 2016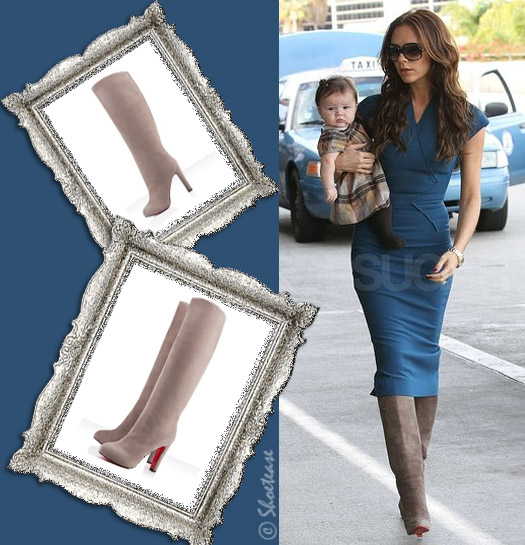 Victoria Beckham paired a fabulous blue frock from her own line with grey/beige "Vicky Botta" Christian Louboutin suede boots (that of course, match baby Harper's cute little plaid dress) on another LAX jaunt.
If you're wondering about the boots' name, they were actually created in collaboration with Louboutin, for Beckham's Fall 2011 collection presentation. On top of the greige suede material which is lovely & rich , I much like the chunky shaft & heel of these boots!
I'm still puzzled how Victoria is able to nonchalantly walk about in 5″ heels while toting around a baby. It must surely be all the heel practice she's gotten throughout the years! I'd myself be paranoid of taking a bad fall & taking down the kiddo with me, but heck, not many people are as uncoordinated as I am 😉
If you fancy these boots, they can be yours for $1,595.00 at Louboutin's shop. Is the price a bit steep? Here check out these much more affordable grey boots for you to sport this fall!
See more celebrity shoes here!
Photo Credit: PopSugar.com
xo ShoeTease