This post was most recently updated on January 12th, 2016
As everyone has known for what seems to be years, the Royal Wedding was held this morning in London (Toronto time = far too early!). So no, I didn't get up especially to watch it, but for all other sensible silly people who didn't set their alarms crazy early to sit in front of their TVs, here are the much anticipated wedding shoe updates! However, there is some bad news as there is good…
The bad news: Princess Kate Middleton's high heeled white pumps were pretty much hidden under her glorious McQueen gown 🙁 But fret not, kind folks! If you take a look at the video below, at the 0:24 mark,  you'll get a glimpse of the shoes Kate donned for her very special occasion. According to Shoe Hunting, these wedding shoes were hand-made by Alexander McQueen's team, using ivory duchesse satin with the lace hand-embroidered by the Royal School of Needlework. Pretty nifty, eh?!
[youtube]https://www.youtube.com/watch?v=0gxvdRpQrAk[/youtube]
So what's the good news you ask? The guests who attended the fancy affair wore exceptional shoe eye-candy, which will hopefully be enough shoe fabulousness to get us through the last day before the weekend! So scroll down to enter a very royal shoe & fashion heaven…
The Shoes of the Royal Wedding Invitees!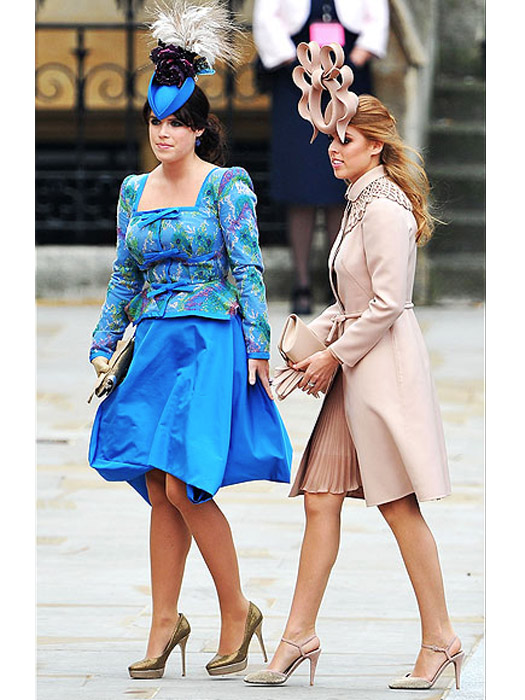 Prince Harry's first cousins Beatrice & Eugenie. Fascinators by Philip Treacy.
The most popular shoe of choice (which comes as no surprise given the huge trend this season), was the neutral high-heeled pump, varying in shade from nude, bone, blush to ivory. Even Queen Elizabeth jumped on the bandwagon, albeit donning a more homely, lower heeled version, in comparison to what the pretty young things dipped their dainty little feet into!
Prepare to swoon at the shoes, outfits and crazy inventive fascinators! Who didn't partake in the nude shoe trend was Victoria Beckham, sporting some fabulously sky-high platform Louboutins & Tara Palmer-Tomkinson, who chose to wear a fantastic pair of appropriate "royal" blue Nicholas Kirwood slingback sandals with pearl-insert platform, instead.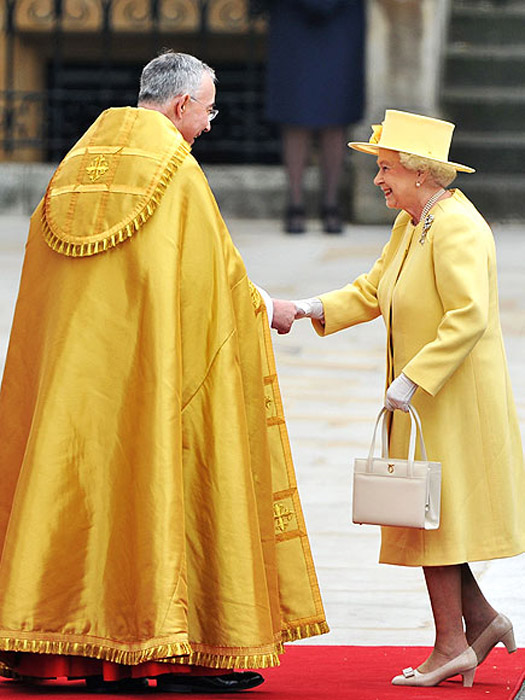 Queen Elizabeth. Obviously!
Mother of the bride Carole Middleton
Best man Prince Harry's girlfriend Chelsy Davy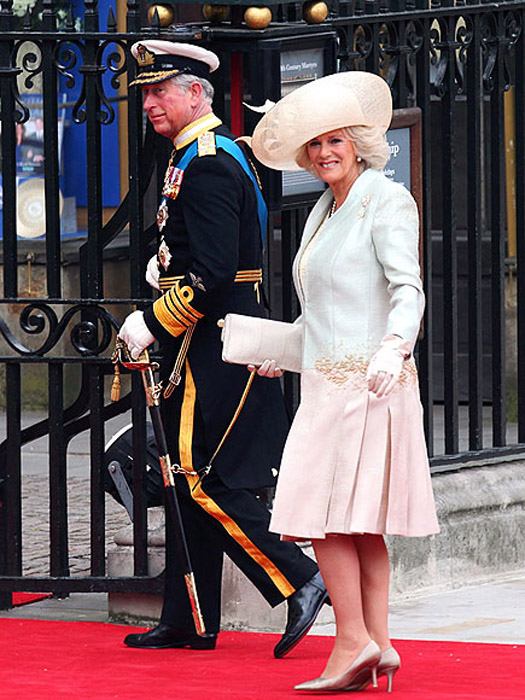 Prince Charles & Camilla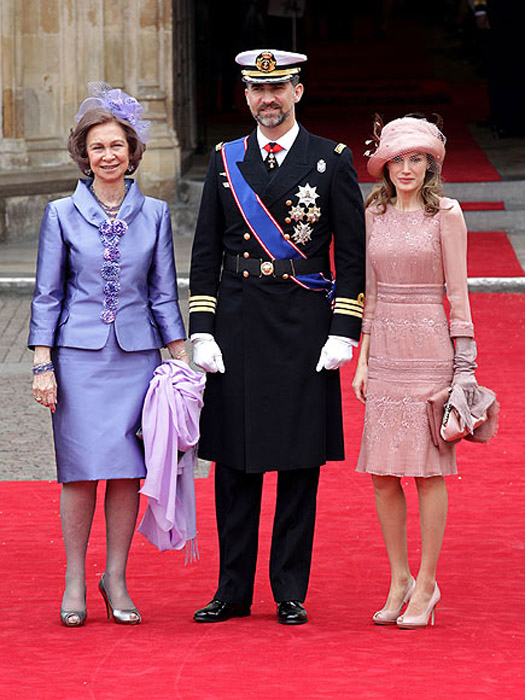 Spanish Monarchs Queen Sofia, Prince Felipe & Princess Letizia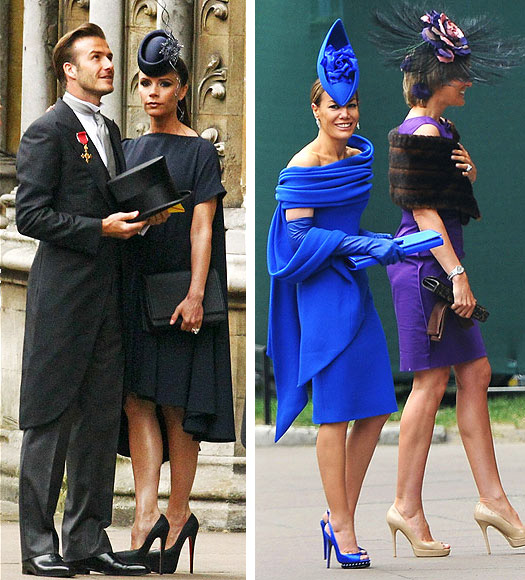 Victoria Beckham in Louboutin with her David. Tara Palmer Tomkinson in Nicholas Kirkwood.
Prince Albert of Monaco with Charlene Wittstock
Ben Fogle and his wife
Photo Credits: ca.eonline.com and people.com