I recently stepped out in my Marc Fisher pearl sandals with some fabulous Toronto fashion & lifestyle bloggers for an early Sunday morning get together. We met up for brunch at check Victor Barry's "it" restaurant Café CanCan in Toronto on Harbord St. (The Annex).
Café CanCan Toronto – Review & Photoshoot
I'm always happy to check out a cute cafe or bistro that opens up in my part of town, because to be frank, there aren't as many Pinterest-worthy spots in my neck of the woods as there might be popping up in the West end of the city. Which is a bummer, because it's always nice to have something quaint nearby. So happy was I to find out Café CanCan is just a hop, jump & a skip away!
I'm sure you're wondering what an ex shoe designer, shoe blogger is doing reviewing anything other than shoes. Well, other than the fact that I'm ready for a slight change, my shoes do take me to many places & I thought it would be fun chatting about the specific locations & destinations — in town & beyond — that I do set foot in. I mean if I have strong opinions about food, you can only imagine how that must translate when it comes to food & travel 😉 So I've decided to set out & do it!
Small anecdote: my whole family works in the restaurant business (mostly in Italy), ranging from producers, to wholesalers & restaurateurs. A few years ago when working in Alba, Italy I almost made a 180 degree career change into the food & wine industry myself. So fashion & food have always (and continue to be!) 2 of the greatest passions of mine. And if life goes according to plan, I might be able to enjoy them both through the blogging world as well!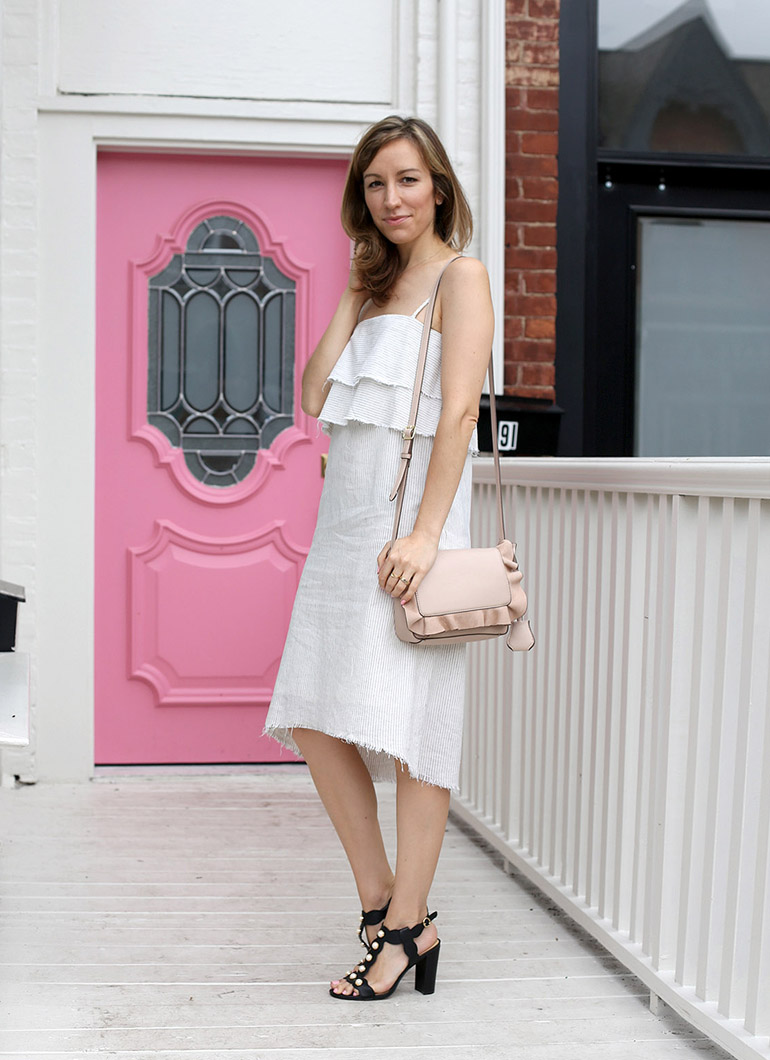 Pearl Sandals: Marc Antony c/o Dixie Outlet Mall. Purse: c/o Nine West Canada. Dress: Zara. Necklace: c/o My Prysm

Café CanCan Toronto Review
Café CanCan Toronto – The Decor
Ok, so I'm not going to lie: the primary reason that made us want to go to Café CanCan in Toronto for brunch was hands down the decor! From the photos I had creeped on BlogTO & social media, I knew it was going to be as Insta-worthy as it could get.
Needless to say the restaurant, styled by the talented Tiffany Pratt did not disappoint. From the floral tapestry down to the glassware, no detail was left un-curated. A complete & utter visual delight, even for the lesser girly-girl, such as myself. And it kinda made my day that Tiffany was there herself, in all of her pasted-hair splendor!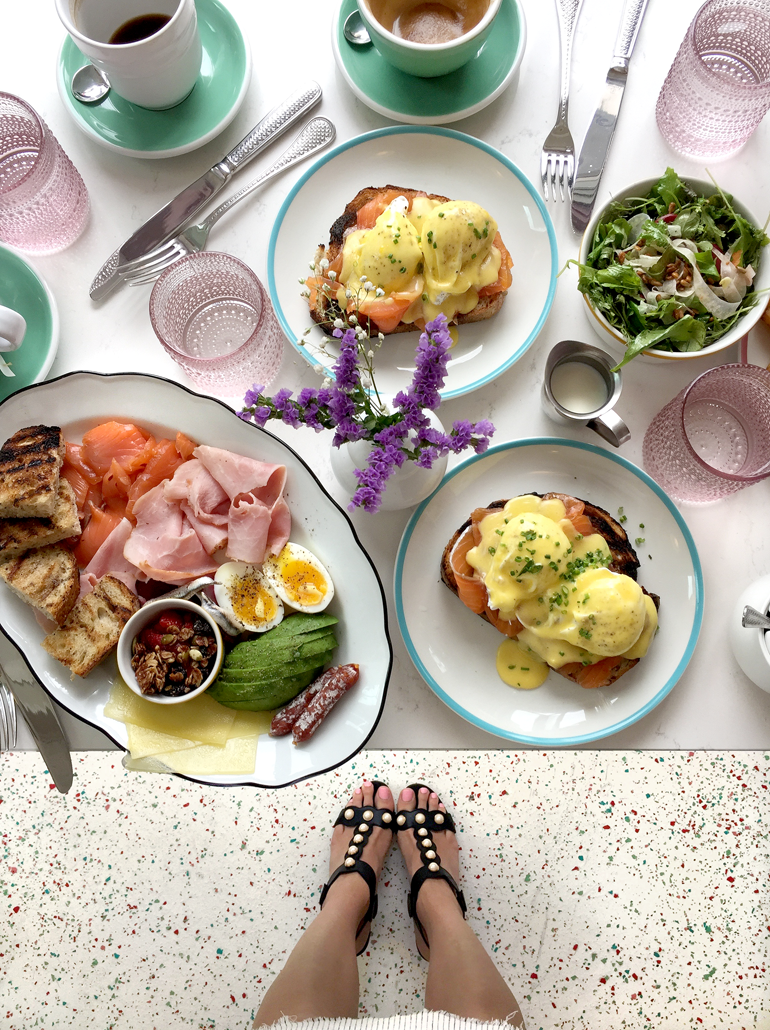 Café CanCan Toronto – The Food
The food at Café CanCan was actually quite tasty with a good selection of French bistro-ish fare & pastries for brunch. Natalie of Natalie Ast found a celiac-friendly dish in her steak & eggs that she really enjoyed. Annika from Fernweh Society had an amazing ceci e cela platter that looked fresh & tasty.
Myself, Diana from Diana's Healthy Living & Chloë from xo Chloë Gordon chose the eggs benedict with salmon. The hollandaise sauce was delicious & the eggs were cooked to runny perfection. The base, however was an impenetrable crouton, which was unfortunate because it made eating the rather difficult. Our tasty side salads made up for it, though.
We didn't have any boozy drinks during brunch but all the ladies had their lattes (yes, latte art included!) & I had a black tea. I was surprised that a stylish place such as Café CanCan — with already steeper than usual prices — didn't opt for a similarly branded tea collection. I'm thinking the likes of Sloan tea or similar. The plain black tea I had was fairly bland & uninspiring.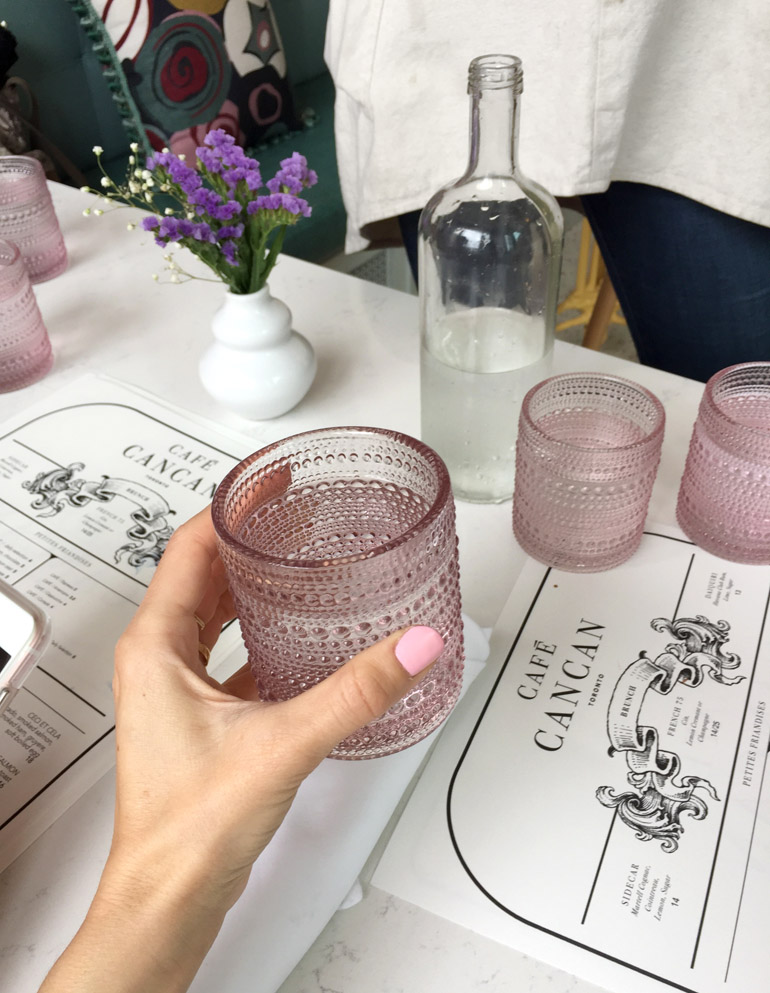 Café CanCan Toronto – The Service
Ok, so I know it's an unwritten rule to always overweight the positive aspects of any review not to scare off potential collaborations. Well, scrap that, because I like to give credit only where credit is due. And when it comes to service, Café CanCan was simply disastrous.
From the 1hr wait between our drinks & our meal (and other 15 min lag between our mains & our sides), the inattentive server with a less than stellar attitude, I was extra lucky to be surrounded by inspiring women & decor to care much less about the service than I normally would have. Luckily we arrived early so we were able to snag the large front booth & there was absolutely no problem with us taking a slew of pictures!
So all in all I would definitely recommend popping inside Café CanCan in Toronto for an eclair & coffee (at the very least!) & let the breathtaking interior whisk you away to a magical, pastel-infused realm!
xo Cristina