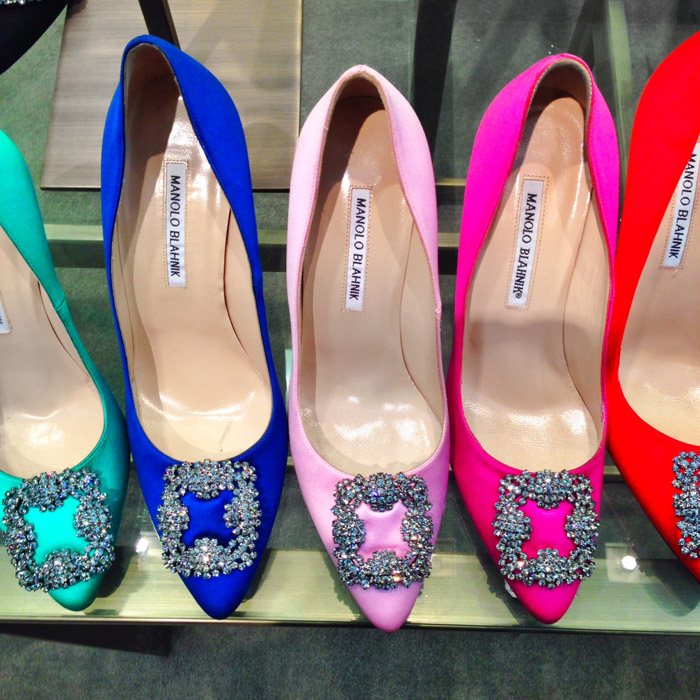 Where to Buy Manolo Blahnik Shoes in Toronto, Canada
Manolo Blahnik's gorgeous shoes for both men & women, ooze style & class. And it's no surprise that Manolo's brand is part of the top shoe designer trifecta that also includes Christian Louboutin & Jimmy Choo. Manolo's shoes are definitely high on the sophisticated women's shoe shopping list (virtual or actual), no matter where she lives! And if you're in Toronto, I'm here to help you 🙂
Made in Italy out of the highest leathers & materials (& of course shot to worldwide fame by Sex & The City), there is no doubt about the statement that each of Manolo's handcrafted bridal styles, classic heels or quirky designs can make. Take a look at some of my favorite ones, new in for Spring/Summer 2016:

Here are the retailers where you can find them, if you live on the Northern side of the pond, in Toronto, Canada!

Where to Buy Manolo Blahnik Shoes in Toronto, Canada
1. DAVIDS Footwear
Locations: 66 Bloor St. West – Yorkdale Mall – Sherway Gardens – Bayview Village
As I've mentioned in a few posts about designer shoes in Toronto, I absolutely love DAVIDS Footwear, especially the one located on the corner of 66 Bloor St at the corner of Bay.
Smaller than your average department shoe store, this designer accessories boutique houses some of the most decadent shoe & handbag styles that Toronto has to offer for both men and women. Of course, you will find many of Manolo Blahnik's shoe styles here too.
2. Browns Shoes: Bloor St – Yorkdale
Locations: 110 Bloor St. West – Yorkadale Mall
Browns is another pleasantly saturated mid priced & designer shoe/ handbag haven in Toronto. With two locations that house a steady stock of Manolo Blahnik shoes, you will find some of the designer's most sought out styles at Browns. But as with all popular styles, you'd better act fast before your size is gone!
3. Holt Renfrew
Locations: 50 Bloor St. West – Yorkdale Mall
A much greater space than the Browns & DAVIDS retailers in Toronto, Holt Renfrew houses a ton of designer shoe brands & a decent amount of selection to go with it. At the Bloor St. West location, I love how they segment their designer to a different display section, so once you find your area of interest, you can easily swiftly scan over the merch & zero in on your favorite style in a flash.
But the real treat is visiting Holts at Yorkdale Mall, where Manolo Blahnik, along with Jimmy Choo & Louboutin, is located in its own specifically designed space inside the Holt Renfrew store. It's really like being in a store, inside a store, which happens to be inside a mall!
4. Saks 5th Avenue
Locations: Eaton Centre – Sherway Gardens
The newest locations housing Manolo Blahnik in Toronto is Saks Fifth Avenue's brand spanking retail spaces in both the flagship store in the Eaton Centre & Sherway Gardens. These beautiful & swanky locations will help you dress from your Manolos, up!
Shops Manolos online from Saks:

The top fashion & accessories boutiques mentioned above offer the Toronto customer a great choice in order to find their Manolo dream shoes.
5. Hudsons Bay – 176 Yonge Street, Toronto
Hudson's bay has an amazing array of designer shoes & fantastic selection from each of its featured designers. Although The Room specifically now only houses Christian Louboutin & Alaïa shoes, you can find the rest, including Manolo Blahnik shoes on the main floor.
Located in the downtown core of Toronto, they don't only have the biggest shoe department in the country, but one of the greatest end of season sales! Even if you're not in search for any Manolos, it's worth checking this place out just for the visual marvel that it is!
---
Stumbled onto this post, but not specifically looking for Manolo Blahnik shoes in Toronto? See where to find new & used Christian Louboutin in Toronto & Jimmy Choo styles in the city!
xo Cristina