Out of the many designer footwear line-ups, Jimmy Choo is one of the most recognizable & covetable designer shoe brands to date. But Jimmy Choo in Toronto you ask? Well, ladies, there are a few shoe-laden stores in Toronto offering the high quality of Jimmy Choo. And with designs from the classic "Anouk" pointed pumps to even more spectacular evening styles, Choo is certainly giving them Loubies a run for their stiletto money, right here in Toronto, Canada!
Where to Buy Jimmy Choo Shoes & Bags in Toronto
1. Jimmy Choo Yorkdale Mall Boutique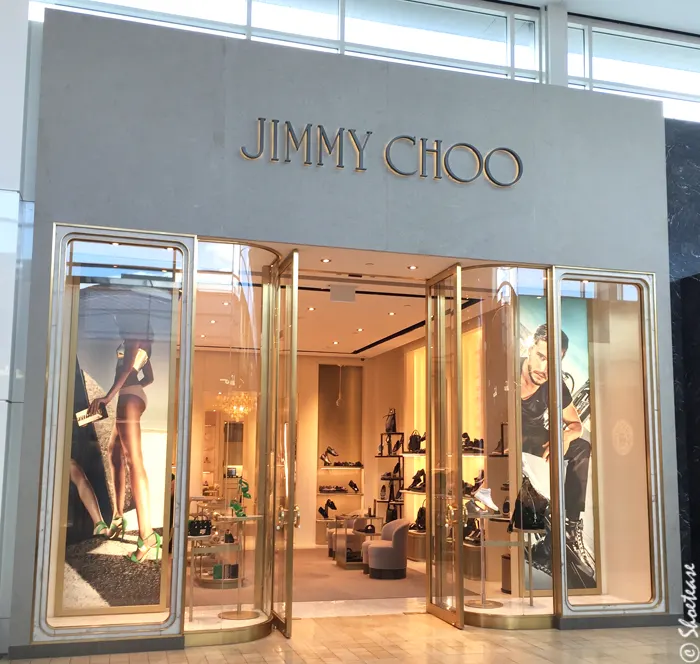 The Toronto flagship, the Jimmy Choo Yorkdale boutique offers a wide great selection of Men's & Women's shoes & home to many exclusive styles. You just have to get over the intimidating first impression that the store gives off (as all the luxury retail store in the high-end Yorkdale path do!).
Jimmy Choo Boutique – Yorkdale Mall – 401 Dufferin Street
Toronto, ON M6A 2T9
Phone: (416) 787-6240
Opening Hours: Monday-Friday 10AM-9PM, Saturday 9:30AM-9PM, Sunday 11AM-7PM
2. Holt Renfrew – Yorkdale Mall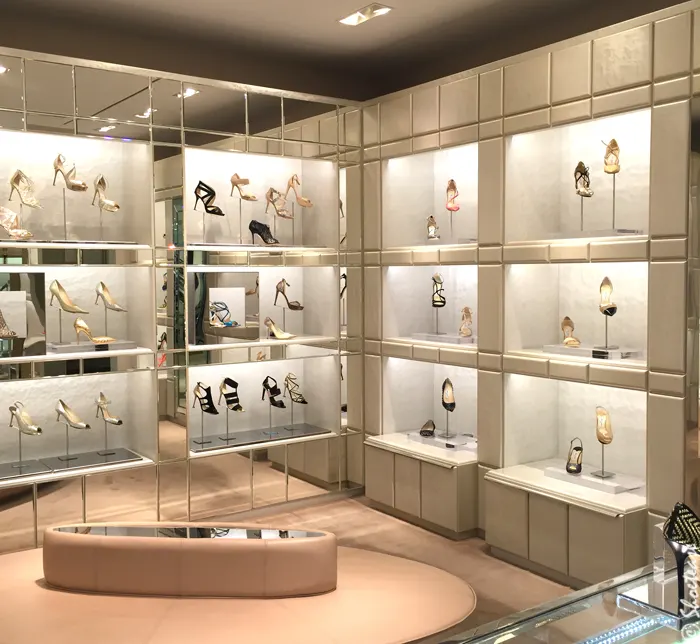 Nopes, this isn't a typo! Not only does Yorkdale offer a Jimmy Choo free-standing boutique, but it also houses its own little mini-like store nestled into the Holt Renfrew space in the same mall. The great thing about shopping for Jimmy Choo shoes & accessories at Yorkdale is that you'll find different styles (& sizes!) at both stores. That's kinda like killing two birds with one stone at this location!
Yorkdale Mall – 401 Dufferin Street
Toronto, ON M6A 2T9
Phone: (416) 789-5377
Opening Hours: Monday-Friday 10 AM-9 PM, Saturday 9:30 AM-9 PM, Sunday 11 AM-7 PM
3. DAVIDS Footwear – Yorkdale Mall
Oh yes, if you didn't find your Jimmy Choo shoes after you visited the above 2 locations, there is a 3rd one to try in Yorkdale! DAVIDS in this mall is the only location carries Women's Jimmy Choo shoes, so worth checking out.
Yorkdale Mall – 401 Dufferin Street
Toronto, ON M6A 2T9
Phone: (416) 789-1812
Opening Hours: Monday-Friday 10 AM-9 PM, Saturday 9:30 AM-9 PM, Sunday 11 AM-7 PM
4. Jimmy Choo at Holt Renfrew – 50 Bloor St. West
Yep, Holt Renfrew once again gives us our Jimmy Choo fix at their Yorkville location. If you're more of a city dweller or work around the area, it's one of your most convenient Jimmy Choo shoe shopping locations! They always carry some great Jimmy Choo styles (from their classic bridal to trendy casual). The sizes of the most popular designs like the strappy "Lance" do go fast, so pick them up as soon as you see the one that must be yours! 50 Bloor St. only offers women's styles. If you want Jimmy Choo men's shoes you'll have to walk a block West to Holt Renfrew Men. And yes, they have a handful of swoon-worthy Choos over there too!
Holt Renfrew Centre – 50 Bloor St W
Toronto, ON
Phone (416) 922-2333
Opening Hours: Monday-Wednesday 10 AM-8 PM, Thursday & Friday 10 AM – 9 PM, Saturday 10 AM – 8 PM, Sunday 11 AM – 7 PM
5. Hudson's Bay – 176 Yonge Street
Along with Holt Renfrew, Hudson's Bay flagship store at 176 Yonge St. in Toronto offers a great variety of styles in each designer section. They have an amazing selection of Jimmy Choo shoes, from their classic designs to the most coveted of the season.
Hudson's Bay – 176 Yonge St
Store Hours: Monday-Friday 10 AM-9:30 PM, Saturday 9:30 AM – 9:30 PM, Sunday 10 AM – 7 PM
6. Jimmy Choo at DAVIDS Footwear – Yorkville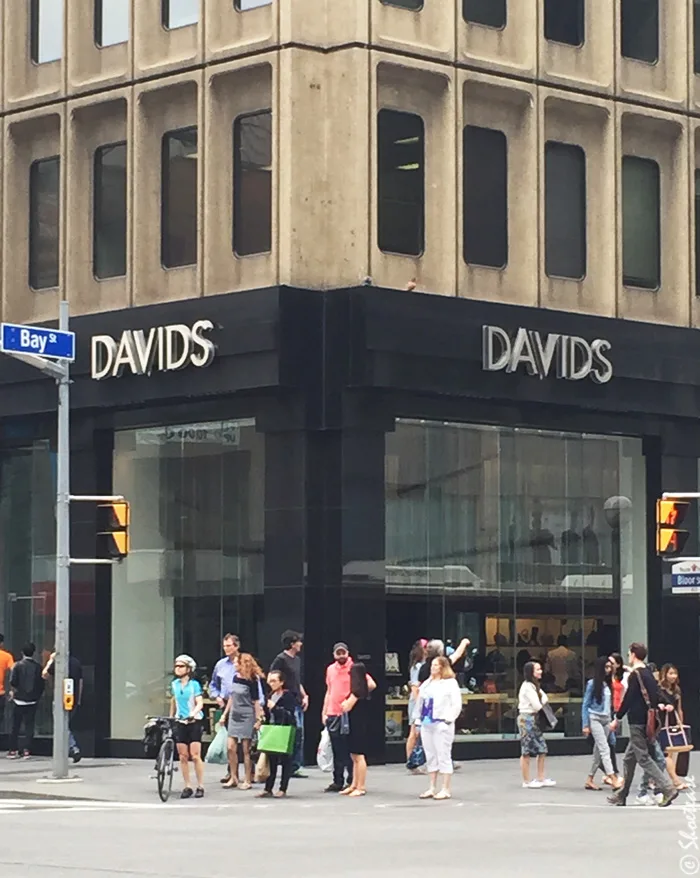 DAVIDS, a few doors down from Holt Renfrew on Bloor St. offers a great hand picked selection of Jimmy Choo shoes. As I mentioned in my post on where to buy Christian Louboutin shoes in Toronto, DAVIDS smaller space is rather deceiving. Even though the display area is tighter, don't think that there are any less number of specular Jimmy Choo shoes to try on at this store!
DAVIDS Footwear – Bay & Bloor
66 Bloor Street West
Toronto, ON M5S 1L9
Phone: (416) 920-1000
Opening Hours: Monday-Wed 9:30 AM-6:30 PM, Thursday & Friday 9:30 AM – 8 PM, Sat 9:30 AM – 6:30 PM, Sun 12 AM – 6 PM
7. Jimmy Choo at Intermix – 130 Bloor St. West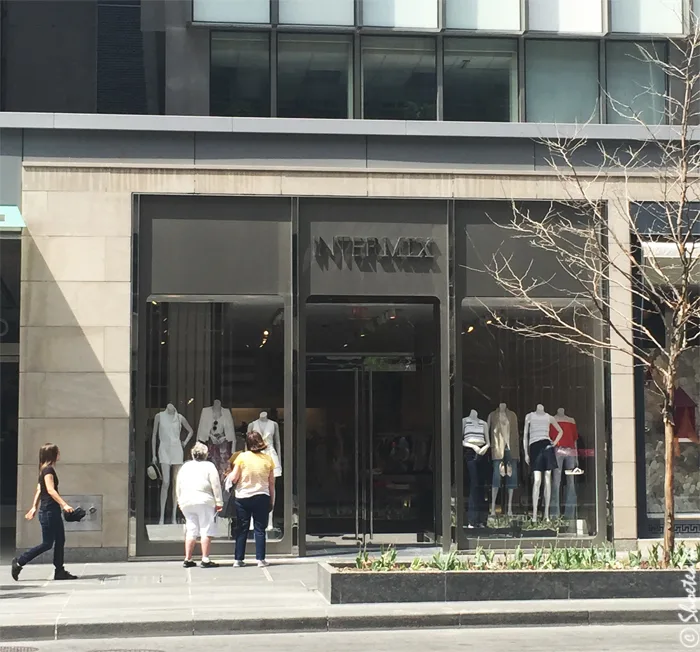 Not an extensive collection of Jimmy Choo shoes at Intermix in Toronto by any means, but the lack of quantity redeems itself with a great selection. Intermix buyers are known for their keen eye, so if there are 5 Jimmy Choos in the store, they're likely the most covetable styles of the season!
8. DAVIDS Footwear – Bayview Village
Only Women's Jimmy Choo at this DAVIDS location.
Bayview Village Shopping Centre
2901 Bayview Avenue, Toronto, ON
M2K 1E6
Phone: (416) 512-9009
Opening Hours: Monday-Friday 9AM – 10 PM, Sat 9:30 AM – 6 PM, Sun 12 AM – 5PM
9. Jimmy Choo at Holt Renfrew – Sherway Gardens
Sherway Gardens, 25 The West Mall
Toronto, ON M9C 1B8
Phone: (416) 621-9900
Opening Hours: Monday-Friday 10 AM-9 PM, Saturday 9:30 AM-9 PM, Sunday 11 AM – 6 PM
10. Jimmy Choo Shoes on Ebay.ca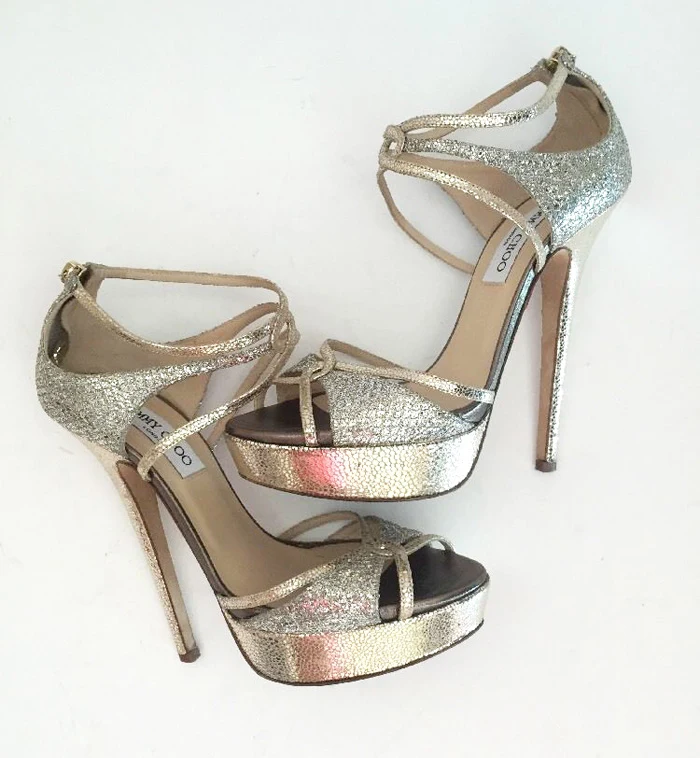 Source: ebay.ca
And now we come to more economic ways of purchasing Jimmy Choo shoes from your Toronto home. They might not be brand new, but never discount a good deal from Ebay.ca (see, see what I did there?!), even with respect to Jimmy Choo level shoes! Yep, Ebay.ca a great place to find once-worn or even new bridal Choos (OMG I did it again!). The only thing to watch out for are scams & fakes. Make sure you check that the seller is well rated & will answer any questions you may have & do so promptly! A good seller has nothing to hide & wants to help you get your Choo-Choos as soon & as easily as possible! Also take a good look at some real Choos before buying a pair online. The biggest tell of a fake Jimmy Choo? The font of the brand name on the insole label. Just be smart & be aware!
11. Jimmy Choo on Kijiji.ca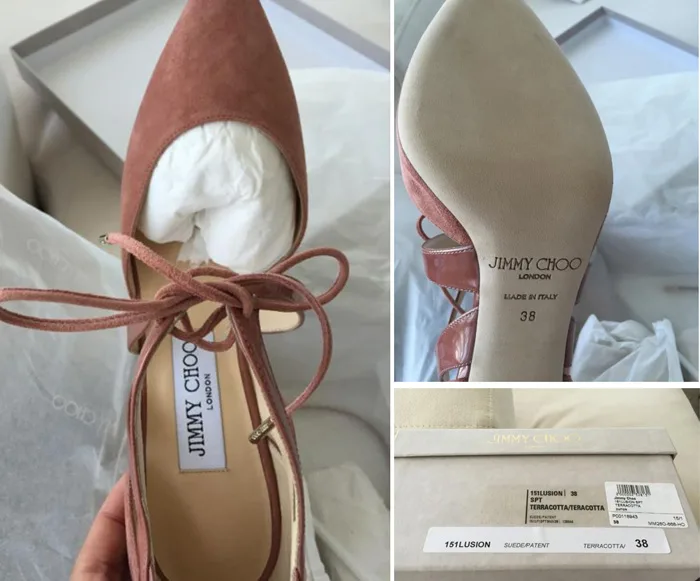 Source: Kijiji.ca
Same points as for Ebay & more should be noted for sites such as Kijiji & Craigslist. On these online sites, it might not only be a fake Jimmy Choo you get, but someone ready to clean out your bank account in the process! Always shop local, shop in person & never send money to a seller remotely. Sellers that show their original pictures, no matter how unpretty, are a better sign than a standard product shot pulled from Google. Look at the pictures above: the seller's gone to a lot of trouble to show you all the possible details (inside label, outsole embossing, box stickers). These are all good signs indicating that they are probably selling an authentic Jimmy Choo shoe as they feel they have nothing to hide. So remember that there are great deals to be had on Kijiji, but you just have to work a little harder to sift through the garbageo, so to speak!
So that's my rundown on where to buy both new & gently used Jimmy Choo shoes in Toronto. Hope it was helpful! Check out ShoeTease's Toronto Edit for more shoes in Toronto, featuring the best shopping locations & local street style.
---
Shop Jimmy Choo Fall 2015

---
xo Cristina
Cristina is the chief editor, fashion & shoe expert here at ShoeTease. As a seasoned stylist and women's fashion & shoe designer, she boasts over 20 years of experience in the fashion industry. She loves crafting effortless outfits for ladies both online and off and believes that styling advice should be accessible to everyone. Whether you're a styling pro or just starting out, Cristina's here to guide you on your fashion journey! Learn more.