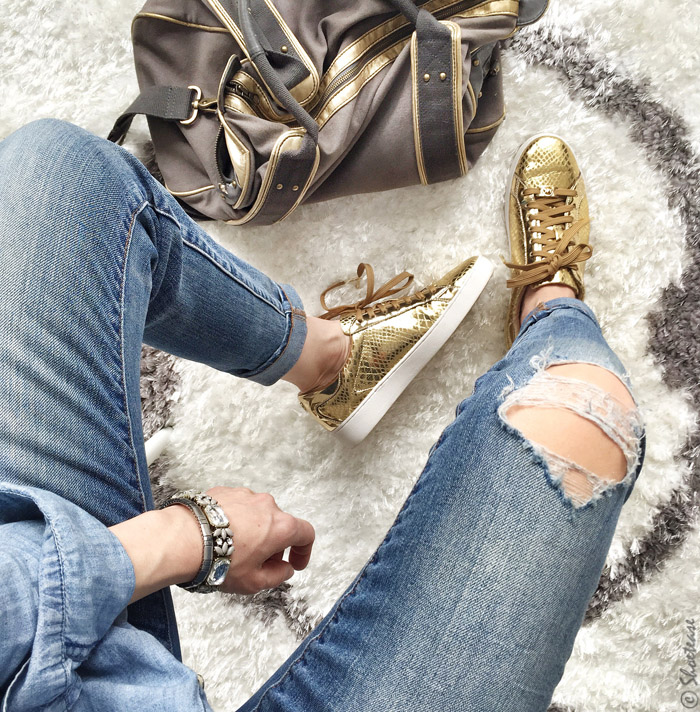 Sneakers are huge shoe trend for Spring 2015 & so are metallic materials. So if you want to glitz it up a bit, how about some metallic gold sneaks? High-end designers are killing it in this department for the current season, but they're a tad pricey for most gals, including myself. So I decided to source out some just as thrilling low top women's metallic gold sneakers under $200. I'm wearing a pair of those (above). Here are 3 affordable shoe alternatives for your designer tastes!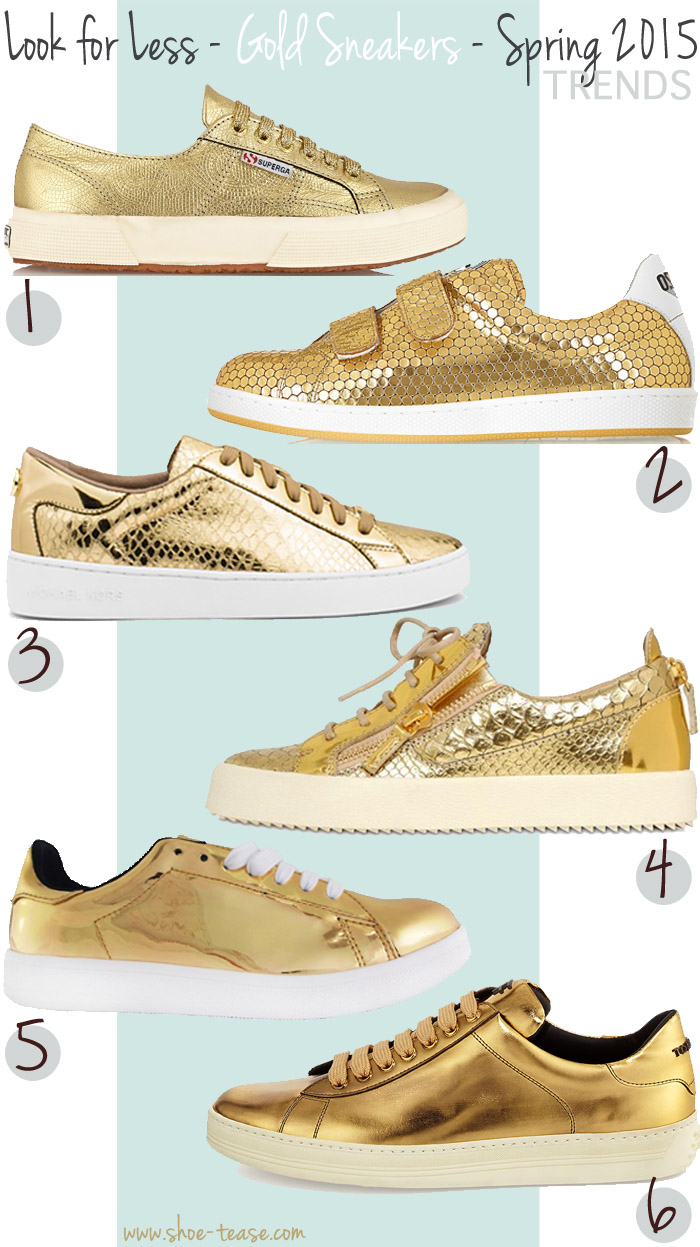 Half of the above gold kicks are from luxury fashion brands & the other 3 are what I would consider their designer look for less. Can you guess which is which? Well, I'm going to tell you anyway:
Superga – $77 (on Sale!)
KENZO – $300
MICHAEL Michael Kors – $135
Giuseppe Zanotti – $665
JC Play by Jeffrey Cambell – $80
Tom Ford – $950
Whether you're going for an embossed metallic hue or just plain slick gold, you're good to go! The gold MICHAEL Michael Kors sneakers "Keaton" style I recently bought at Holt Renfrew in Toronto (Bloor St.) location, are worth every penny's worth of their $189 CND price-tag (less expensive in the US, but of course!). The reptile embossed exterior upper might be man-made, but they have a leather & fabric lining so your feet won't feel too ick when the hotter days come by (if ever they ever do, but that's another story altogether).
Oh & they're intensely shiny. Or maybe I should immensely?! Seriously, it was almost too difficult to take a picture of them without getting a huge glare! I actually wrote a comment on Instagram about how I could be walking around topless & that no one would notice anything but my shoes!! Then again, I do live in a Canadian city where no tops are 100% allowed for both sexes, HA. I digress, but it's definitely right up there with the kind of footwear to own if you'd like to distract gazes from other body parts 😉 Oh, and are also available in plain mirror silver for those of you who are gold-sensitive.
So in sum, wearing casual gold footwear this Spring will earn your some major fashion points in the style department, not to mention some attract some (hopefully positive!) attention. If you're curious how to wear this sneaker trend, keep an eye out for a post on the subject, which I will be writing about soon! For now, take a look at the metallic gold sneakers under $200 (and their designer counterparts) in women's styles that are available for purchase online:

xo Cristina M.