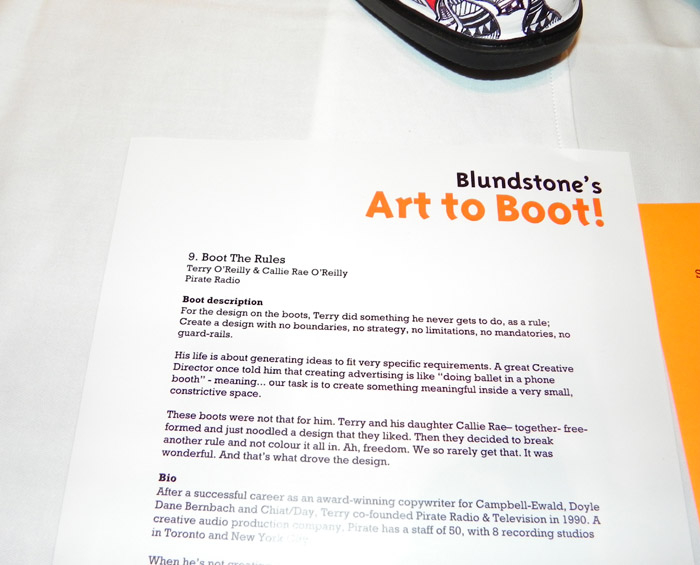 Event: Blundstone's Art to Boot – A fundraiser for Sketch
Date: Sept 23rd, 2010
Location: The Gladstone Hotel in Toronto
Upon hearing via the Bata Shoe Museum that the Australian Boot Company was hosting a fundraiser for Sketch, involving a live auction for the many pimped-out classic Blundstone boots, I immediately bought a ticket. Shoes + artists + a good cause = a definite event for moi!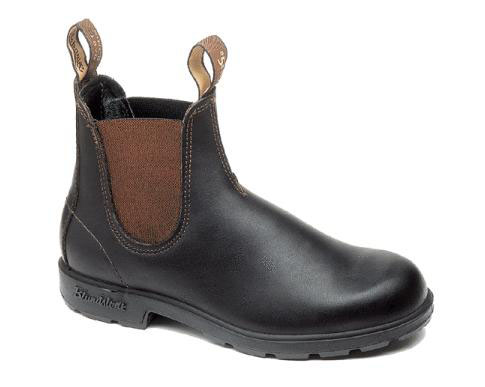 Blundstone 500w Boot (aka: artist's template)
Maybe not for the fashionably faint of heart, (although the new Steel colour is quite en vogue), the practicality of this item is astounding: it lasts for decades, is waterproof and unbelievably comfortable. Perfect for the unforgiving Canadian weather. Not being the flashiest of boots, I was immensely curious as to how these artists & designers were going to bling it up.
So I picked up my camera and strolled into the Gladstone Hotel, wearing my new Ann Marino Heels to check out the many interpretations of this classic boot.
Here are my top 10 faves:
This edible shoe is hilarious, complete with nutritional info, you know, just in case you're into a heartattack-inducing sugar rush.
Don't know if it's noticeable via this picture, but the boot is literally smashing through what would be the movie screen, frightening onlookers below. And of course, you gotta love the frame!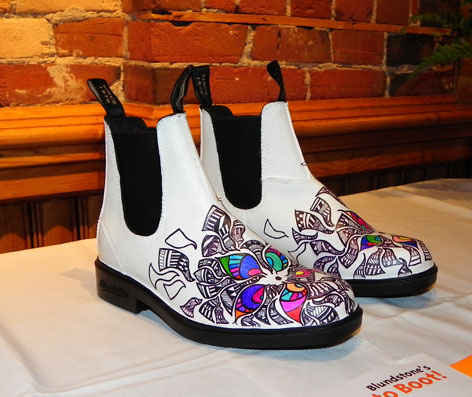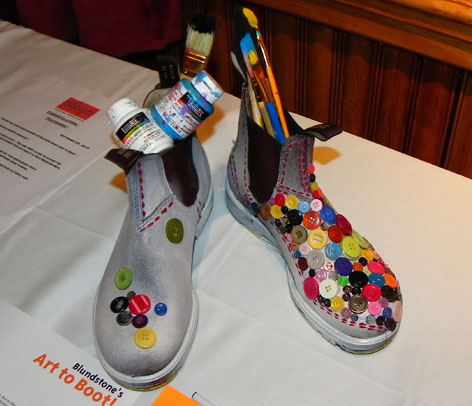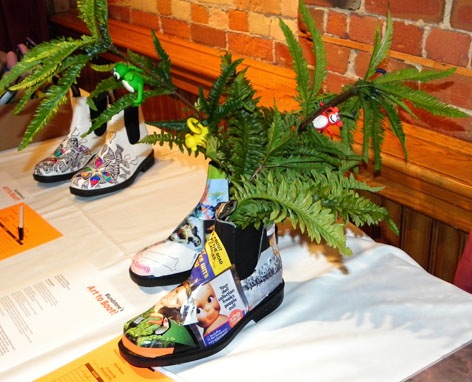 MY TOP 3 FAVOURITES:
Surprisingly, there weren't many of the artists themselves present to support their work. I was, however, lucky enough to meet Tracy O'Brien, creator of the pink Barbie piece, which she designed complete with Barbie shoe-mobile. I love that Tracy wore matching pink nail polish, although I'm unsure if this was planned or not! She spoke about her passion for fashion and her desire to delve into that sector in the near future. I certainly hope so, as the world needs more pink fabulousness 🙂
I'm unsure whether Adam is an artist, but if not, he ought to be. Completely different from the rest, rather than add embellishments, he took an expressive route using the Blundstone boot in its raw form. Adam explains, "Boots: You wear them when you need to get things done. For practical work, or a commanding appearance, a boot will give you what a shoe can't. These boots are large and most definitely in charge."
This is my favourite! Commissioned by Mirvish Productions, James took the themes of Priscilla Queen of the Desert and created these boots to reflect the dynamic look and energy of the show's costumes. These solid boots are embellished with sequins, feathers and Pradaesque chandelier-like jewels to symbolize the outrageous and wonderful journey that is "Priscilla". A big fan of the movie, I am a huge fan of this work. Flashy and downright tacky, it fits right in with my eclectic and often flashy aesthetic tastes!
Conclusion: I'd LOVE to be picked as a local talent for next year's Toronto Blundstone shoe blinging! As well, I vow to never, EVER wear cheap shoes to any place where standing or sitting is required for more than 5 minutes. Great event; very sore feet!
xo Cristina M.