This post was most recently updated on November 30th, 2018
The 2017 Ultimate Holiday Gift Guide for the Shoe Lover:
If you're scrounging around trying to find the best gifts or stocking stuffers for your shoe loving (and foot health inclined friends!) look no further. This shoe blog has you covered with some shoe-centric nuggets holiday of joy! I've rounded up the top 10 gifts that I both own & use so I know they work well. And most importantly, almost all items are under $20 😉
---
Short on time? Shop gift items directly, below:

---
1. Sizers Shoe Inserts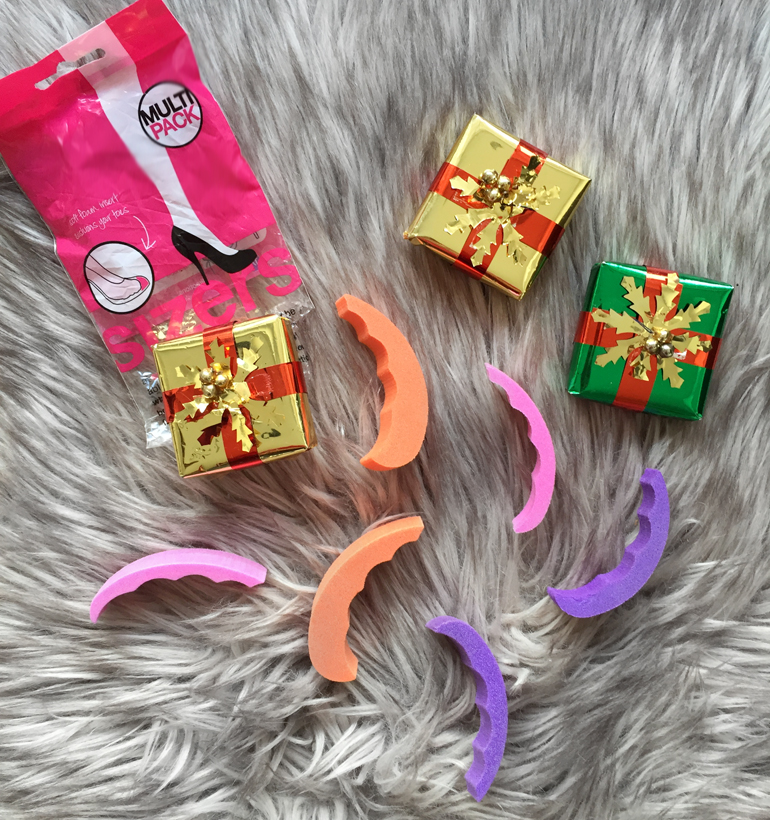 One of the most popular shoe accessories on ShoeTease are patent-pending Sizers shoe inserts. And not your usual shoe inserts these are not, filling up the extra space in the tip of your shoes, so you can make shoes smaller. With 3 sizes in their multipack & their fun packaging, why not give the gift that is both original and practical? These only work in closed-toe shoes, so if you're looking for solutions for other shoe types, check out more on my post about shoe inserts for shoes that are too big.

2. Burt's Bees Mani-Pedi Set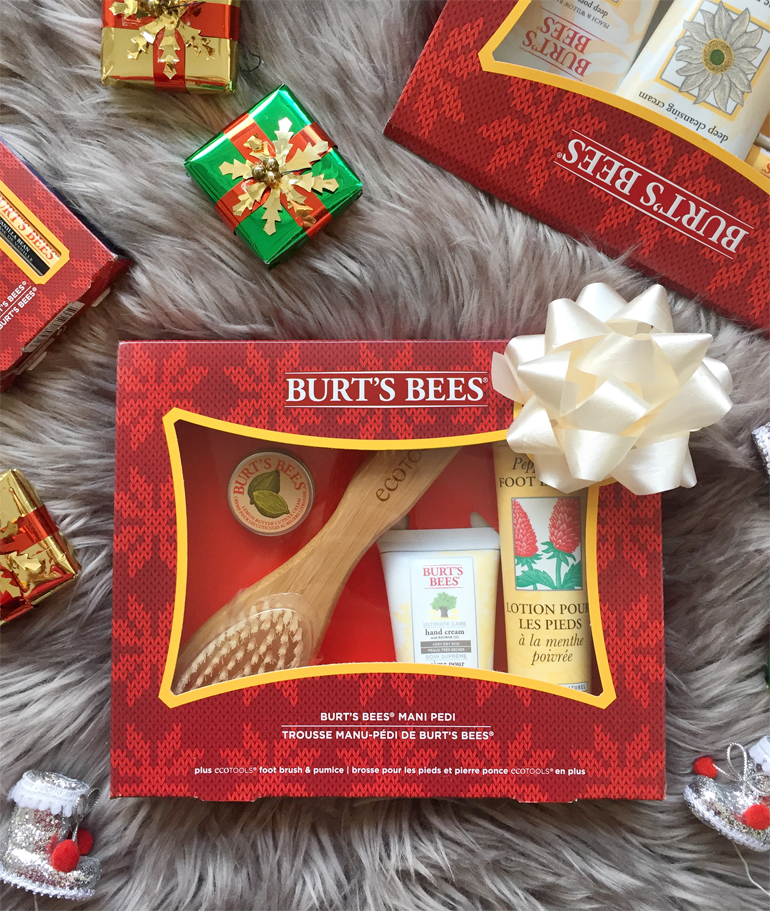 No shoe lover's 2017 holiday gift guide is complete without some foot care in the mix! Because if high heels are your thing, or you stand on your feet all day, it's important to pamper your soles. So why not gift someone with a little foot care from Burt's Bees? I love all of their products & use them regularly, especially their coconut-infused natural foot cream. But it's so much cuter for someone to unwrap the perfect kit that includes peppermint foot lotion, hydrating hand cream, lemon butter cuticle cream & a pumice foot brush? They also have more holiday kits for the face, body & more.
Shop these below:

3. Emu Australia slippers
It wasn't until I slipped my feet into these Australian sheepskin lined slippers that I found out just how warm fuzzy, natural materials can keep your feet! And I have cold ceramic tiles at home, so I would know 😉 With their stylish print, cosy wooly interior, soft EVA midsole & flexible outsole, you'll never want to take your tootsies out of these slippers! I routinely almost leave home with them on, ha. EMU Australia's "Jolie Fur" slippers also come in 3 cute animal prints!
Check them out below:

4. Pombons Shoe Clips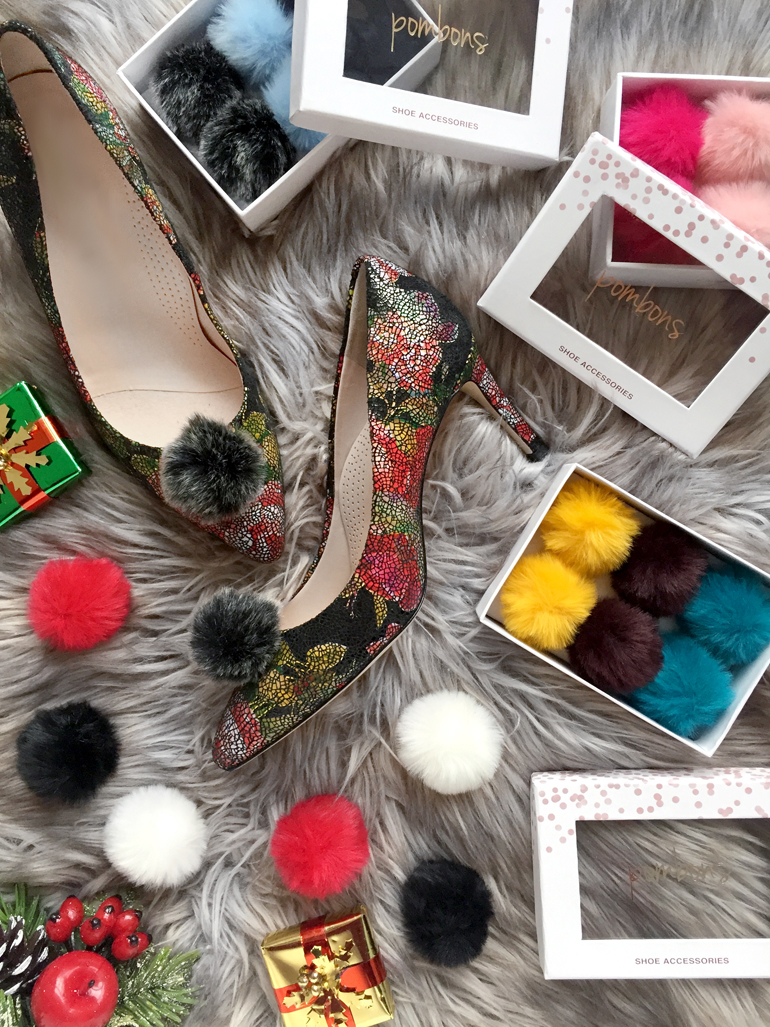 Total self promotion here, but it's hard to deny that Pombons shoe clips make great gifts (and fun holiday shoes too)! They come in a set of 6 pom poms nestled into a cute little box. You can also customize your shoe clip et with up to 3 colors to make it that an even more meaningful a gift. All that's missing? The wrapping or a bow!
Read the full post about these shoe clips here or shop them over at the Pombons shop.
5. Keysocks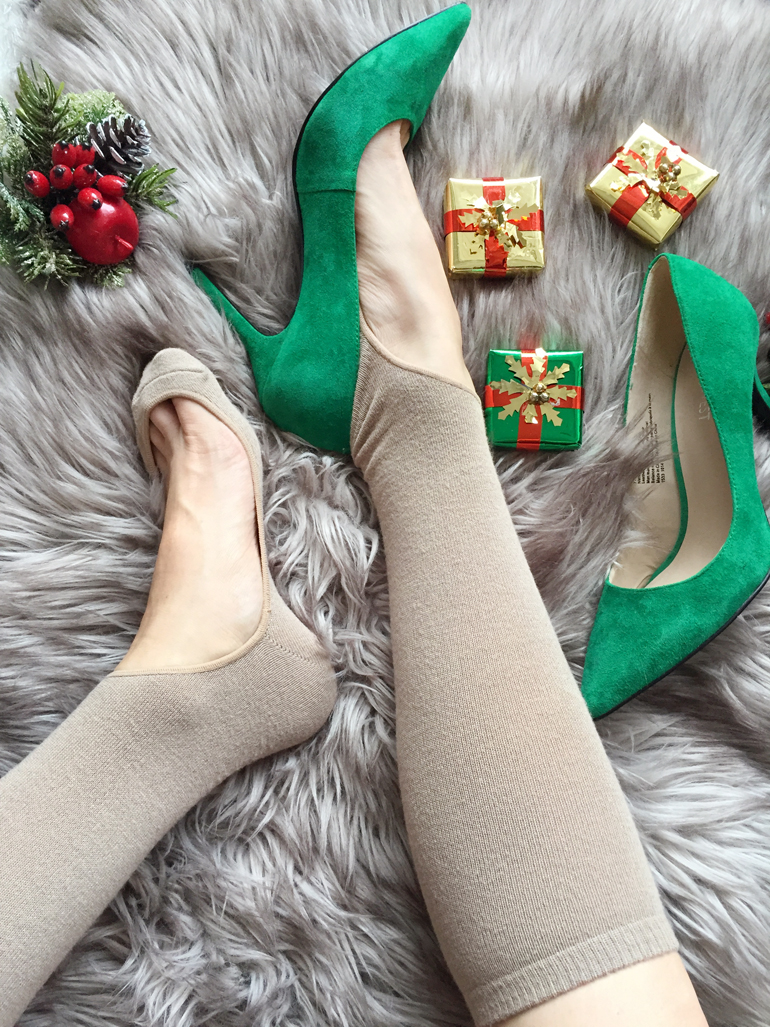 A holiday gift guide that includes socks? Oh, yes! If you're going to gift anyone with socks this holiday season, give them Keysocks. Trust me, she'll love them! Keysocks are not your average socks, because they're a type of no show socks that you can hide under your pants and shoes. Essentially you'll look like you're not actually wearing socks, but are provided with all the cosy comforts of having them on! They're sold in a variety of standard and fun colors, as well as in sets.
Shop Keysocks, below:

6. Walter's White Kicks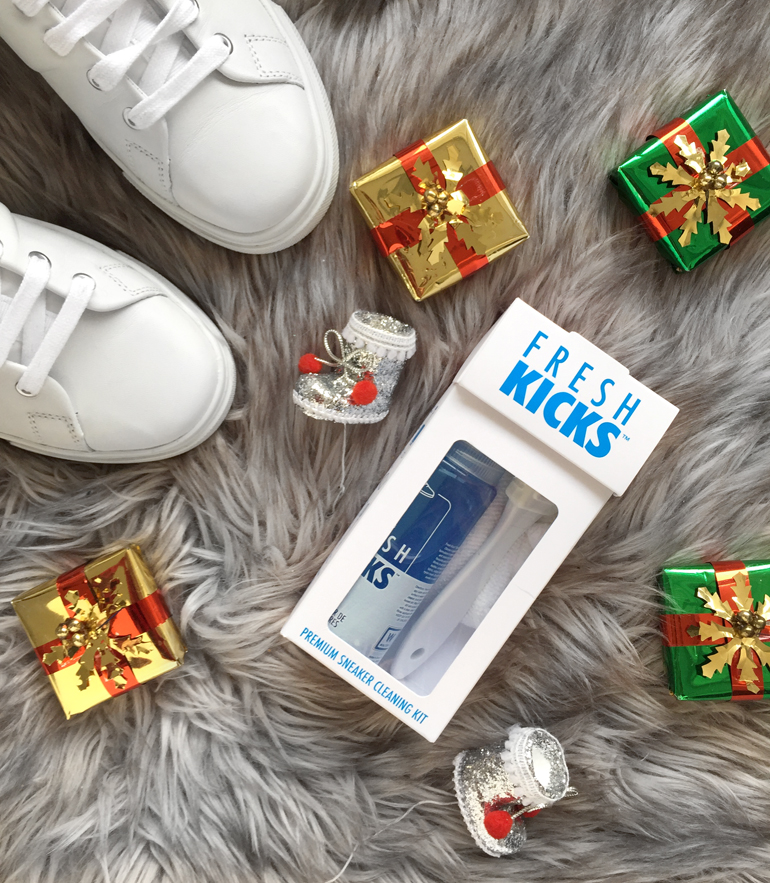 Everyone has someone in their life that swears by their bright white sneakers! But actually keeping them that way is tough. That's why Walter's Shoe Care has come up with a new product to help: Fresh Kicks. With their special spray-on formulas, special wipe & multi purpose tool, you'll never have to fret about *GASP* grey kicks again!
7. Clickless Heel Protectors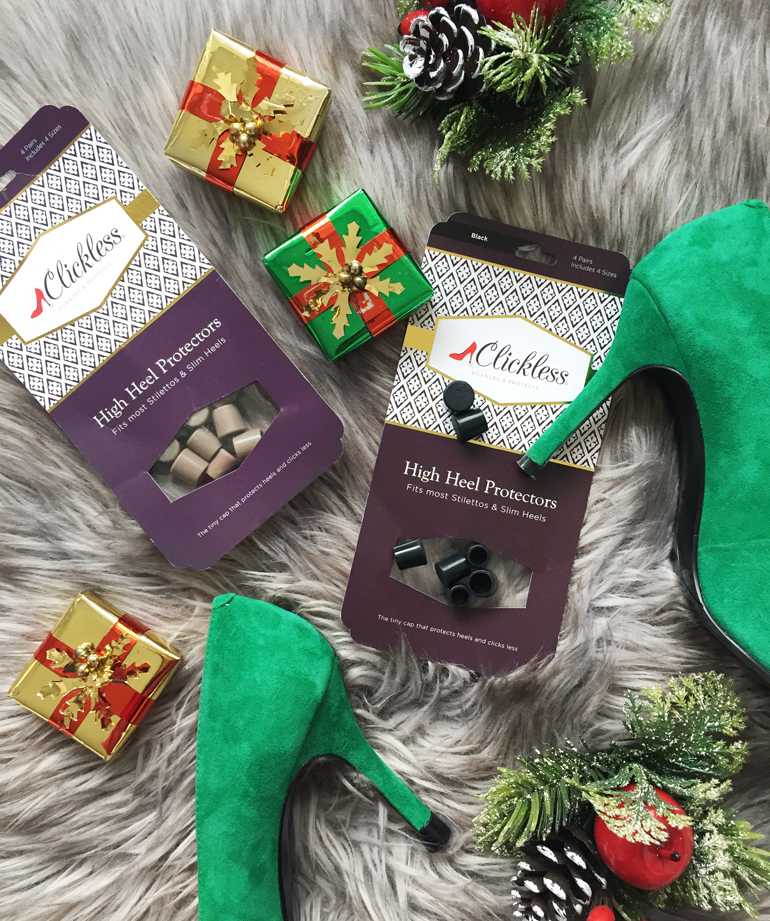 Clickless is another innovative product for your hard working shoes. Stilettos, specifically. I wear mine to prevent the heel tip from wearing out and ruining my heel bottoms, especially when on non solid ground such as cobblestones, gravel, grass & more. Yet they also serve a not-so secret function, given away by it's name: they help silence the click-clacking of heels. Perfect for those working in quieter environment, who don't want their noisy heels to steal the show. Read my review on these heel tabs and how they help stop heels from clicking.
Shop them below:

8. Boot Rescue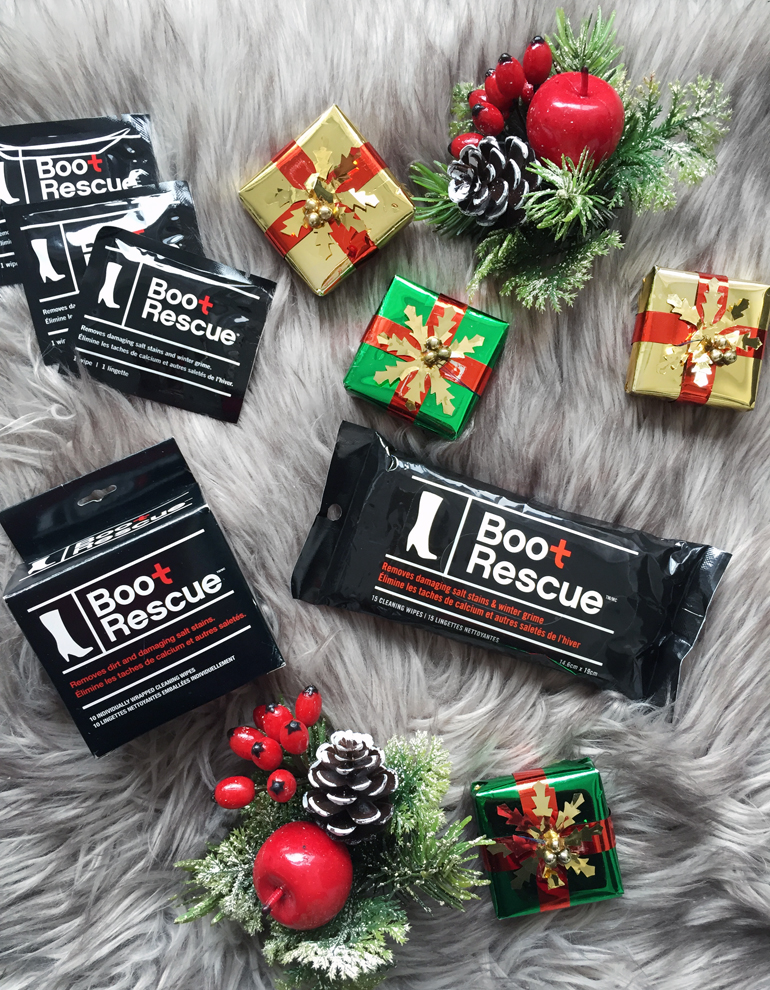 Keep your boots looking spiffy with a Canadian-based Boot Rescue. They're extra special because they make all-natural range of wipes for any type of footwear: fabric, leather, rubber, even fragile suede. Great little products to keep in your purse to salvage your shoes & boots from salt stains & more.

9. Boot Hangers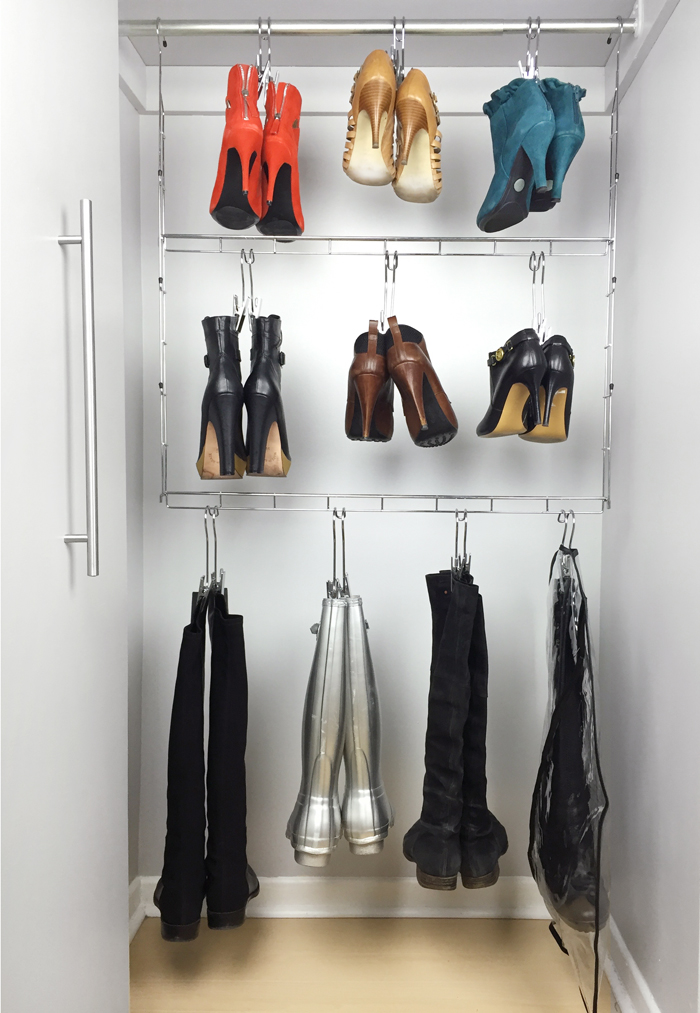 This might look a little weird at first, but Boottique's boot hanging system is a great way to organize your shoe closet (and relieve your floors from scattered boots!). With their sturdy boot clips that come in many grips & lengths, you can easily customize your boot rack as convenient for you.
Check out the hanging kits & accessories, such as their transparent boot bags, below:

10. Sassy Strapps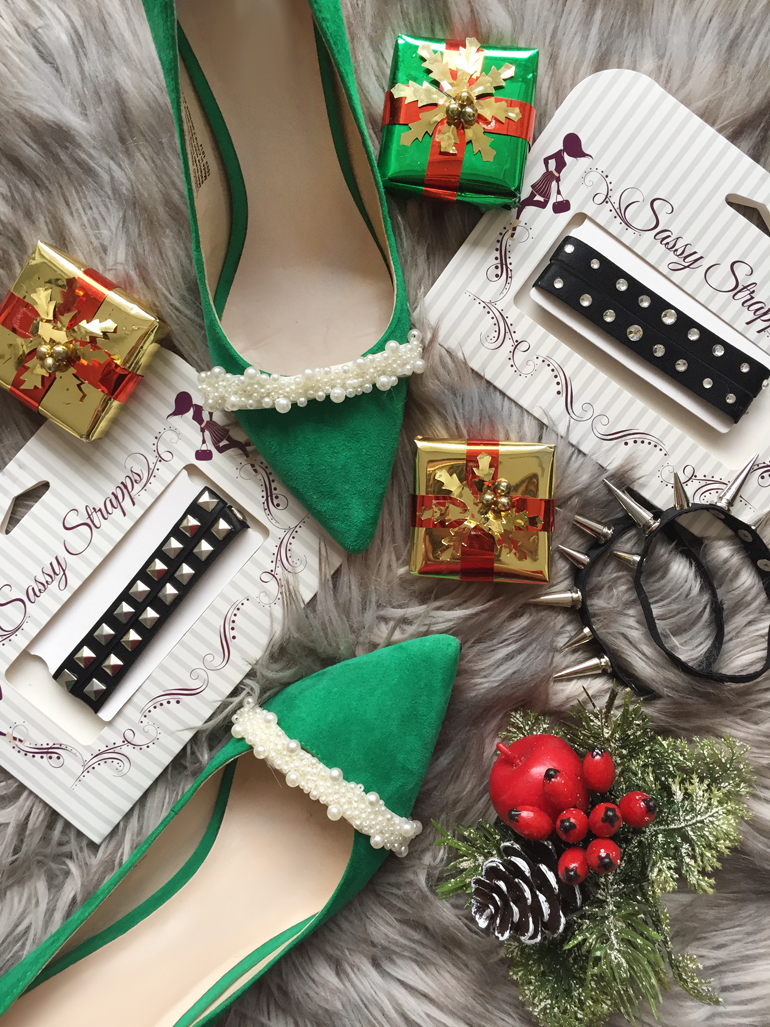 If fluffy pom pom shoe clips aren't for you, why not try another shoe accessory to give your heels flare? Sassy Strapps not only add a little je-ne-sais quoi to your heels & flats, but they also make a decorative statement while holding your shoes in place. Yep, these straps also literally strap you into your shoes! From pearly to studded to rhinestone embellished straps, there's no lack of choice with this cute holiday gift idea!

---
And that wraps up my top ten shoe lover's 2017 holiday gift guide picks! With most items under $20, you'll find practical & quirky gifts for the shoe aficionado that you can really gift to anyone. That by "anyone", I mean yourself 😉 Best of all, these savvy gifts won't break the bank!
What would you gift the shoe lovers in your life?
xo Cristina