This post was most recently updated on February 23rd, 2015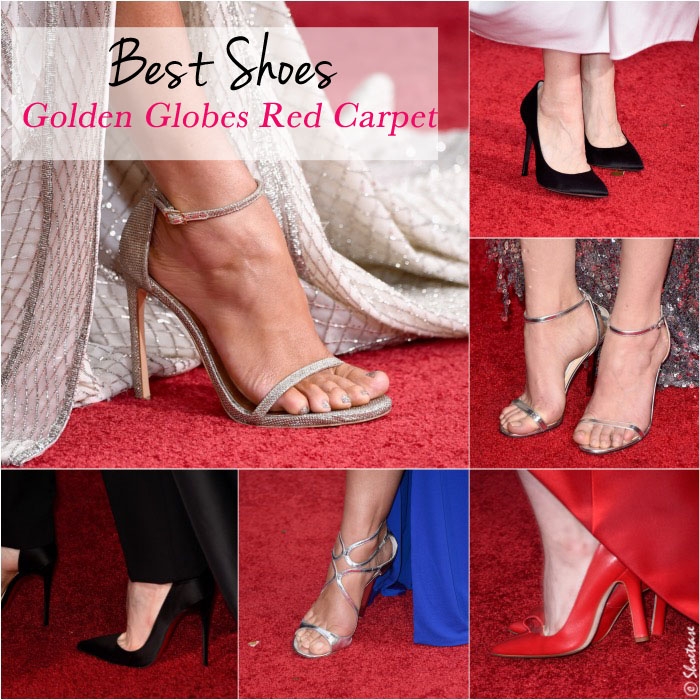 Another red carpet & more amazing celebrity style shoes to gawk at! This time around we're looking at the best shoes that the Golden Globes red carpet had to offer. These awards, drawing a dressier audience, made it more difficult to shoe spot vs, say, the People's Choice Awards red carpet shoes because of those longer, flowier gowns.
But luckily the side slit & mullet dress trends allowed for easier shoe peeping access! Jimmy Choo, Stuart Weitzman & of course, Christian Louboutin, were the usual contenders (in that particular order, no less!). Trending were single sole sandals & pointed toe pumps. Metallics were the usual hit as was black. Red shoes were a fun surprise to match a few red dresses. Even though we see a lot of shoe repetition from previous red carpet events, you'll see that the new outfit & shoe pairings create entirely new, still dazzling looks! But before I blab any further, here are the best shoe looks from yesterday evening!
Best Shoes on the Golden Globes Red Carpet
1. Strappy Sandals with Shimmery gowns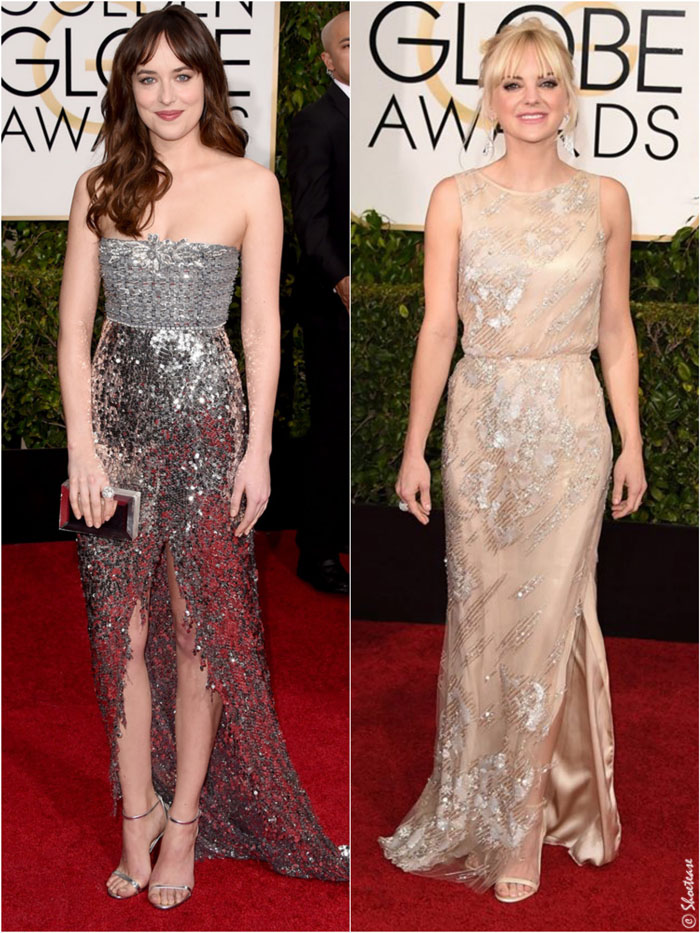 These are two of my favourite dresses from last night's award show & both ladies are wearing the same shoe style: Jimmy Choo's Minny sandal. Dakota Johnson, in her silver mirror heels & stunning silver sequin/glitter Chanel dress, looked like pure shimmery perfection. Love how the red of the carpet was picked up by the dress & accessories. Cutie Anna Faris wore her cream colored sandals with a simple shaped Reem Acra dress that had lots of material pizzazz.
2. These Black Pointy Pumps!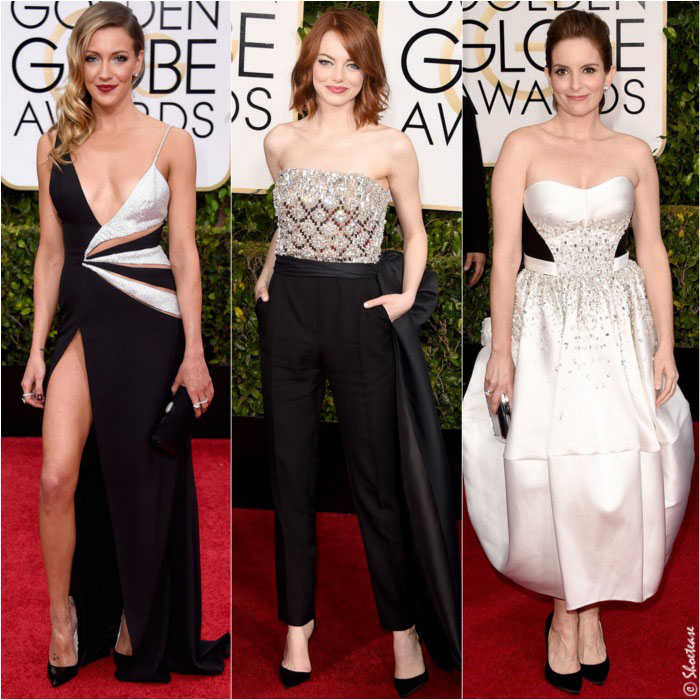 Black pointed pumps yet again make a statement with black & white ensembles. Emma Stone's Lanvin jumpsuit & Christian Louboutin pumps was a stunning statement-making outfit! Tina Fey's frock was a little odd looking, but all & all looked pretty and the black shoes really tied it all together nicely. Katie Cassidy wore Loubies, but was the dress not classy enough for a fancy awards show?
3. Stuart Weitzman Nudist. Need I say More?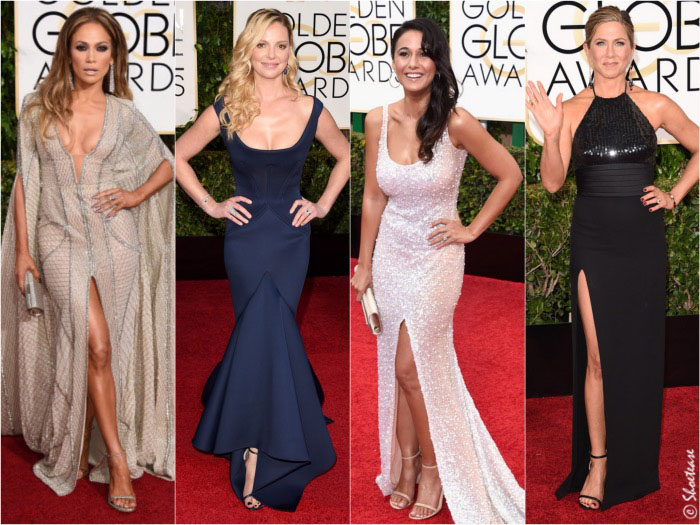 Ah, surely we couldn't fail to mention the Nudist sandal now could we? Jennifer Lopez actually matched her pedi polish to the exact textured metallic heels (see the close up) & thus to me makes it the perfect shoe of the evening. Her cape-gown is by Zuhair Murad. Katherine Heigl's Navy sandals were a sleek addition to the beautiful Zac Posen gown. Canadian actor Emmanuelle Chriqui could have done better with her beaded gown, but her shoes definitely saved it from complete dreariness. Jennifer Anniston looked great in a major Jolie-like side slit custom Saint Laurent & her black nudist sandals were a perfect complement.
4. Jimmy Choo Sandals to Love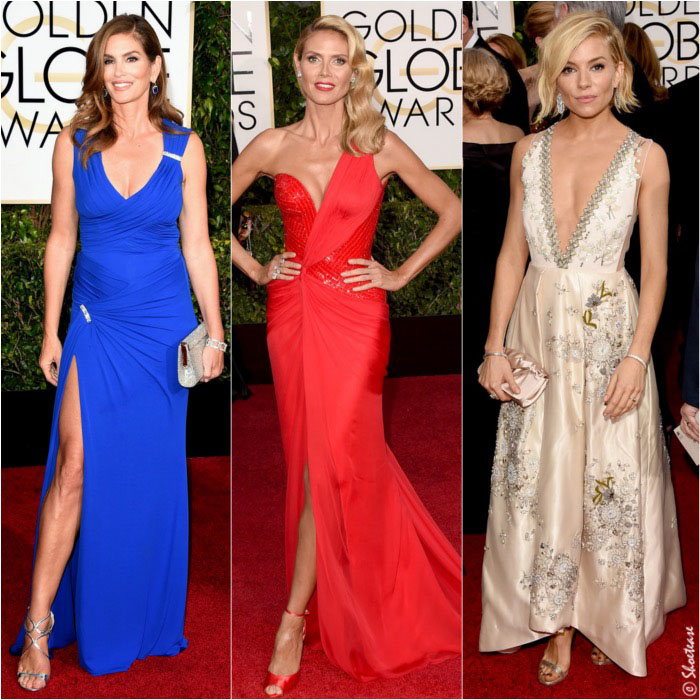 Yep, Cindy Crawford, Heidi Klum & Sienna Miller all wore Jimmy Choo heels. Cindy's on the left are the Lance sandals & the criss-cross straps make this one of my favourite sandals out there (they come in so many colors!). Heidi wore a fancy pair of Jane sandals with a thicker strap & thinner ankle tie. Ms Miller's shimmery Claudette high heel sandals were a great match to the sparkly embroidery on her Miu Miu dress.
5. Oh, these Pretty Pointed Toe Shoes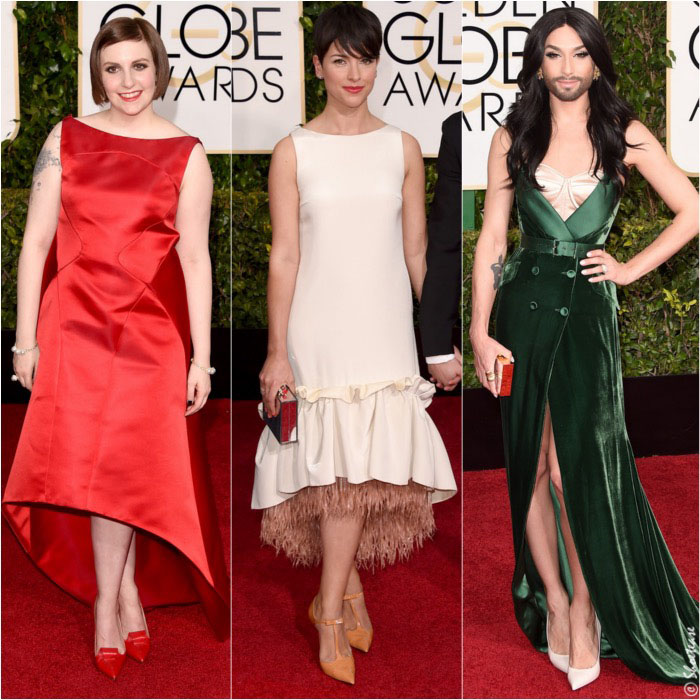 I don't care what anyone says, I love Lena Dunham's Zac Posen red pumps! Sure, her dress may look frumpy (isn't it expected at this point), but at least her shoe are original! Amelia Warner's Huishan Zhang feather gown was amazing & although rather mismatched, I love the mustardy-orange t-strap heels with little bows! Conchita Wurst aka "The Bearded Woman" would have stolen the show even without the facial hair. The pointed pumps are a perfect match to the dress' bodice & the creamy leather provides a lovely smooth contrast to the green velvet.
And that about sums up the best shoes at the Golden Globes red carpet. Too bad so many potentially glamorous shoes were hidden under those dresses! Maybe a short hemmed dress code should go into effect next time around?!
If you missed it, take a look at the which red carpet shoes were trending at the PCAs!
xo Cristina M.