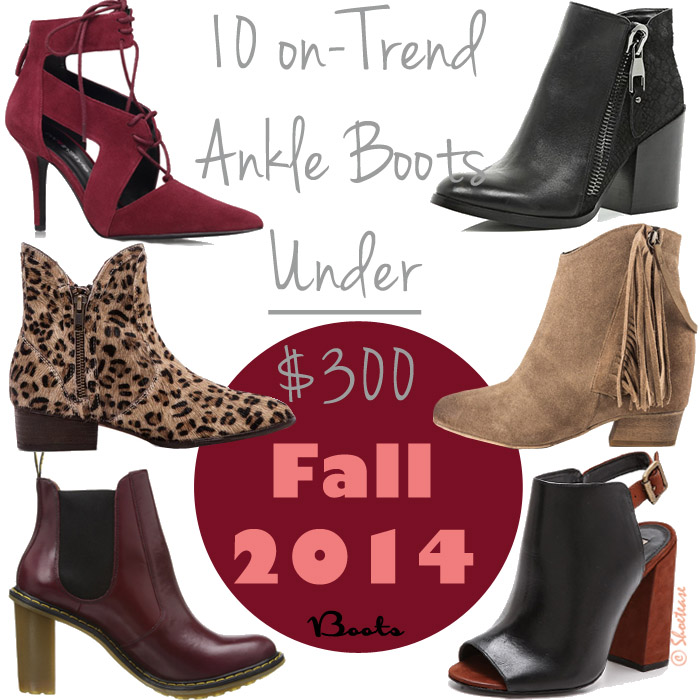 The go-to boots for transitional weather, especially that pesky Summer to Fall weather, are hands-down them ankle boots. Or booties. Or whatever the heck your kids are calling them these days! And aside from being one of the major shoe trends in & of themselves for the past few seasons, the amazing thing about women's ankle boots is that there so many available in stores right now that it's difficult not to find one that doesn't manifest a specific Fall 2014 shoe trend. But what are the shoe trends for Fall 2014, one might ask?
Well, as it so happens, I have the answer in the form of pretty booties to satisfy every woman's fashion fantasy! From the chunky heeled boot to cut-outs to wine-hued selections, below is the roundup of the top 10 on-trend & affordable ankle boots for Fall 2014; all under $300 (most well below $200). And they're beautiful, really. So watch out, you might want them all….right after the jump!
Trendy Ankle Boots Under $300 for Fall 2014
1. Chunky, Block Heels

Chunky heeled ankle boots made an enormous trend splash last fall/winter & we've ACNE & Rag & Bone's fashionista-attracting designs to thank for it. And thanking them I am! Seriously, do you know how much easier it is to walk in a chunky heeled boot vs. a spikey stiletto version? Oh wait. Of course you do! Now that the trend has blown up full-force, we can get our hands on many really really good looking ankle boot designs & happily for our wallet, they don't have the price tag to match! I'm seriously in love with these black snake print block heel ankle boots from River Island, pictured above. With its edgy large zipper and perfectly shaped almond toe, this chunky heeled style tops my list. All this pretty for $126.
2. Burgundy Booties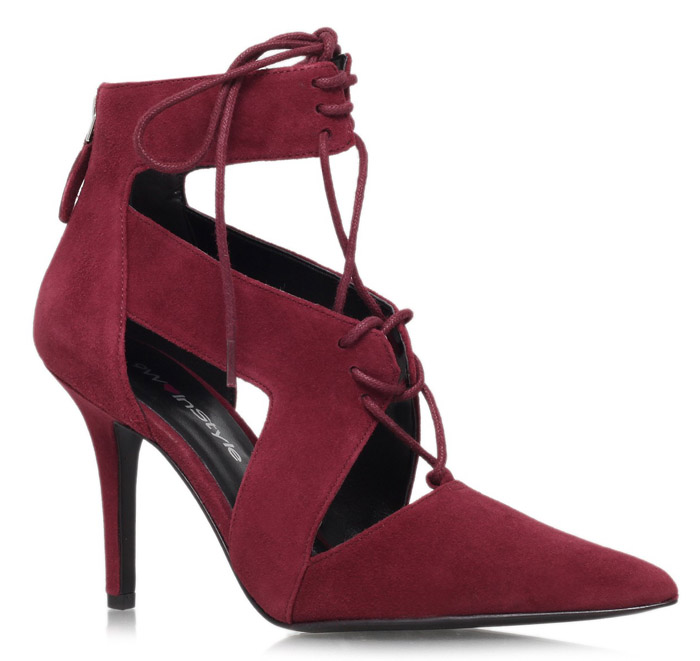 This Fall, burgundy has been named the new black when it comes to shoes. Wine-hued ankle boots will make an understated, well, statement but add much je ne sais quoi to your midi-skirts, boyfriend jeans or simple black suit. Adn if your burgundy ankle boots happen to have a stiletto heel, cut-outs & lace-up detailing, then all the better! Thestyle, above is one of my favorites from the InStyle X Nine West collection as it's sexy, versatile, but the heel is low enough to be comfortable (I gave them a good try on and can vouch for that!). The suede material enriches the already deep burgundy by keeping it matte. No shine to distract from this burgundy ankle boot! (Nine West "Jaiden" Bootie – $130)
3. Fringe Detail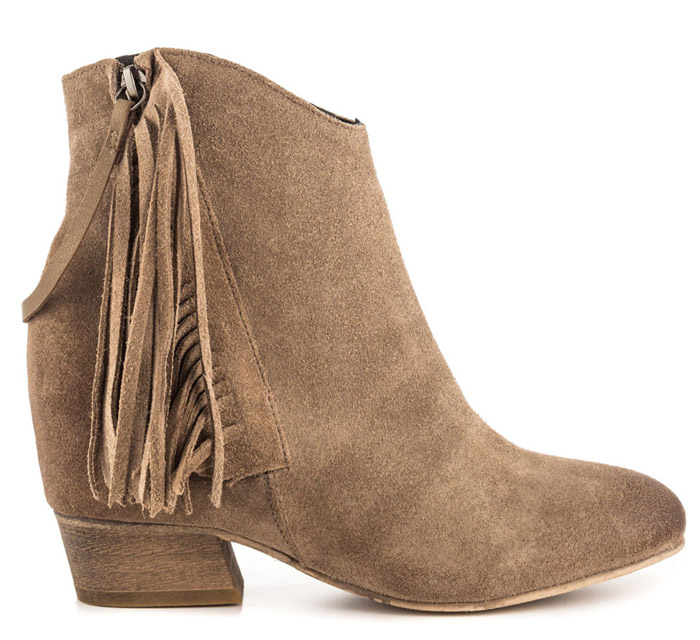 Fringe! The kind of trend you either love or hate, but it's hard to resist when used in moderation! These taupe suede ankle boots have the perfect fringe detailing to accompany the side zipper fastening, without overwhelming the whole bootie (and making you look like you have dread-locked yeti feet as a result)! With an understated heel, almond toe shape & subtle hidden platform, this suede fringe ankle boot is one trendy Fall item that makes it on my list. And if you like it as much as I do, then hurry on up: this style is selling faaast! (Matiko "Joell" Bootie – $193)
4. Ankle Boots with Cut Outs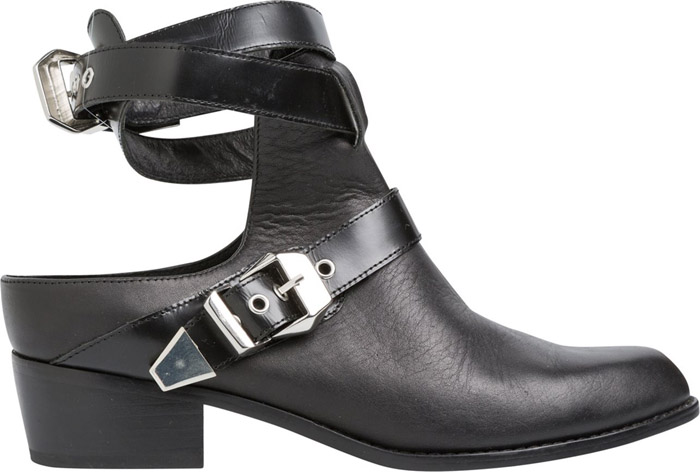 Whether cut-out from the back, sides or front, we're not simply talking about a basic peep-toe anymore. Cut-out ankle boots are the ideal boot for the fickle weather: seasonally appropriate, yet they leave room for your feet to breathe when Mother nature has a random hot flash! This bootie is a great example of how if designed correctly, mixing several trends (moto, cut-outs & hardware in this one) together can actually work. (Sol Sana "Samuel" Cut-Out Boot – $207)
5. Embroidered Ankle Boots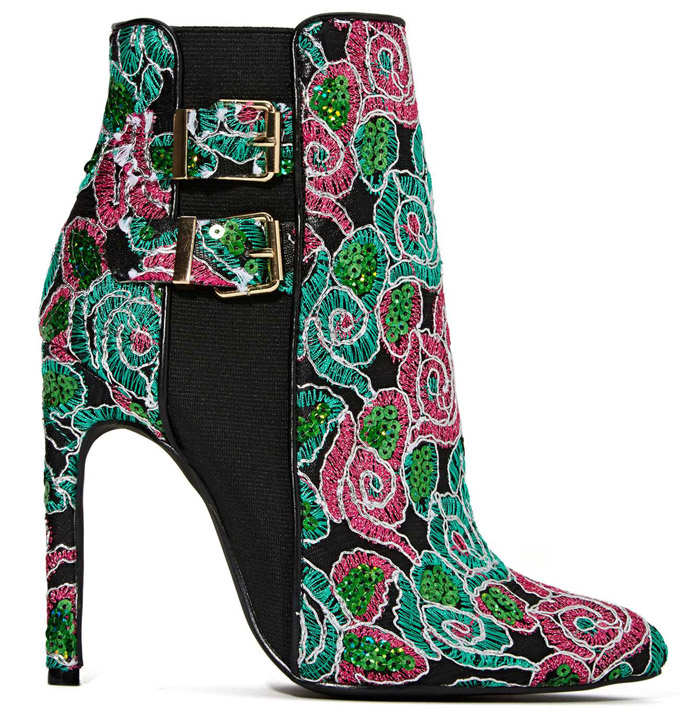 This is surely my favorite of all my 10 finds in this fall boot trend report! Sexy & calling for attention with flower-motif & sequin embroidery, these sexy booties have everything it takes to make a statement this season (and can easily carry you into Winter if you live in snow-free areas!). Mix in some serious attention-grabbing color, hardware & elastic panelling & you've got yourself a boot that is anything but understated! I could see these with destroyed skinny jeans or boyfriend denim, paired with a white graphic tee that has one of those silly french quotes printed on them. Simply amazing. And have you see the price?! (Privileged "In a Flash" Bootie from Nasty Gal – $85)
6. Slingback Ankle Boots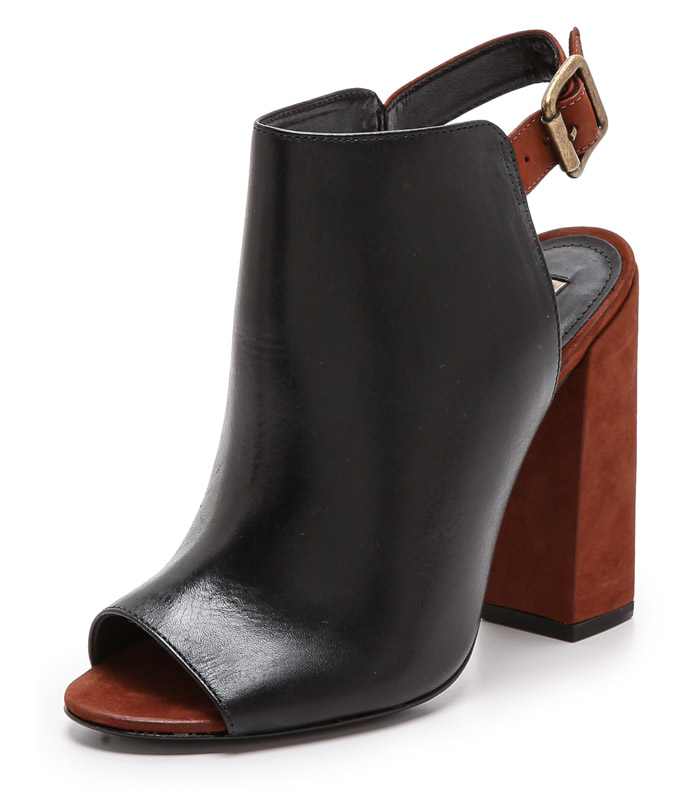 It seems that certain shoe trends are as confused as the weather this time around. Is it a sandal? A mule? A boot? Toe-baring or not, this is one footwear trend that seems to be specifically designed for an I'm-not-quite-sure-what-season-it-is type climate. Although not normally a huge fan of the peep-toe bootie myself, I really like it when used with a slingback. It just makes more sense to me (hey, I'm practical that way!). Kind of brings us back to the cut-out ankle boot trend in a specific sort of way. The black leather/brown suede color/material blocking & the thick block heel on this style has me pining for it! Looks very lavish & high-end, with a much lower retail price. (Schutz "Quesadilha" Slingback Boots – $249)
7. Leopard Print Ankle Boot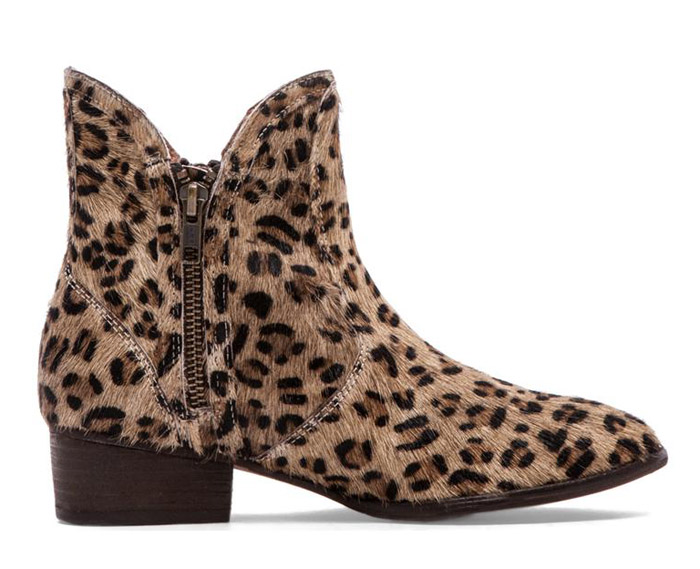 Words cannot express my love for leopard print shoes! And I certainly enjoy seeing the print in a boot version, because it means that there is more leopard loving print material to go around! You can find ankle boots in different types of leopard prints & diverse forms of booties (wedges, high to low heels and whathaveyou), so there is no shortage of choice. Meaning of course, that it's still very much trending! But then again, if leopard is now considered a neutral, maybe should it should cease being considered a "trend"? Hmmm….Well, fashion philosophizing aside, I'm definitely on board & choose this particular boot to list because of the sloping upper & quirky fuzziness. And the just right height of heel. (Seychelles "Lucky Penny" Bootie – $165)
8. Sexy Stiletto Bootie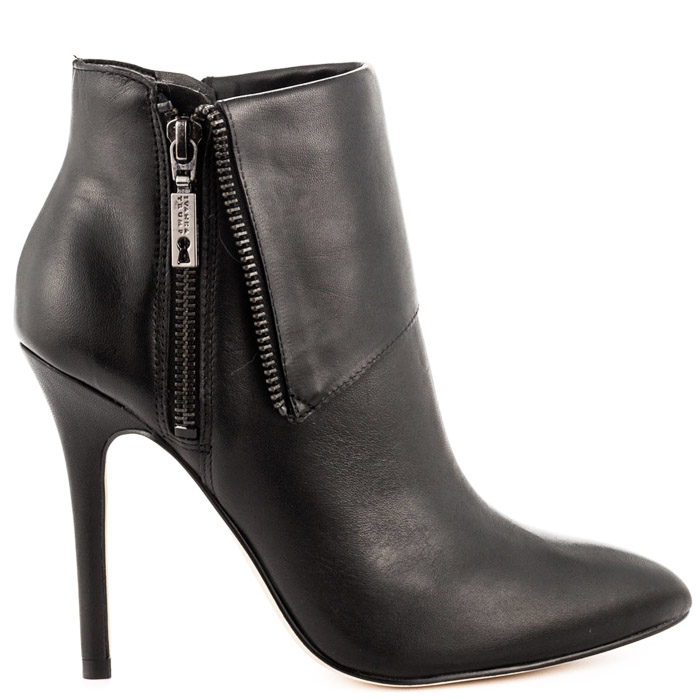 The sexy black leather stiletto isn't new on the ankle boot market, but with a pointed toe & funky zipper, you're one literal step away from being the cat-woman vixen you've always wanted to be! Or not. Whatever floats your boat, really. But the point is that these ankle boots are the perfect day-to-night footwear item that given the right shape & material, will give any outfit an added dose of high-end sleekness, without the astronomical price. These boots are also a good investment no matter the price-tag as they will be fashionable for the next few season. Guaranteed! (Ivanka Trump "Mina" Stiletto Bootie – $122)
9. The Masculine-Inspired Ankle Boot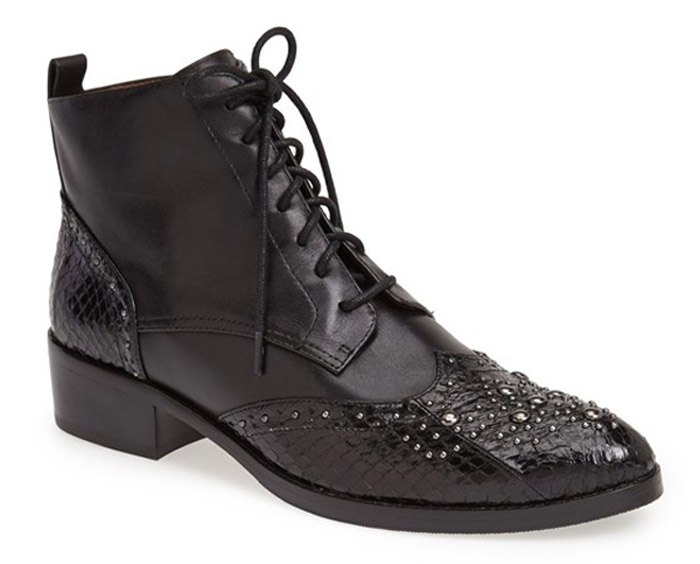 Menswear inspired trends seem to come and go and this year they are definitely remaining firmly planted in the ground. Pun possibly intended. I love how this lace-up boot has a little studded bling to its wing tips & the patent croc makes a nice contrast to the simple leather. Great with slouchy jeans or pants, a crisp white shirt & a killer bright colored purse! ( Donald J. Pliner "Nickki" Bootie $298)
10. The Chelsea Boot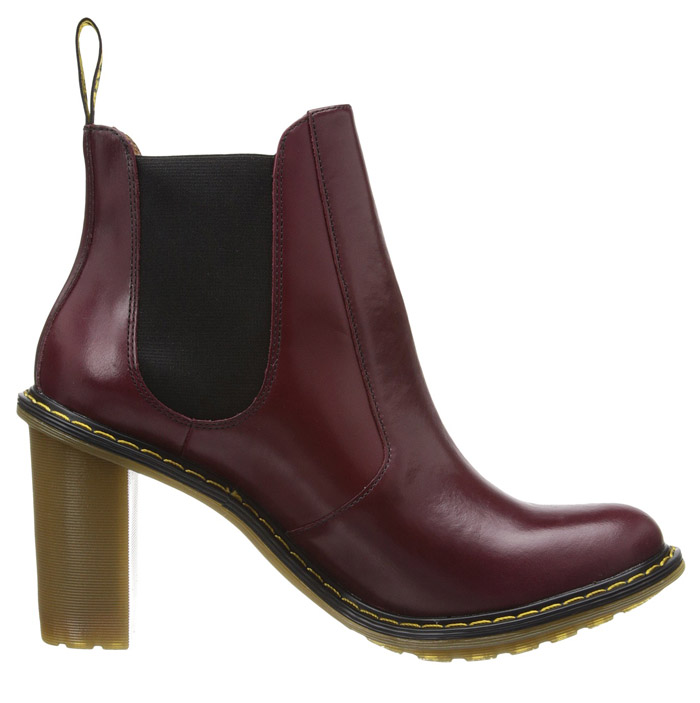 One could argue that this is another masculine footwear inspired trend, but the Chelsea boot (slip-on boots with elastics on its sides, to be precise) is one massive trend for Fall. Whether platformed, wedged or flat-heeled as a board, the Chelsea is a great trend as it's both practical as well as stylish, with its material mix. And the greatest thing about these ankle boots? No need to lace 'em up! (Dr. Martens "Eloise" Chelsea Boots – $126)
Shop the Post

xo
Cristina M.