Hi! Welcome to ShoeTease: A shoe blog based in Toronto & created in 2010 to answer your questions about current shoe trends, shoe styling, shoe care, foot care & more! You'll find my shoe blog dedicated to helping you pair the best shoes & heels with a particular outfit or occasion + how to maintain, fix & care for your favourite footwear.
I'll even give you the scoop and review on the latest & greatest new shoe accessories, often even before they've hit stores! I particularly like to highlight store-bought gadgets & DIY methods to make your shoes more comfortable, bigger, smaller or cleaner. A must for all shoe lovers!
Love designer shoes but don't want to pay the price. Literally? I love to snoop online & in-store to find the best trending designer dupes & lookalike shoes.
Last but not least, ShoeTease has a penchant for hanging many ugly shoes to dry. In its hall of shoe shame, or course, in our infamous (yes, I'm using the word correctly, here!) Freak Shoe Friday posts. Because we all like to laugh at the sometimes ridiculous side of fashion, right!?
Before you ask, NO that is not me in those YouTube videos. Fashion before fetish here, people!!
Moving on: I only showcase products that I find truly amazing, appalling or interesting. It doesn't hurt that blogging about shoes & heels quenches my footwear cravings….just a little 😉
My writing is often ironic & sarcastic. Overly enthusiastic. Often & purposefully, grammatically incorrect. That's just how I roll. Oh, and I love my exclamation marks!! So I hope you enjoy reading!!!!!!!!!!
SHOETEASE:
The Shoe Blogger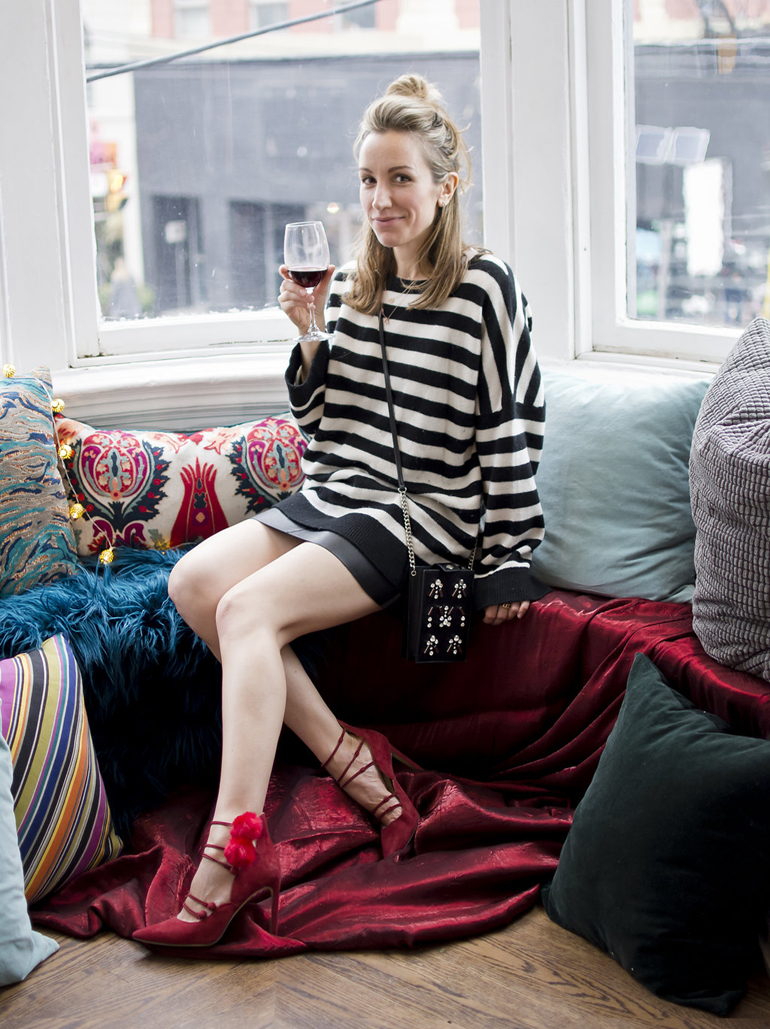 Cristina is the name: a UK born Italian re-living in Canada (confusing much?). It's needless to say (but will say it anyway!) that I'm head-over-heels for shoes & shoe related products. I believe in styling from the feet up.
As a Paris trained designer with a passion for shoes & accessories, I was lucky enough to start my shoe design training alongside the immensely talented Manuele Bianchi of Edmundo Castillo & Casbia brands, during our time in Switzerland working for Hugo Boss.
Working on freelance gigs for Paris-based + Italian design labs & a designer stint at Italy's largest fast-fashion company sandwiched in between, I ended up back in Toronto designing & developing private label shoes for the Canadian market.
I am currently making use of my hard-earned communications degree by working predominantly in the social marketing world: blogging about shoes, accessories & fashion and helping small local businesses get their SEO groove on.
You can currently find me creating content for ShoeTease & consulting with other brands on all aspects of SEM. I've also just launched a pom pom shoe set collection, which you can check out over at Pombons!
Disclaimer Info
Shoe-tease.com is not affiliated with any brands, companies, products or services other than ShoeTease & Pombons. All opinions (and I have many!) expressed are 100% mine and don't reflect anyone else's (except if they happen to share my same opinion).
Unless otherwise noted, all pictures are owned by me, aka ShoeTease. I also own all ShoeTease t-shirt, tops & product illustrations, designed by yours truly, which you can find in the online shop. Please don't copy them. Or the content of this shoe blog! Credit me over social media by tagging my @shoetease handle & mentioning me in your caption.
Links to items in my posts may sometimes be of the affiliated variety & store cookies for up to 30 days on your computer. If you purchase any product by clicking on an affiliate link, don't worry, it won't cost you anything extra! I may, however, make a tiny commission off of the sale.
I try my best to link to the exact product being showcased, but if not possible, I will make an alternate suggestion. Any product I have received for free will be marked c/o. Sponsored posts will be marked as such within the post content.
Monetizing my shoe blog allows me to continue creating what I hope is interesting & inspiring shoe-related content for my readers, in addition to paying those pesky website services!
If you'd like to advertise on the shoe blog, affiliated social media channels or work together, please visit the collaboration page.
xo Cristina