We've all been there: that perfect shoe that no longer fits so perfectly. Yes, traumatic stuff here, people! And it can happen for so many reasons, not excluding indulging in your dream shoe at the expense of the right size!
So if you're looking for some shoe repair hacks on how to make shoes smaller, here are 6 free to relatively inexpensive solutions to make your shoes fit better.
Looking for the opposite solution, perhaps? Check out my new post on how to stretch shoes (some great, frugal tips there too!).
I have many heels, flats & sneakers that have become larger due to wear; foot shrinkage during the colder months of the year & for other reasons I just can't seem to explain! And it's always better to have shoes that fit vs. loose shoes that will impact your swagger & may result in a trip or sprain.
Sometimes I need to make shoes smaller in width, sometimes in length. Some shoes that are generally all around large, require both shortening & narrowing.
The great news is that there are so many easily accessible, low cost methods & shoe accessories to fix this little footwear conundrum, no matter what type of footwear you need to make fit you a little smaller! These include shoe inserts for shoes that are too big & some surprisingly simple solutions such as socks!
I buy most of mine via Amazon or my local drugstore with most costing under $10 for a pair. If you're shopping in-store in Toronto, Shoppers Drug Mart has the lowest prices. If anyone knows where to get shoe repairing accessories even cheaper, let me know!
How to Make Shoes Smaller: 6 Ways
1. Ball of Foot Cushions (Half Insoles)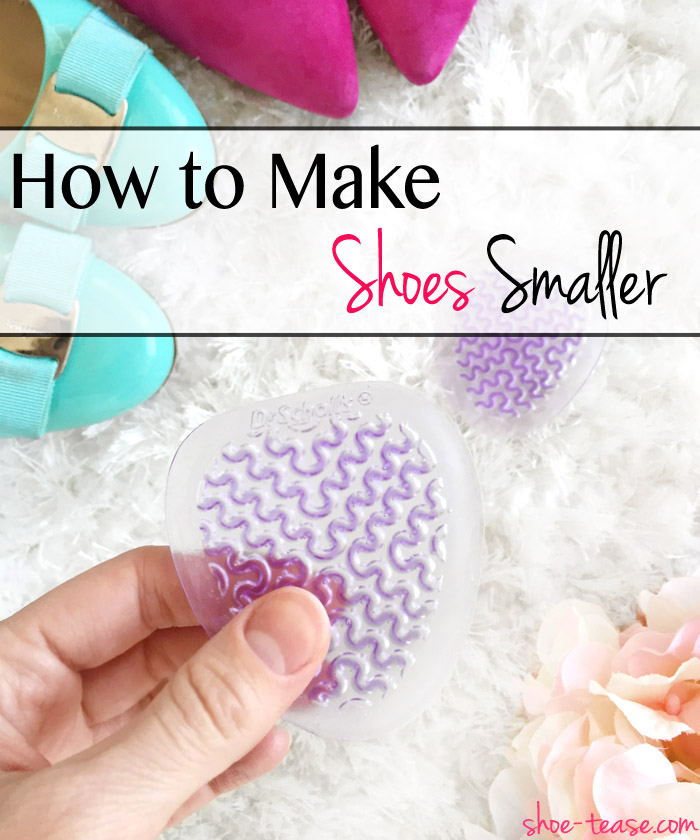 To make shoes smaller for my summer sandals, flats or pumps, ball of foot cushions are the most practical insole type. They will not only prop your foot a little higher so that the shoe's toe straps keep your foot in place, but they add extra padding & grip under the ball of the feet, preventing toes from slipping & sliding in your shoes during the warmer temperatures. This type of half insole works best in flats, sandals, heels & dress shoes.
There are 2 types of ball of foot insoles that I recommend & personally use:
They're thicker than the usual half insole, textured to grip & prevent slipping, reusable, washable & the sticky surface won't damage the inside of your shoes. These also come with a 6 month guarantee! The downside is that they may make your feet sweaty. Best used on bare feet.
Genuine Leather half insoles from Pedag
A great, breathable alternative to a gel insole is a leather insole. Thinner than a gel ball of foot cushion, these work great to make shoes just a bit smaller, add traction under the toes & won't cause your feet to sweat.
TIP! Ball of foot cushions make shoes even smaller when used with heel liners. Which brings me to my next item on the list…
2. Heel Liners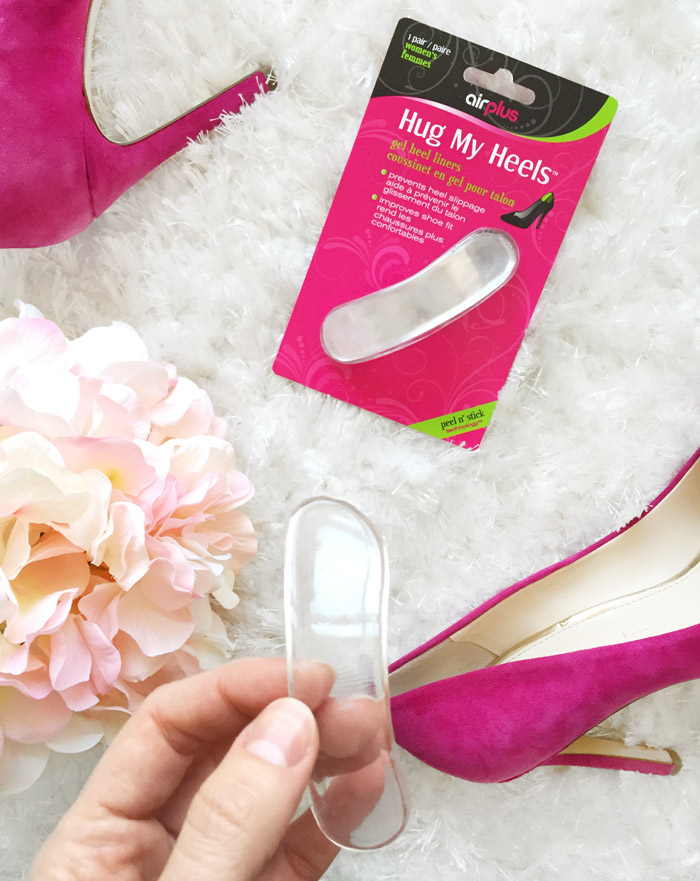 Heel liners, or back of heel inserts, are 3″ strips that secure onto the inside back of the heel of your shoe. Great to both shorten the length of the shoe, prevent heels from slipping out of shoes, increase comfort & prevent blisters. Does a lot for such a little strip!
These come in many materials, including gel, fabric & special latex-free materials. I just found these nifty heel liner-meets-insole that will help make shoes even smaller in & around the back of the shoe! Check it out & many other top rated heel inserts, below:
3. Full Size Insoles
Insoles to make shoes smaller are a personal fave & easy go-t0 to make shoes fit smaller. Full size insoles are a great solution to an all around bigger shoe. Many branded & non branded options exist, in so many shapes, sizes, materials & yes, colors!
You can find more generic insoles (you know, those flat, cut-to-size types) but I prefer ones that cater to the specific type of shoe you're trying "shrink". You can easily find insoles for flat & heeled dress shoes, sock absorbing ones for sneakers & even flip-flop sandals.
Some of my fave brands include: Dr. Scholl's, Pedag, Hug my Heels & Hotter Shoes but there are many non branded insoles that work well too.
---
Shop full size insoles
---
4. Shoe Fillers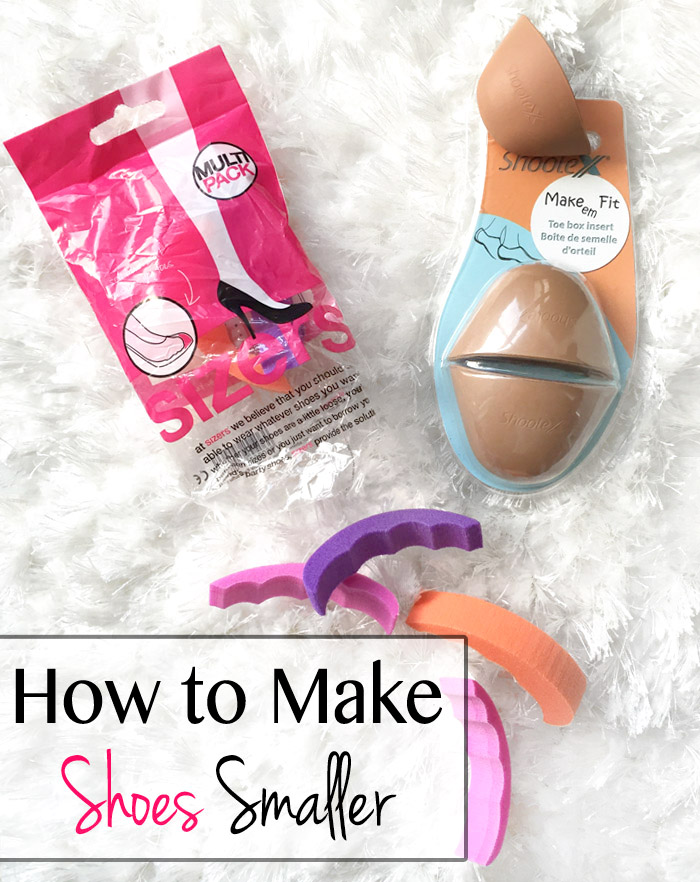 If you have a closed-toe shoe that is far too long for your foot, why not add toe inserts that act as shoe filler? Great to make shoes shorter in length, you can also pair these with a ball of foot cushions for a tighter fit in the front of the shoes. Or combo them with heel liners to shorten the shoe length even more!
The two shoe fillers I have personally tested out & reviewed are Sizers (ASOS has recently come up with a Sizers dupe, btw!) & Shoolex "Make 'em Fit" (read full review here!).
Both brands offer 3 sizes, are washable, durable & a much better alternative to stuffing cotton in the tips of your shoes! Shop these two accessories & more brands, below:
5. Shoe Tongue Pads
Unless you are one of those people with a low instep or arch, you're probably not too familiar with shoe tongue pads. Great for sneakers, oxfords, loafers & more, a tongue pad is a thick felt-like material that sticks onto the inside part of the shoe "tongue" (that strip of material that you find under the laces of your shoes) & does a great job at making wide shoes narrower. You can also find them in different sizes.
6. Socks & Footies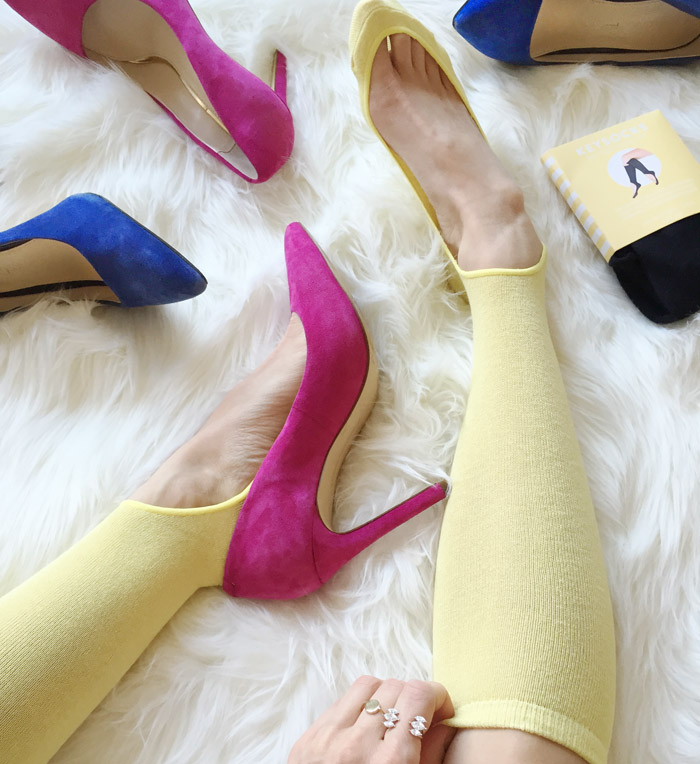 If you're going to be wearing long trousers & flared jeans, why not opt for something you already have in your closet? Yep, the #6 item on how to make shoes smaller is socks! You can either wear your everyday socks, or, if you'd rather your socks not peek out from your shoes, then footies are your best option.
Footies (aka "hidden socks") come in many styles & colors, and if you get the right ones for your shoes, no one, including you, will notice them.
Keysocks are great knee high no show socks for flats & heels (as pictured above) to wear under pants. You can read my full review of Keysocks <– here! They now come in many more prints & colors too 🙂
Best rated footies:
Buy Keysocks:
Getting a

Cobbler

to Make Shoes Smaller
There is another option to make your shoes smaller. And it's called a cobbler (that person who fixes shoes as a living, not the drink or desert!). A cobbler can seamlessly insert one or a combination of insole padding, heel liner, tongue pad & heel grip under the original lining of the shoe.
Yep, it'll be more expensive as any service rendered by a professional is, but it's a permanent & more convenient alternative to shoes you plan on wearing often. Much easier than cleaning/replacing/repositioning shoe inserts or shoe fillers every day!
If you decide to go to a cobbler to get your shoes adjusted, go in with a new/newer shoe. As you will get more wear out of a newer shoe (before other parts start to deteriorate), it will justify the cost of the service & nip the problem in the bud, right from the start.
* SUMMARY *
In sum, of course there is no magic solution to making shoes smaller, and I always recommend buying the right shoe size for your foot when you can.
But as life isn't perfect and neither are our shoes & feet, adding a few inexpensive shoe accessories to hack your way into making shoes fit tighter is never a bad idea (especially if it makes your heels more comfortable & decreases the chances of injury!). That being said, how do you make your shoes smaller?
Love heel hacks? Check out my latest post about high heel protectors to shield your delicate heels from pretty much anything!
xo Cristina