Matching a neutral dress with the appropriate shoe color is usually a simple endeavour. But with a particular shade such as navy blue, getting the right shoes is sometimes tricky. So today I'm happy to show you what color shoes to wear with a navy dress!
What Color Shoes with a Navy Dress?
Ok, so like I said, finding the right shoe color for some dresses may be more difficult than others. Navy blue might seem like a a more difficult color to pair with the right color shoes, because of it's almost black-but-not-quite-black shade that might initially stump you.
However, you'll be surprised to see how many fabulous & unexpected colors that go with a navy dress. This applies not only to shoe colors, but also to accessory colors. And don't worry, alongside each shoe color choice, I will propose the perfect purse color to match too! Oh, & these proposed shoe color choices are all perfect shoes to wear with skinny jeans that are a deep indigo or cobalt-ish blue too! Then again, what shoe hues don't mix with this great classic? But I digress….back to navy dresses!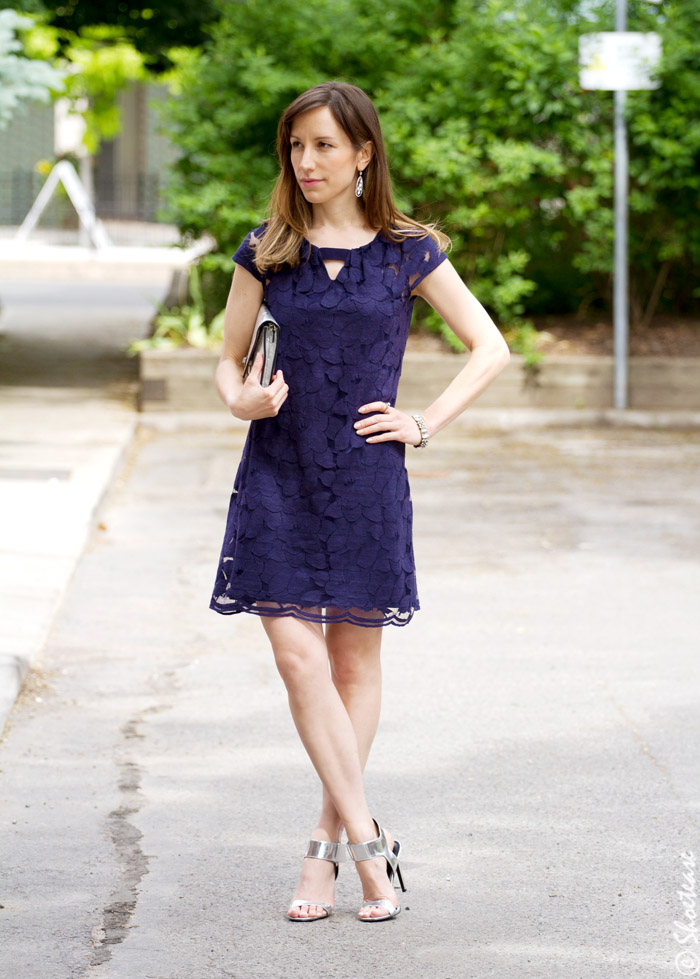 ---
Shop Navy Dresses:
---
1. Navy Dress with Silver Shoes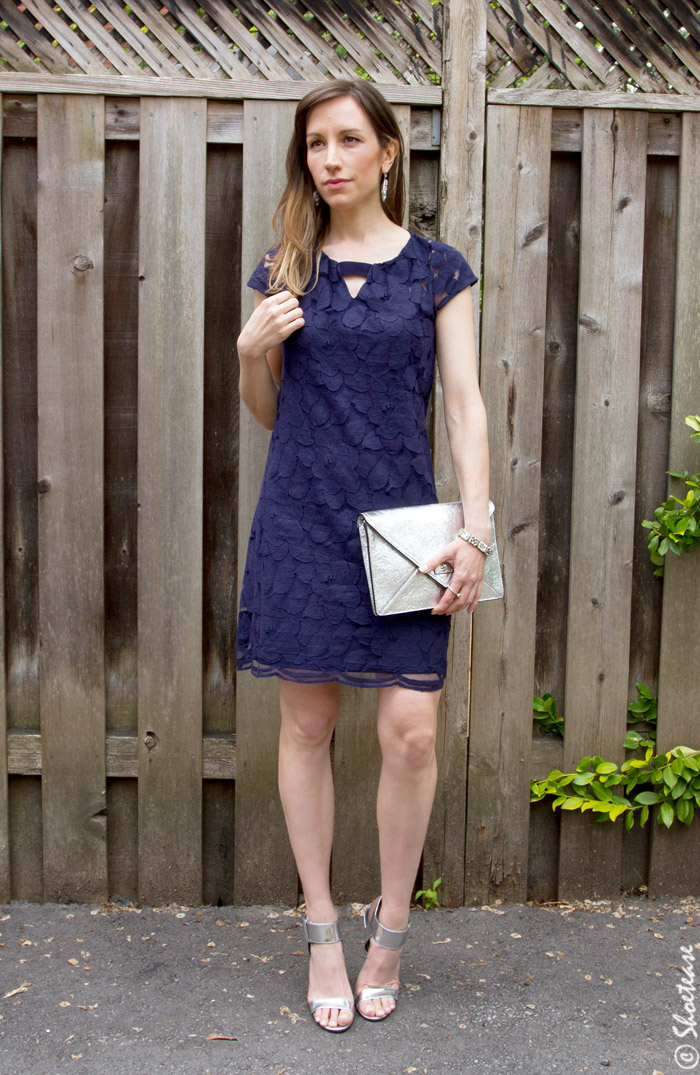 A navy dress with silver shoes is such a fabulous combination! I love mirror metallics, but any silver, opaque or otherwise will do. Silver shoes & accessories look especially great with navy blue bridesmaid dresses or formal gowns. But they can be the perfect shoes to wear with a grey dress too!
Purse color tip: I love matching silver heels to a silver clutch. Paired with navy it never looks 'too much' due to the neutral nature of this metal. A white purse would look great thrown into the mix as well. Keep all other small accessories & jewelry silver, rather than gold or bronze.
2. White Shoes with a Navy Dress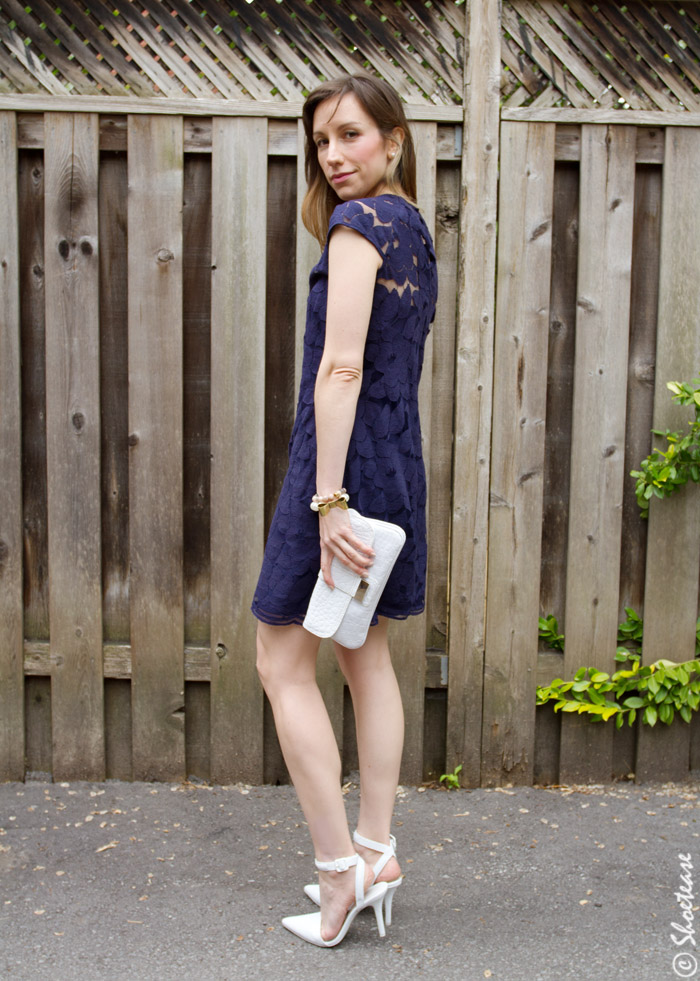 If you want to play it light for the summer months, grab a pair of white heels or sandals to liven up a navy frock! I'm wearing white "Lovisa" cap-toe pumps by Alexander Wang.
Purse color tip: As with silver, you can play matchy-matchy with your white shoes & purse. Just make sure your purse is a small cross-body or clutch, otherwise it'll not only take attention away from the blue dress, but overwhelm the outfit as a whole.
3. Navy Dress with Bright Green Shoes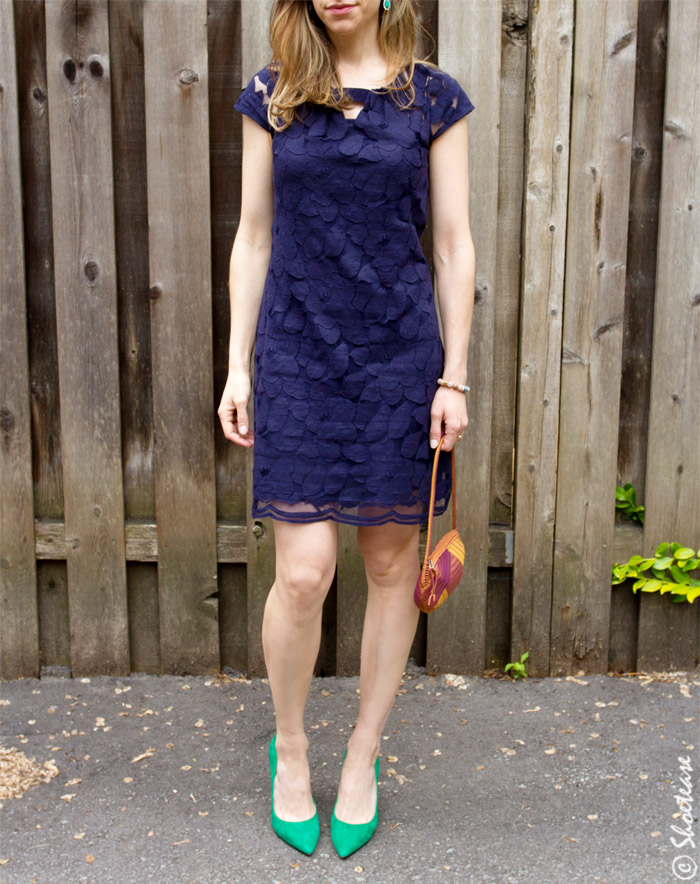 What color shoes with a navy dress you ask? In terms of bright colors, I'm partial to green! Apple green specifically (like the Nine West "Martina" pumps I'm wearing) is my absolute favorite color to pair with a dark blue anything! It creates a beautiful, yet not too eye popping because of its complimentary cool tones.
If you want to go green but are hesistant about the display of color, you can always opt for a deeper emerald green. This way, you get to keep a more subtle contrast to your dress. Even forest green shoes can look amazing with navy, especially at work, worn with a pant/skirt suit or simple navy shift.
Purse color tip: You can either play up the look with even more color when it comes to your purse! A sunshine yellow, burnt orange, or even a hot pink clutch will look great. If you want to keep the color party strictly on your feet, opt for a beige, white or chocolate brown purse.
4. Navy Dress with Nude Shoes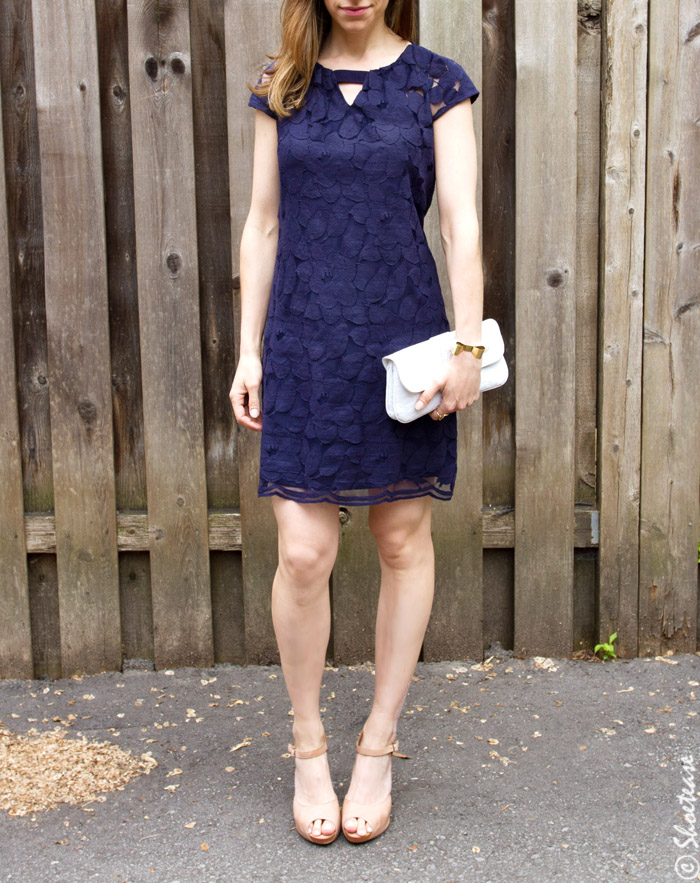 Nothing not to love about wearing nude shoes (especially heels!) with a navy dress. Of course, I intend "nude" as the color matching your skin tone. If your shoe hue matches your legs, they'll look like they go on for miles! However, a beige "nude", as the ones worn above will look fab with a navy dress, not matter what your skin tone.
Purse color tip: A white, gold or brown purse will work best with your nude shoes & navy outfit.
5. Navy Blue Dress and Red Shoes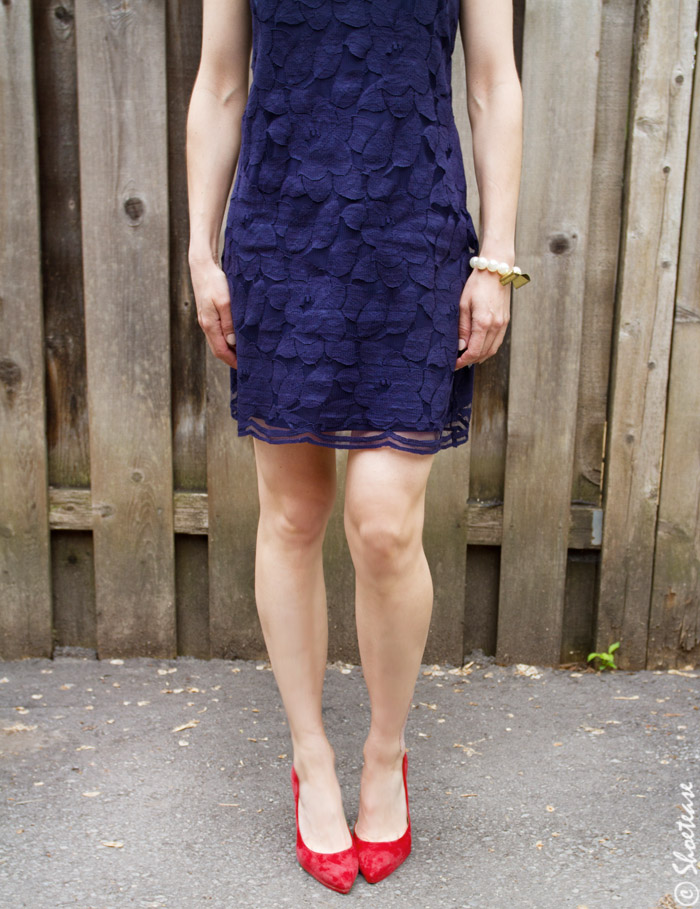 Red is a classic hue & works wonderfully with navy outfits, particularly dresses. It gives the look a nautical feel. Just add a navy/white striped trench to complete the style! Nautical or not, red heels or flats, even coral heels, can perfectly compliment a dark blue dress. Or any blue dress for that matter!
Purse color tip: You'll find that a white, silver or even an gold purse (as long as kept on the smaller side) will work. Feeling ballsy & opting for red heels & navy dress at work? Pair it with a black or beige briefcase. Although how cool would a mirror metallic silver handbag look for an edgier office look?
6. Gold Shoes with Navy Blue Dress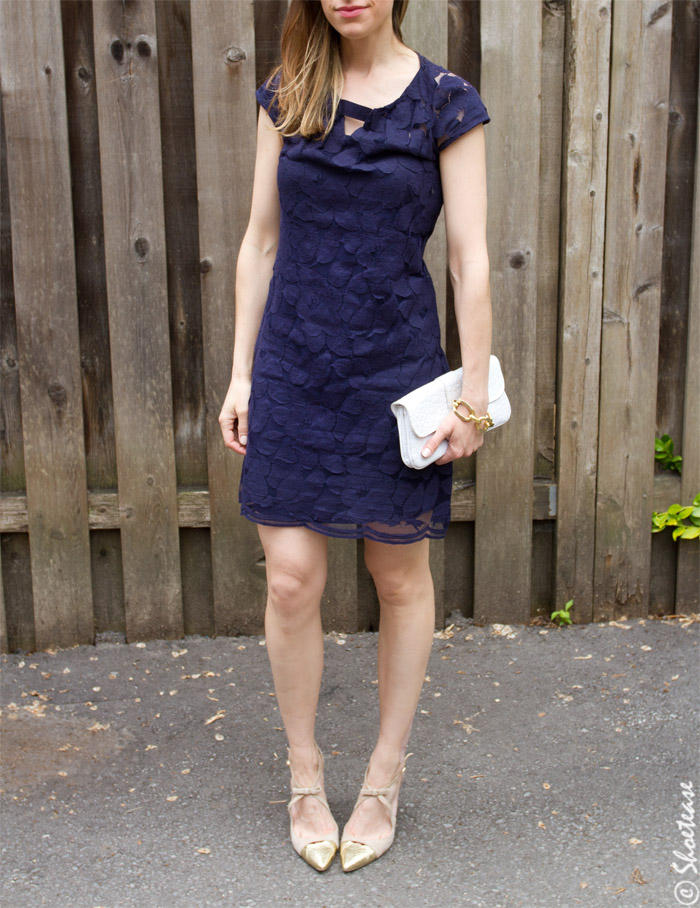 Ok, so these shoes aren't completely gold, but they look pretty good with this navy dress, right? Gold, unlike silver, is a warm metallic which creates a more contrasting effect when paired with a navy outfit. I prefer 'paler' golds with navy blue, but if you like a more orangey golds=, go for it! Gold shoes & accessories with a blue dress are also great cocktail party & wedding outfit combos.
Purse color tip: White or nude & if the gold you've chosen in a less saturated hue, you can also grab a small matching purse and still look stunning!
7. Black Shoes with Navy Dress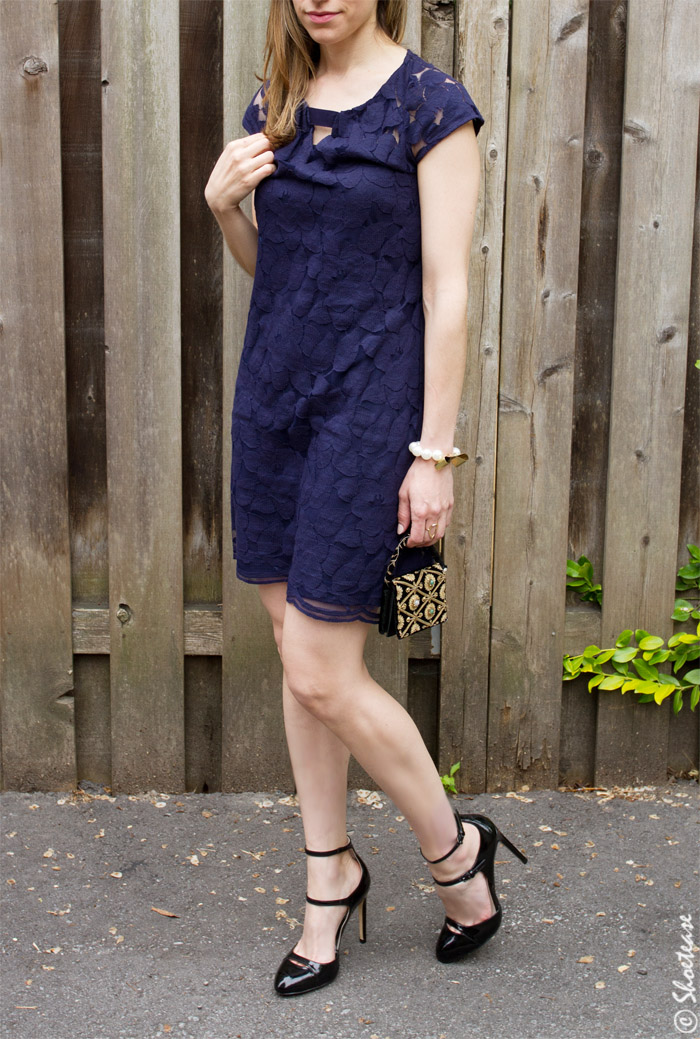 Shoe color & navy dress planning getting you down? But more importantly, can you wear black shoes with a navy dress? I'm sure you've asked yourself that& guess what you CAN wear black shoes with a navy dress. Funny enough I'm not the biggest fan of black dresses & navy shoes, but I love a navy outfit with a black shoe. Especially in a patent leather, particularly if the dress is a matte shade of navy like the one I'm wearing.
Purse color tip: A jewelled black purse is more fun than a fully black one, which may get visually lost when carrying near your dark blue dress. A metallic purse would look amazing as well, whether silver gold or rose gold. But don't discount a white bag. A small one can look great with this color mix!
8. Hot Pink shoes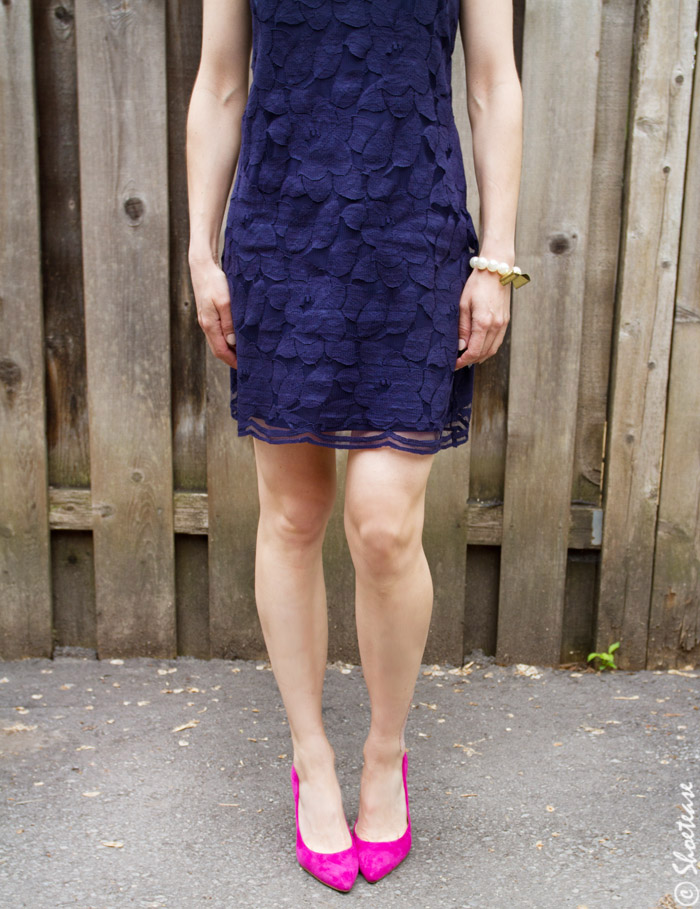 Nothing like adding a hot pink shoe to a navy dress to make a statement! More flirty & less serious than red, it's the perfect shoe color to wear with a casual or fancy shmancy deep blue navy dress.
Purse color tip: You can either have a lot of fun with this & carry a yellow or green clutch, or keep it simpler with a gold or black patent purse.
9. Purple Shoes & Navy Dresses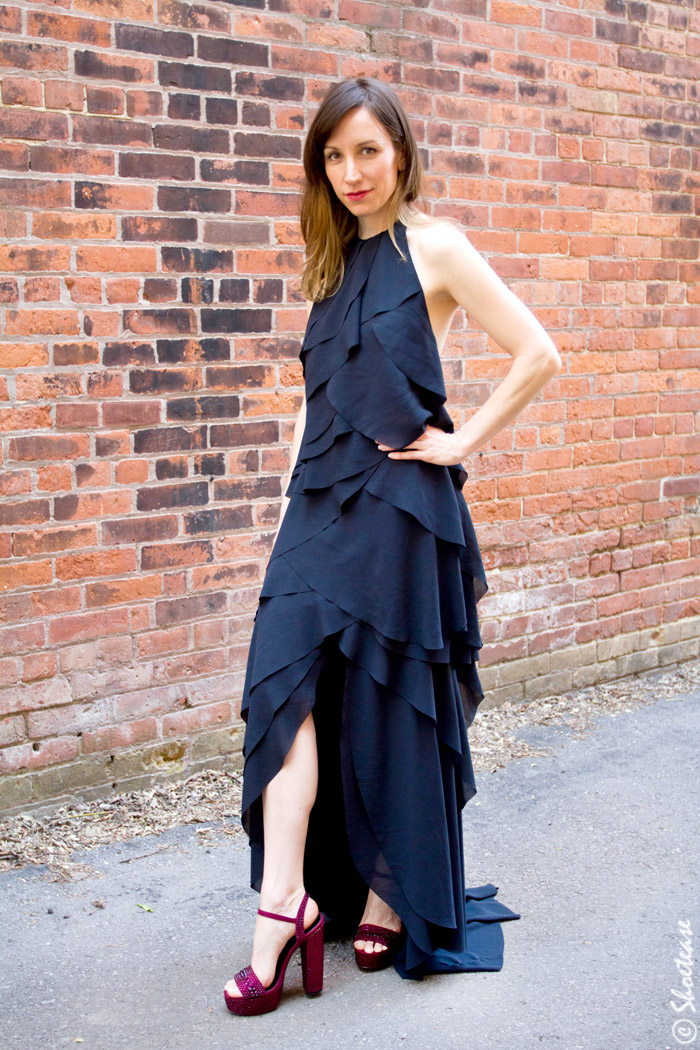 Purple, warm burgundy & even lavender hues look phenomenal with a navy dress or navy outfit. It detaches itself enough visually to be interesting, but doesn't overwhelm. I love how the rhinestones from these sparkly platforms catches the navy color of the dress!
Purse color tip: I'd steer clear from matching your purse to your shoes when dealing with purple. Instead, I'd go for a bright yellow, white or silver clutch. Remember: the more formal your navy outfit, the smaller your purse ought to be!
10. Navy Dress with Brown Shoes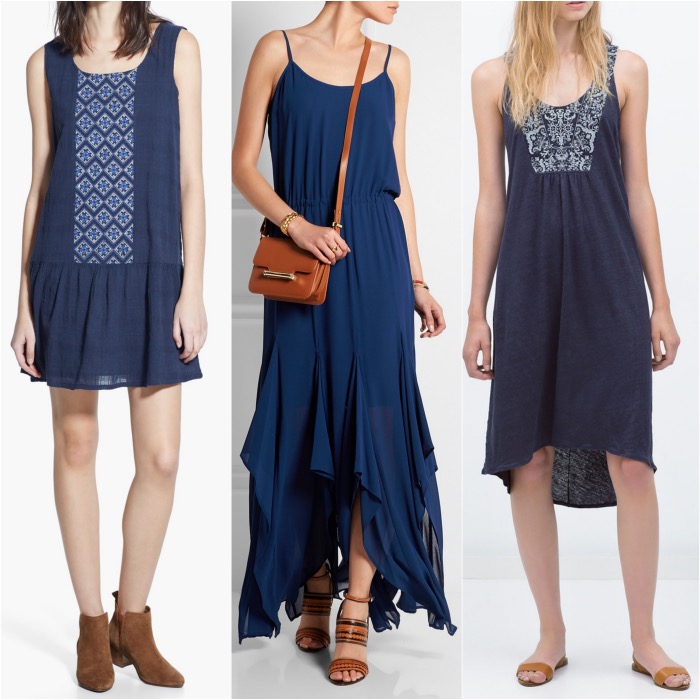 I'll be the first to admit that I do neglect this shoe color, but it sneakily works so well combined with different outfit colors. And of course, brown shoes look great with a navy dress! This color shoe matches a more loose-fitting, casual dress & isn't ideal to wear with a formal or navy cocktail dress. I love brown shoes with a navy office look myself!
Purse color tip: A matching brown, orange, or even baby blue purse would look great.
11. Leopard Print & Reptile Print Shoes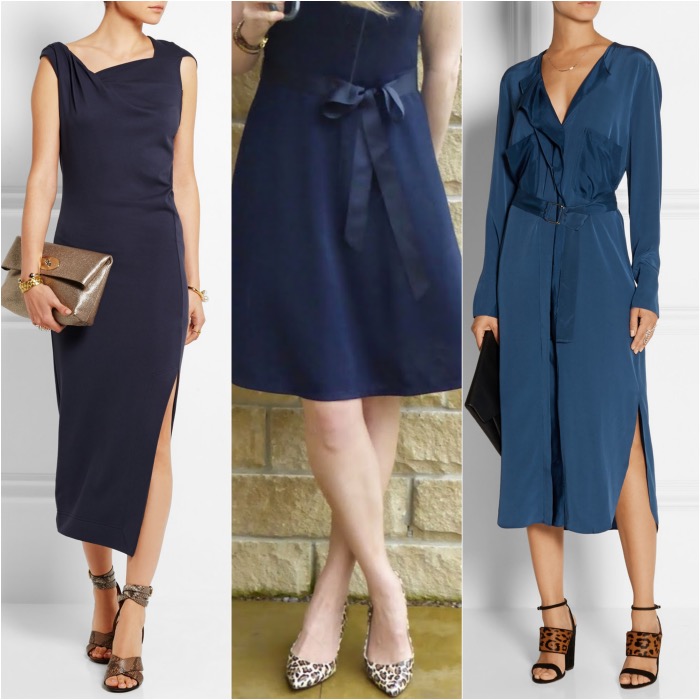 If beiges & browns are highly considered colors that go with navy blue, then leopard print or natural colored reptile prints will be a smashing hit! And it doesn't matter if the animal print is light or dark, largely printed or small. Just make sure you pair this printed shoe with a plain navy dress.
A lace or patterned navy dress like the one I wore in the first set of pictures wouldn't work well with leopard print shoes. But the smooth navy frocks above surely do!
Purse color tip: Brown, beige, gold or a colorblocked combination of these would make a fab addition to your look!
Alright, so the selection above is in my view the best shoe hues to answer your, "what color shoes with navy dress," question. And I truly hope I did help you along the way to shoe styling success! As always, taste & style is subjective & you might, for instance, like wearing a pair of orange or yellow shoes with your navy outfit. Which can look good, but may look a little "crayola" if the navy dress steers towards cobalt blue. It's really all about how the outfit works together & what you feel most comfortable in!
How About a Navy Dress with Navy Shoes?
However, I'd not pair navy dresses with navy shoes. Unless you're going to an awards show & your shoes have been dyed to match your navy dress perfectly. A la Jessica Chastain on the 2015 Oscars red carpet, below: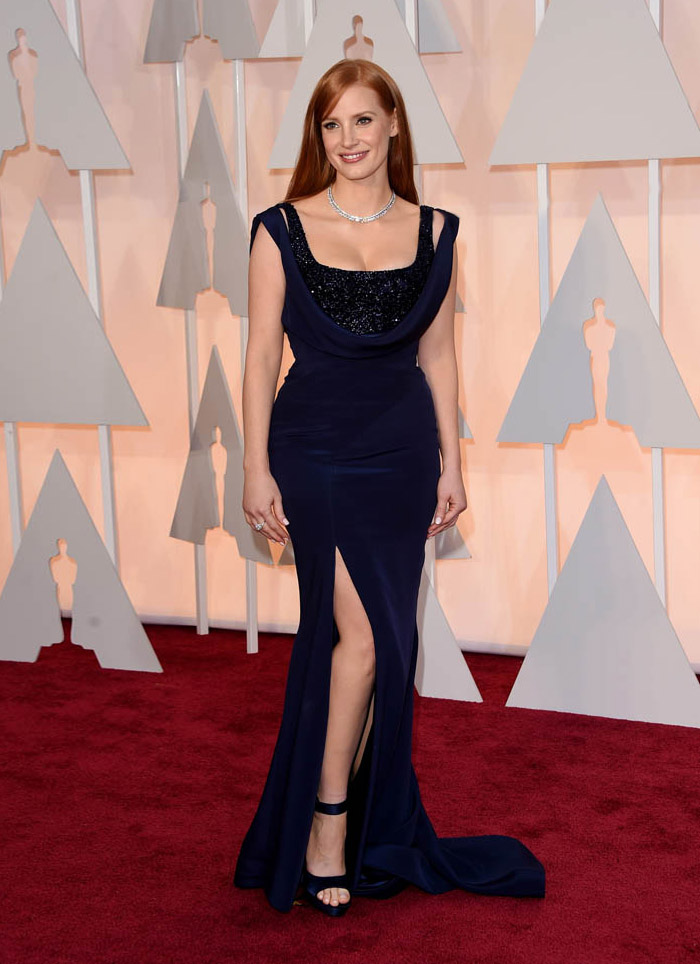 ---
Shop Shoes for Navy Dresses:
---
Want to learn more about shoe colors with dresses? Check out my roundup of the best shoes to wear with a black and white dress.
All other shoe styling posts, including what shoes to wear with a black dress <– right over here!
xo Cristina
Photography credit: Conrad Collaco