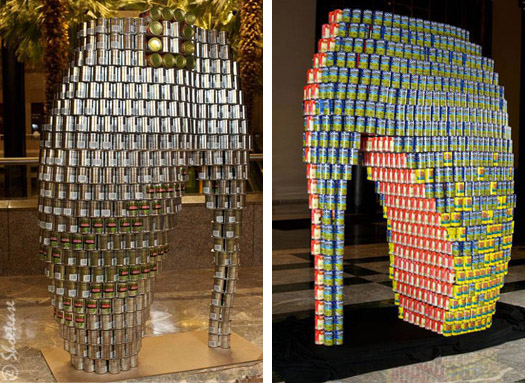 Talk about massive shoe art for a great cause! One of Canstructions', can constructions are two statues of the Alexander McQueen shoes Lady Gaga made famous – the "Armadillo" heels. Designed by Arup and Kohn Pederson Fox respectively, these canned sculptures are on display in NYC for the 19th Annual Canstruction Exhibition, which features 26 gargantuan sculptures created by architecture & design firms. Wish I were near NYC to see these!
The exhibition is free & open to the public until November 21st. The purpose of this display? The 100,000 cans, which will be given to City Harvest just in time for American Thanksgiving, will help local community food programs. Last year, the program raised over 2 Million pounds of food!
Visit the Arts World Financial Centre online for more info, including location & exhibit hours.
Photo Credits – CocoPerez
xo ShoeTease